How to setup TL-WA5110G,TL-WA901NDv1&v2,TL-WA801NDv1,TL-WA701ND v1 as repeater
The topology below shows how the repeater works:

Note:
Here we take TL-WA701ND V1 and the information below as a reference. The article is applied to the old versions of the APs like WA5110G, TL-WA901NDv1v2,TL-WA801NDv1,TL-WA701ND v1.
If the detailed information for your case is different, please use the corresponding information to configure it according to the instructions below.
Information of root router:
LAN IP: 192.168.1.254
SSID: 2WIRE_TEST
Encryption Type: WPA2-PSK
Passphrase: testtplink
Preparation
Since the DHCP Server on the AP is disabled by default, we have to manually assign an IP address as
192.168.1.x
(1<x<254) for the computer to match the default IP address (192.168.1.254) of the Repeater. Please click
here
for detailed instructions.
Connect the computer to the AP with an Ethernet cable.
Configuration on Repeater (TP-Link 11n AP):
Step 1
Log in to the Repeater's management page. Please click
here
for the detailed instructions.
Step 2
Click Network. Please make sure the Repeater's IP address is in the same IP segment with the Root Router and avoid the IP conflict. In this instance, we can change the IP to "192.168.1.250". Then click Save.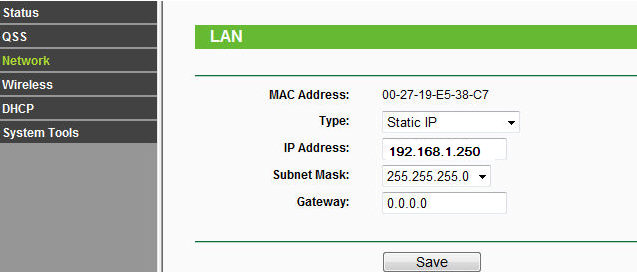 Step 3
Click Wireless ->Wireless Settings. Select Universal Repeater as the Operation Mode. Then click Search. (If the root router supports four address WDS, you can also select Repeater.)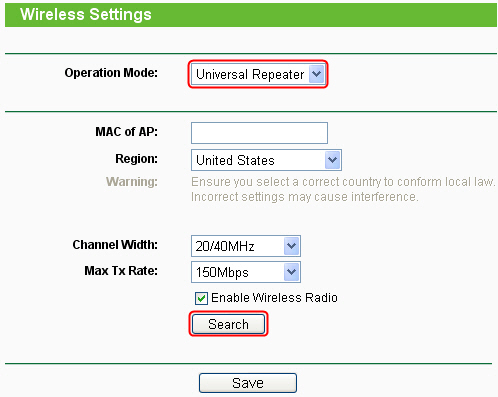 Step 4
Find the root router's SSID on the AP list, and then click Connect.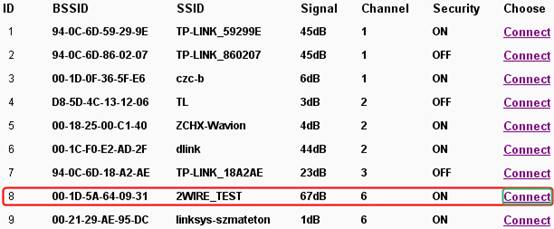 Step 5
Click Save.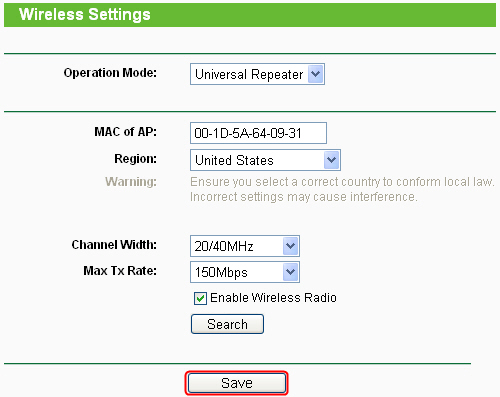 Step 6
Click Wireless ->Wireless Security. You need to get the Security type and the Wireless password(Network Key) of your root Router. (Check this out on your root router if you have
no idea about what's the security type.)
In this example, according to the 'Information of root router' showing at the top of this article, we select WPA-PSK/WPA2-PSK and input the password 'testtplink' in the PSK
Password field. Then click Save button at the bottom of the page.

Step 7
Click System Tools-> Reboot to reboot the AP.
After you go through all the above steps, the Repeater should get working properly with the root router.
Please refer to the following method to make certain if you have setup the Repeater successfully.
Change the IP address on your computer back to Obtain automatically, click
here
for detailed instructions. Then you can check the connectivity by using Ping in command

If the Ping is not successful, please check all above settings carefully, or contact
TP-Link support
for help.
Get to know more details of each function and configuration please go to
Download Center
to download the manual of your product.
Is this faq useful?
Your feedback helps improve this site.