How do I configure wireless G Access Point to wireless AP-Client mode?
Definition: The Access Point is connected to another device via Ethernet cord and acts as an adapter to send/receive the wireless signal from your wireless network.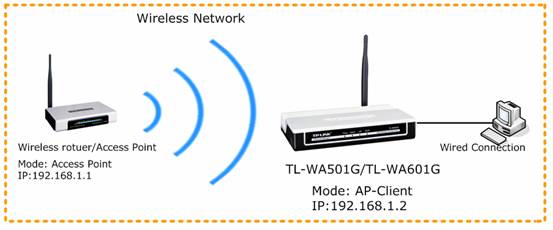 Step 1
Connect your computer to TL-WA501G/TL-WA601G, and then log into the Webbased Utility by entering the IP address 192.168.1.1 into Web Browser.
If you cannot log into the Web-based Utility, please click
here
and follow the instruction for a try.
Step 2
Change the LAN IP address of the access point (TL-WA501G/TL-WA601G) to avoid IP conflict if necessary. Please refer to
FAQ_173
for some detailed information.
After changing the IP address of your access point, you need to re-log into it by using the new IP address.
Step 3
Configure the wireless mode to Client and connect to the wireless network.
1. Click Wireless -> Wireless Mode on the left, select Client.
Note: If the wireless router or Access Point which you want to connect does not support WDS, please do not enable WDS option.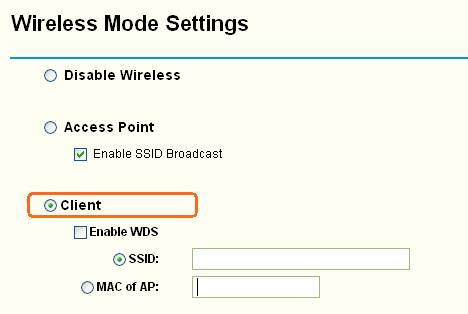 2. If you know the SSID of the wireless network or the MAC address of the AP, you can enter them into the SSID or MAC of AP box manually, and then Click on Save to save the settings.
3. Or you can click on Survey button to view the available wireless networks, and then click on Connect button to connect to it.


After clicking on Connect button, the SSID of the wireless network and the MAC address of the AP will be shown in the Client mode box automatically. Then click on Save button.

4. Click Wireless ->Security Settings on the left side menu, choose the right security type. Then type in the same security with your root AP. At last, click the Save button.

5. After above the configuration, Click on System Tools->Reboot and click the Reboot button. The settings will take effect once the device has been rebooted.

NOTE:
If you have a broadband router which provides you Internet connection, please re-configure the IP settings of your computer to Obtain an IP address automatically/Obtain a DNS server address automatically to suit for the router in order to connect to Internet after the settings in TL-WA501G/TL-WA601G.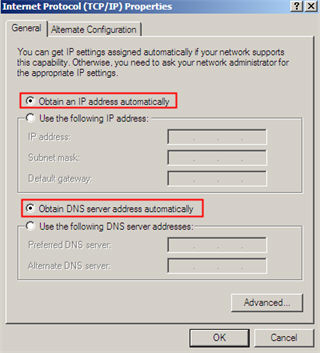 Get to know more details of each function and configuration please go to
Download Center
to download the manual of your product.
Is this faq useful?
Your feedback helps improve this site.