How to Configure the Bridge Mode on the TL-WR700N(Walmart Version)
Note: Walmart Version refers to the TL-WR700N sold in Walmart,US.You can check the label to confirm.Walmart Version will display Default Access as http://tplinklogin.net,while the standard version is http://192.168.0.254
If yours is a standard version,please refer to this FAQ.
The topology below shows how the bridge works:
Definition
:
The TL-WR700N borrows existing wireless Internet and broadcasts it using a different network name(SSID) and password. This application can create two individual networks for two groups of users sharing one Internet.
Application:
Small restaurant,shop,bar,home,office and others where Internet service needs to be provided for guests without revealing the password of the existing network for hosts.
Information of Root Router:
·
Encryption Type:
WPA2-PSK
Configuration on Repeater :
Check the label on the back of TL-WR700N,write down the SSID and Password.Power on the TL-WR700N.Bring a wireless device,such as laptop,smart phone and so on,go to the wireless settings and search for the SSID and connect to the network with the Password. Open the web browser and type the IP address http://tplinklogin.net into the address bar ,press Enter.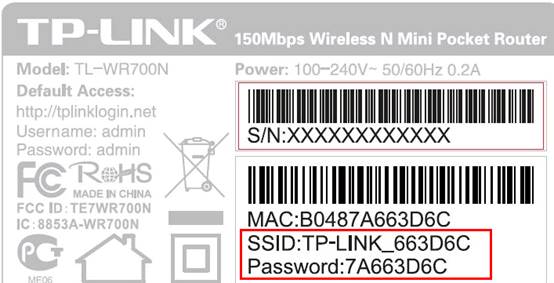 Type the username and password into the boxes of the login page, the default username and password both are admin, then press Enter.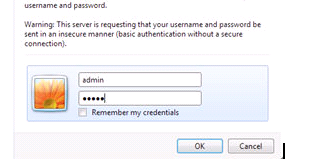 Go to Quick Setup-> Click Next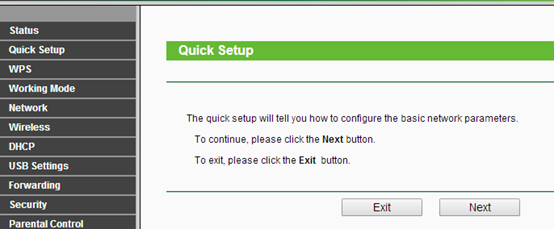 Select Bridge-> Click Next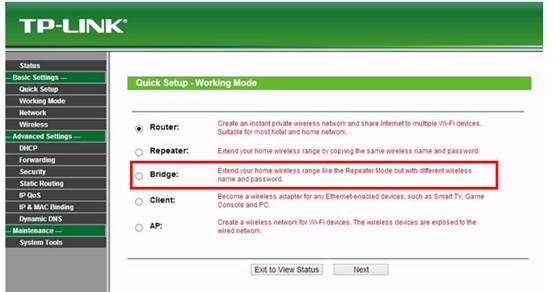 Create a guest wireless network name for WR700N as the SSID.Select your current location as the Region.Click Survey.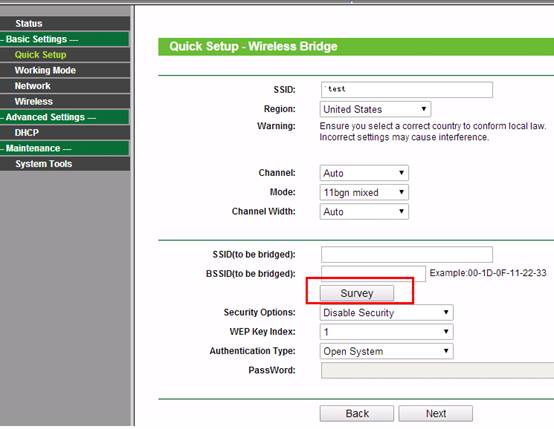 Find the root router's SSID, remember the Channel(The channel your wireless network is using) check the box and click Next.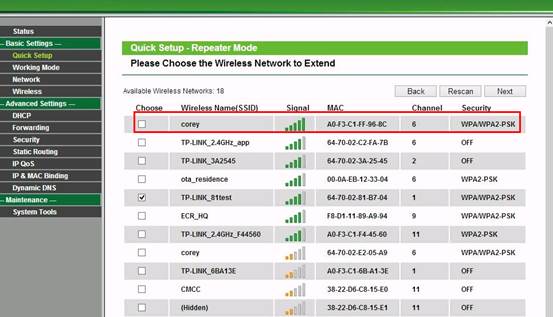 Channel:
Please select the same channel that your existing wireless network is using.
Security Options:
(Please match Security Options with your existing router)
Password:
(Please match Security Password with your existing router)
Click: Next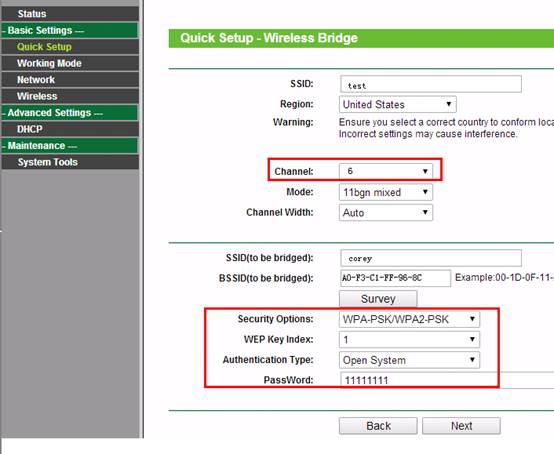 If you want to provide an open network to your guest, please select Disable Security. Otherwise, select Enable Security and create a guest wireless password as the PSK Password.Click Next

Click Reboot, and wait until it goes to 100%

You may now relocate the TL-WR700N to a centralized location in order to broadcast a guest network.
Congratulations! You have created a temporary guest wireless network which shares the internet without exposing your wireless password.
Get to know more details of each function and configuration please go to
Download Center
to download the manual of your product.
Is this faq useful?
Your feedback helps improve this site.