Motion Detection Is Not Working On TP-Link Camera
Generally, the motion detection issue is related to camera setup, if you did not configure it properly, the motion detection cannot work as expected. However, this issue also could be caused by other factors, like position, angle, distance, etc.
If motion detection of your TP-Link camera is not working, here are 6 steps you can implement.
1. Check network quality.
Make sure the internet connection is stable. You can check the network connection stability for tapo camera following the FAQ: How to check the network connection stability of a Tapo Camera
2. Confirm that firmware and APP are both up-to-date.
3. Ensure Motion detection is enabled properly.
Open the App and click the top right gear.

Click "Detection and Alerts".

Check if the "Motion Detection" toggle is ON.
4. Adjust the "Motion Sensitivity" and Choose "Activity zones".
Sensitivity Level could be set as highest (10 Levels at most).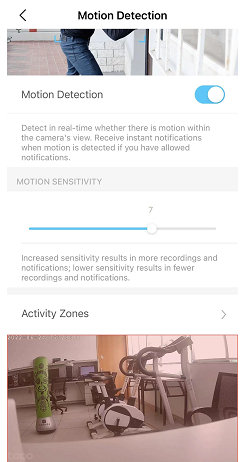 5. Adjust the camera position and pointing angle.
The position and pointing angle of the camera also play a crucial role in getting the desired performance from the motion detection features. If you are sure that motion detection is enabled correctly, checking the position of camera should be the next step. You will find that the camera was not installed properly, and the covered zone doesn't involve much movement. So, all you need to do is to slightly increase the covered region to include the movement area in your system completely. After fixing the positioning, you will experience better results with the motion detection features.
6. Make sure the view of the camera has enough movement.
If your camera is installed in a place where there's not much movement or it's not enough to reach the sensitivity threshold, the camera won't trigger motion detection. It is suggested to test it by just moving in yourself in front of the camera at different distances.
If you have finished all the above steps but the problem still persists, please contact TP-Link support for further troubleshooting.
Is this faq useful?
Your feedback helps improve this site.

TP-Link Community
Still need help? Search for answers, ask questions, and get help from TP-Link experts and other users around the world.