General Questions related to Kasa Smart Cameras
Part 1:Installation Questions
Do I need an account to be able to use a Kasa Smart camera?
Yes, All TP-Link apps and services require the creation or use of a TP-Link ID. This is a universal account that is used to manage and access your TP-Link apps or services. One account can be used across multiple apps or services, so if you use products such as Deco, Kasa or Tapo all you have to do is create one account to access them all. You can refer to FAQ 1961 for more information.
What are the requirements to use the Kasa App?
Any phone or tablet that uses Android (5.0 and up) or iOS (11.0 and up). OS requirements may change with future app releases. Check your app store for information on the latest requirements.
Note: Currently, there are no plans to support other operating systems such as Windows, Mac or Linux. Kasa is only available on Android and iOS devices.
What encryption types do Kasa cameras support?
Kasa cameras currently support WEP, WPA/WPA2, and WPA3(some models) encryptions.
Portal, WPA/WPA2-enterprise, and open/unsecured networks are not supported.
Note: Kasa smart devices do support hidden SSIDs.
What bands do Kasa cameras use?
KC120 and KC200 support both 2.4GHz and 5GHz. All of the other Kasa Cameras support 2.4GHz only.
What do the Kasa Camera's LED colors mean?
| | |
| --- | --- |
| System LED Colors | Status |
| Solid amber | Rebooting |
| Alternating amber and green | Ready to Configure |
| Flashing red | Connecting to Wi-Fi |
| Flashing green | Connected to Wi-Fi |
| Solid green | Bound to Cloud |
| Flashing amber | Resetting to Factory mode |
How do I mount my Kasa Camera?
Use the provided mounting equipment and follow the in-app guide for mounting your camera.
Part 2:Motion Detection and Notification Questions
How do I adjust the Camera's detection sensitivity?
Navigate to the camera Device Settings page on the Kasa App, then tap Privacy and Sensitivity where you can find settings to change the sensitivity of the detection to a lower/higher level.
What does the Notification Frequency option do?
This option allows you to reduce the number of notifications in a particular period of time. One notification for every 5 minutes of activity. This is useful when monitoring a particular busy area.
Why clips or snapshots in the Activity Center when motion detected?
If you are using the local storage option or have not subscribed to Kasa Care you will still receive a notification if activity is detected but there will not be a recording to review in the activity Center.
For local storage go to Cameras > tap on the Camera > tap 24/7 recording to review record activity.
Does Kasa camera support email notification when it detects an activity?
No, Kasa cameras only support Push Notifications.
Part 3:Live View Questions
Who can manage my camera and view recordings?
Only individuals who have signed into the associated Kasa account can view your camera and recordings. All video streams and activities associated with your camera are private and can only be viewed by those signed into the Kasa Account.
*Note: We recommend that you never share your account information with anyone.
Can I view multiple Kasa cameras at the same time?
A preview for all cameras can be found under the Camera tab. Simply tap the play button on each preview to view what the camera is currently looking at.
Can multiple accounts/devices view the Kasa camera at the same time?
Yes, up to 10 users can be logged into your account at the same.
What should I do if the screen of my camera has an abnormal color (pink, purple, green, etc.)?
Move the camera to a different position with a different light environment

Switch between day and night mode,

Reboot the camera.

If these actions do not resolve the concern c

ontact TP-Link Support
How long can I view the Live stream of a Kasa camera?
There is no time limit you are viewing the livestream of your camera through the Kasa app and are on the same network

There is a 10 minute limit if you are viewing the livestream outside of the camera's home network or using a screen-based home assistant, like Google's Nest Hub or Amazon's Alexa Show.
Part 4: Third-Party Questions
How do I view a Kasa camera on a computer?
At this time Kasa Cameras do not support RTSP so viewing a camera's stream on a computer is not possible.
What 3rd Party Home Assistants are supported?
Bother Google Assistant and Amazon Alexa are supported. This is a cloud-to-cloud integration and you will be required to connect your Kasa Account to their service in order to use voice control or view the livestream on a compatible device, like Nest Hub or Alexa show.
For Amazon Alexa: http://www.tp-link.com/us/faq-1952.html
For Google Assistant: https://www.tp-link.com/us/faq-1558.html
*Note: Refer to this link to know the commands the camera supported. For security purposes on/off commands are not available for voice control.
Part 5: Audio & Video Questions
How do I adjust the volume of the Kasa camera from the Kasa APP?
Tap on the camera tab, then tap on the camera you want to adjust. In the lower right corner you should see a speaker button. Tap and use the slider to adjust the camera's microphone volume.
What should I do if the audio from the Kasa camera sounds muffled?
Make sure there are no other devices causing interference. If there are you may want to relocate them or the camera.
*Note: view the livestream in the same room as the camera can cause feedback on the speaker
Why there is no audio in the recordings from my Kasa Cam?
Adjust the media volume of your phone and ensure it is NOT in Silent Mode. If you have an iPhone, please flip up the hardware switch on its left side.

Open the Kasa App, navigate to the Device Settings page, tap on Privacy and Sensitivity and ensure you have selected to also record audio.

Download the recorded clips/videos to your phone. Then check if you can hear the audio while playing the videos.

Try a different phone or tablet.

If all else fails contact support.
Part 6: Recordings & Clips Questions
Does the Kasa camera support manual recording?
Yes, however you will need to have a Kasa Subscription in order to trigger manual recording.
How can I delete recordings of Kasa camera from Kasa APP?
Tap on the Activity tab, then tap on the recording. Tap on the options button and select delete.
Do Kasa Cameras support 24/7 recording?
Yes, all current Kasa cameras support 24/7 recording. This feature requires local storage via a MicroSD card (sold separately).
Can you delete 24/7 recordings using the Kasa App?
When using the 24/7 recording feature the oldest recordings are automatically overwritten. You can delete all contents by reformatting the MicroSD card in use.
How can I download a clip to my PC?
For 24/7 recordings simply take the cameras MicroSD card and using a adapter transfer the contents from the card to your computer
For cloud storage you will need to download the individual clip to your phone and then sync it to your PC or use a cloud storage, like Dropbox or iCloud to access and download the clip to your PC.
Can I restore deleted recordings?
No. Deleted records are not recoverable.
How long will a clip be stored on a MicroSD card?
This depends on the size of the MicroSD card and the video quality used.
Use the chart in this FAQ to choose the right memory card for you.
How secure are Kasa cameras?
Kasa Cameras use industry-standard AES 128-bit encryption with SSL/TLS.
How much data will my Kasa camera use when watching live video or uploading the clips to Cloud?
This depends on the resolution used. On average the usage should be no more than 5Mbps
How many Kasa cameras can be managed by one account?
There is no limit unless you are using Kasa Care's account-based plan. If that is the limit is 10 cameras
What should I do if I've forgotten my password?
You can refer to this link to solve your problem.
How do I change the email address of my Kasa App account?
There is no current way to change the email address. You can create a new TP-Link ID, however, you will need to remove the devices from the old account and rebound them to the new one.
*Note: If you are using Kasa Care services you will need to cancel the account and resubscribe under the new account.
How do I switch to another Kasa account in the Kasa APP?
You will need to log out of the current account and login with the new one. Kasa APP ->Me ->View Account -> Log Out ->Login
But please note if your Kasa devices have already been bound to the previous account, you will need to remove those devices first from the old account and bind them to the new one, here is the guide for unbinding them from the old account. Or you could reset the devices manually.
Can I still use my Kasa camera if there is no internet?
You can use the camera or watch the live view without an internet connection, but please ensure both your phone and the camera are connected to the same wireless network.
Note: Motion detection or any other service associated with the TP-Link Cloud will not work if there is no internet access.
How long is a Kasa Camera's power cord?
10 feet
How do I turn off the camera?
Open the Kasa app and on the main screen tap the "power" button next to the camera. This will enable privacy mode and stop all recording and monitoring until privacy mode is disabled.
How do I turn on or off the green LED on the front of the Kasa camera?
If you want to turn on or off the green LED on the front of the Kasa camera, navigate to your camera's live view screen and access the device settings. Scroll down to a toggle switch for Status LED.
How do I use Push to Talk (PTT)?
Like a walkie-talkie, you can use a Kasa Camera to communicate with those around the camera. Simply press and hold the microphone button in the Kasa app. Once you hear the chime you can begin to speak. Release the button to allow for the other person to respond.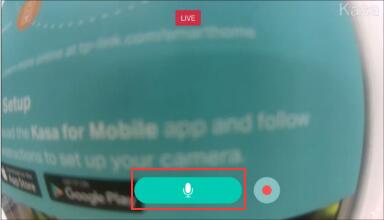 Why can't I hear the sound of the camera when clicking the "Push to Talk" button on the camera?
Our camera's 2-way audio is half-duplex. It can only send or receive at a given time.
Can KC300 and KC310 use the same hub?
Yes! The hub (KH300/KH310) supports both KC300 and KC310 at the same time, the maximum limit of the cameras connected is 16 cameras for 1 hub.
What is the meaning of Class 10 in SD cards?
SD cards are divided into Class 0/2/4/6/10 according to different read and write speeds. Class 10 is one of the faster-speed classes of SD card flash memory. It's suggested to use an SD card whose read and write speed is Class 10 or above.
How to set up the Schedule feature?
On the live screen, there is the Schedule icon. Customers can set a time to turn off or on the camera.
When the camera is off, its video stream service is disabled, which means you cannot live view, and would not get any detection or notification. The camera is in standby mode.
What's the subscription plan for Kasa Cam?
The subscription plan is also called Kasa Care. Refer to the FAQ link for details: https://www.tp-link.com/us/support/faq/1962/
Is this faq useful?
Your feedback helps improve this site.

TP-Link Community
Still need help? Search for answers, ask questions, and get help from TP-Link experts and other users around the world.