Helping ISPs Deliver New Growth: TAUC Safeguards Cloud Business Agility
Cloud agility is changing every day; and having an easy-to-use network experience brings great comfort to everyone. With users' demand for the convenience of network connectivity continuing to rise, most ISPs (Internet Service Providers) are expanding their network service range.
Innovation, deep insight, and an intuitive UI are all essential for ISPs. Otherwise, you're not only likely to lose rapid growth opportunities but may even find your work lagging behind your competitors.
To ensure the success of your entire organization, TP-Link developed a slew of products and features that will enable everyone from your tier-1 support and beyond to navigate and use. Our alert-oriented approach to troubleshooting and diagnostics will help you and your team effortlessly provide streamlined convenience to your customers.
TAUC (TP-Link Aginet Unified Cloud) solutions' primary mission is to provide ISPs with secure and flexible services. The updated TAUC 1.1 distills solutions learned from our carrier customer's actual deployments to help them face the challenges of tomorrow. It will work for more ISP customers and solve more problems.
Seamless Migration with the ISP TR-069 / TR-369 ACS Server
A data migration solution is a crucial parameter to consider. TAUC TR-369 WiFi management is built to handle user data between devices in a connected home. ISP customers can now manage the same device through TR-369 and do not need to give up their original TR-069 ACS server. This ensures more robust protection than most common remote management and ensures that no important data escapes your notice.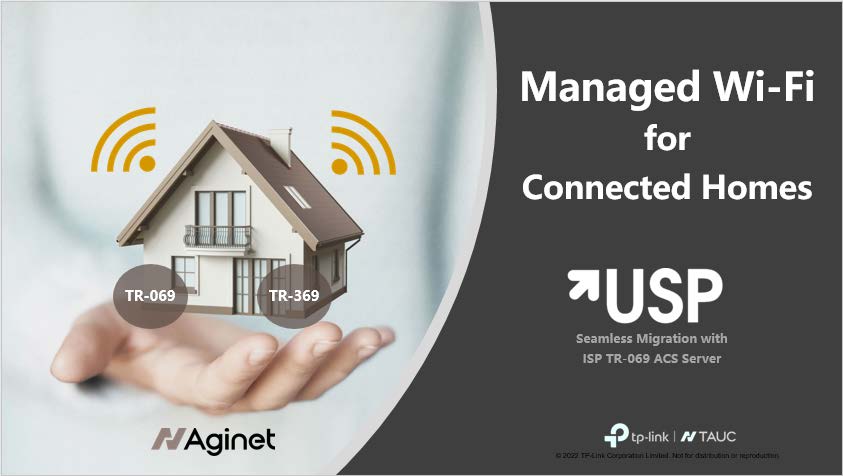 Mesh Network Topology Changes Auto Synchronization
The mesh network topology determines the difficulty for ISPs to manage mesh satellites and mesh units. TAUC 1.1 helps ISPs add or recover mesh satellites at any time. Now, ISPs can reuse mesh units and auto synchronize the units' settings in new households.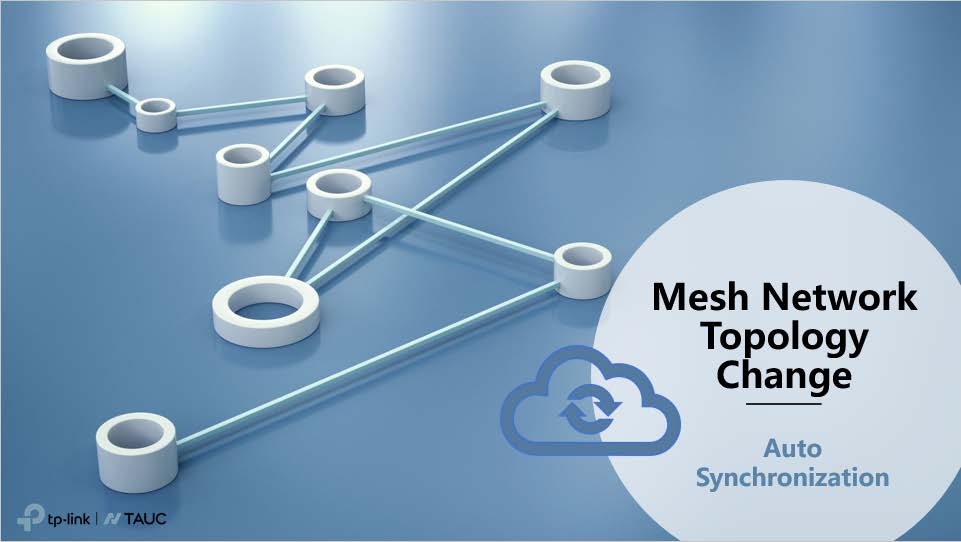 ISP-Defined Parameter Profile Mass Update
TAUC 1.1 offers a flexible mass update solution for parameter profiles, which helps simplify complex programs that you'll encounter. ISPs can customize and save the parameter profiles to the cloud or local storage. The choice is yours!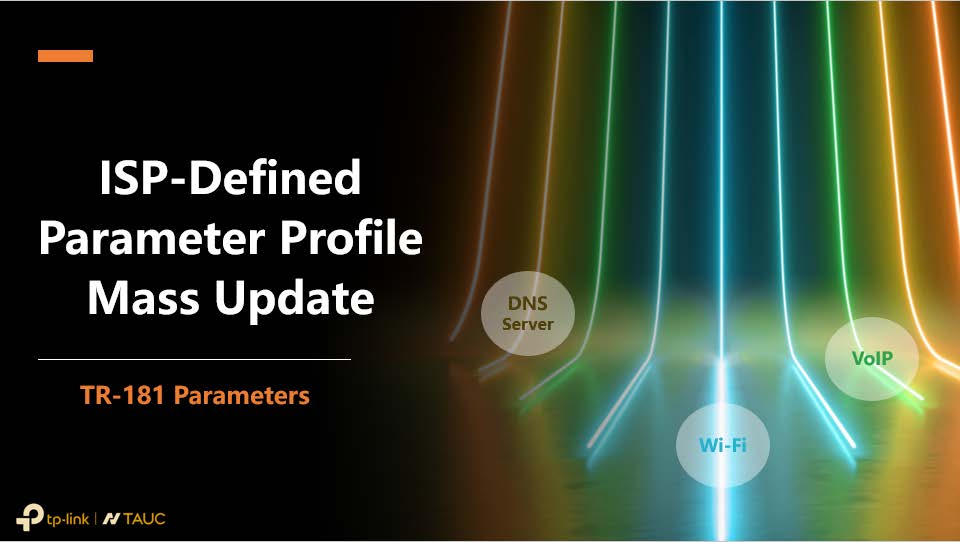 Convenient On-Site Installation with the Aginet App
Unlike common web-only configuration solutions, TAUC 1.1 allows mesh device installation via the Aginet app as well as through the web. You can flexibly switch between these two modes. And you only need to select your model without many other network parameters in advance. Flexible configuration options help you balance your need between a detailed page and a convenient app.
Why Aginet and TAUC?
Aginet is TP-Link's sub-brand dedicated to supporting Internet Service Providers (ISPs). It is committed to providing flexible products, agile and pragmatic solutions, and incomparable services. Aginet provides the best cost-performance ratio with a wide range of carrier-grade products for high-speed broadband connectivity and home WiFi coverage. TAUC (TP-Link Aginet Unified Cloud) solution facilitates the rollout, deployment, and remote management of services and networks for ISPs.