How can I view the video recordings of camera from the SD card on a computer?
Please plug the SD to your computer's SD card slot or an SD card adapter.
If you are using the SD card adapter, please insert it into a USB port on your computer.
For Windows:
Depending on the settings of your computer, a dialog box may appear. If a dialog box does not appear, open Windows File Explorer to locate and select the SD card on the left side of the window.
For MAC:
If you are using the SD card for the first time, your Mac will install the necessary driver software automatically. A device icon will appear on your Mac display. Double click the icon. You can also click "Finder" to open the Finder window and choose the icon for SD card under Devices. The contents will display in a separate window.
What if the recorded videos have no sound?
The recorded video uses G.711 as the standard for audio companding.
Some players do not support the codec such as the Windows Media Player, so the video can be played on Windows with no sound.
Please use a player that supports the G.711 codec such as the VLC on Windows. It can also be played properly on IOS.
For Android, please use the player that supports the G.711 codec as well.
What if the video recordings cannot be played?
The SD card will be divided into multiple MP4 files automatically once formatted on the Tapo app, and all of the folders will be named as xxxxxxxx_000000_tp00001.mp4, xxxxxxxx_000000_tp00002.mp4, and so on.
These MP4 files cannot be played or opened as there are no recordings in them. These files are reserved for the subsequent file to write. The actual video recordings will overwrite the files one by one.
Reserved files cannot be played: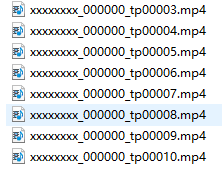 Normally recorded videos (the prefix of the file will be replaced with the date and time):

Is this faq useful?
Your feedback helps improve this site.

TP-Link Community
Still need help? Search for answers, ask questions, and get help from TP-Link experts and other users around the world.
From United States?
Get products, events and services for your region.