Jan.2023

06
CES 2023 | TP-Link Exhibits Complete WiFi 7 Networking Solution for Homes, Enterprises, and ISPs
SHENZHEN, China — Jan. 6th, 2023 — TP-Link, a leading global provider of consumer and business networking products, exhibited a complete WiFi 7 networking solution for home and enterprise networking. Additionally, Aginet WiFi 7 routers for the ISP market were also listed at CES.
TP-Link is at the forefront of WiFi 7, unlocking the potential of what's possible with this cutting-edge technology. As the world's first vendor releasing a full WiFi 7 product line for the home, enterprise, and ISP networking markets, TP-Link held a WiFi 7 Product Launch Event on Nov. 14, 2022. At the event, three WiFi 7 routers and one WiFi 7 Gaming router, three Deco Whole Home Mesh WiFi 7 products, two Omada access points for enterprise networking, and Aginet WiFi 7 for the ISP market, were released.
At CES, TP-Link expanded their WiFi 7 lines to include WiFi 7 range extenders. More WiFi 7 models were also exhibited, including 5G WiFi 7 routers, XGS-PON WiFi 7 routers, WiFi 7 routers, and Whole Home Mesh WiFi 7 that covered everything from TP-Link's flagship products to their entry-level WiFi 7. These WiFi 7 products were well received. Archer GE800, a BE19000 Tri-Band WiFi 7 Gaming Router, and Deco BE95, a Deco BE33000 Whole Home Mesh WiFi 7 System, both won 2023 CES Innovation Awards.
A True Whole Home Multi-Gig Mesh WiFi: Deco Whole Home Mesh WiFi 7 System**
Deco always promotes high-quality lifestyles with its powerful networking solutions. The line covers every scenario from indoors to outdoors and provides multi-gig Ethernet,** fiber service, 5G/4G/3G mobile, and DSL access to meet different ISP needs. At CES, four Deco Whole Home WiFi 7 models were exhibited. These Deco WiFi 7 products are equipped with Deco system v3 for True Whole Home Mesh WiFi and HomeShield functionalities. All Deco models work together, providing the ultimate whole home multi-gigabit coverage.** With Deco, intensive seamless roaming experiences, AI technology, and the new Deco app combine for the top Deco Mesh system.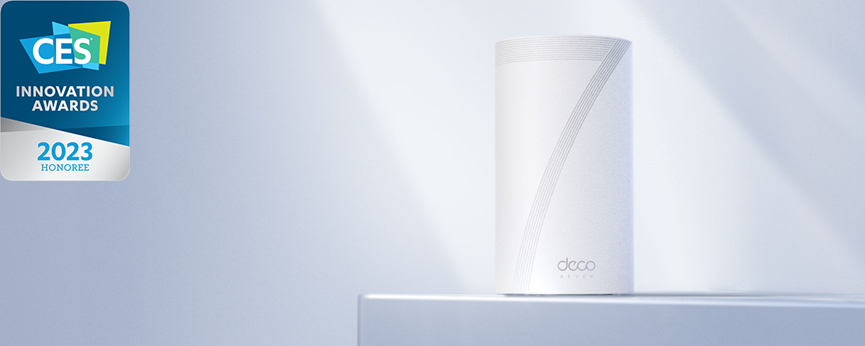 Deco BE95: BE33000 Whole Home Mesh WiFi 7 System
Deco BE95 received a 2023 CES Innovation Award for its outstanding next-gen performance Whether wired or wireless, BE95 delivers whole home multi-gigabit connectivity** to enter a new 10G era. This quad-band WiFi 7 product is the industry's fastest Quad-Band Whole Home Mesh WiFi 7 system so far, featuring the latest 6 GHz band, 320 MHz bandwidth, and 4K-QAM for a combined speed of up to 33 Gbps across 16 streams.* Each unit comes equipped with two 10G WAN/LAN ports and two 2.5G WAN/LAN ports for multi-gigabit networking. Among them is a 10 Gbps SFP+ fiber and RJ45 Ethernet Combo port for high-bandwidth connectivity, converting fiber data to Ethernet cable data with an SFP module. This builds long-range point-to-point connections easily. With TP-Link's AI-Driven Mesh technology, the system uses advanced algorithms and self-learning to ensure its mesh WiFi suits every home.
Deco BE65-5G: 5G BE11000 Whole Home Mesh WiFi 7 System
Deco BE65-5G innovatively combines 5G technology with WiFi 7 technology. 5G brings ultra-fast connections into your home and unlocks true WiFi 7 speeds. Just plug in the 5G SIM card and play with the latest generation of WiFi. Deco BE65-5G is a WiFi 7 Mesh with 11 Gbps tri-band WiFi speeds,* 5G download speeds up to 3.4 Gbps,*** and three 2.5G WAN/LAN ports.
Deco BE65 is another WiFi 7 Mesh with tri-band 11 Gbps WiFi 7 speeds* and four 2.5G ports. While Deco BE85 is a WiFi 7 Mesh with tri-band 22 Gbps WiFi 7 speeds*, two 10G ports, and two 2.5G ports.
Redefining WiFi Routers: TP-Link WiFi 7 Routers
Continuing the top performance of the Archer series and powered by the latest WiFi 7 technology, WiFi 7 routers bring unprecedented experiences to homes. Four WiFi 7 routers were unveiled at CES. Most eye-catching among them was Archer BE900, which sports a futuristic, upright design that looks more like a gaming console than a router, complete with an LED screen and touch controls on the front face.
Archer BE900 offers 24 Gbps quad-band WiFi 7 speeds* and comes with a brand-new design — totally reimagined from previous routers. It has 12× optimally positioned internal antennas that achieve the effects of high gain, high isolation, high integration, and multidirectional coverage. Equipped with two 10G WAN/LAN ports — one RJ45 port and an RJ45/SFP+ combo port — Archer BE900 provides flexible support for both fiber and copper connections. The additional four 2.5G ports and two USB ports make it an ideal solution for future-proofing your home network.
Another three routers — Archer BE800, Archer BE805, and Archer BE550 — were also exhibited. All these routers are EasyMesh-compatible and equipped with HomeShield functionalities. Archer BE800 is a tri-band WiFi 7 router with up to 19 Gbps WiFi,* equipped with an LED screen, two 10G ports, and four 2.5G ports. Archer BE805 is also a tri-band WiFi 7 router with up to 19 Gbps WiFi speeds*, two 10G ports, and four 1G ports. Archer BE550 is another tri-band WiFi 7 router but with speeds up to 9214 Mbps,* and five 2.5G ports.
True 10G, True Acceleration, True Gaming: Archer GE800, a BE19000 Tri-Band WiFi 7 Gaming Router
Archer GE800 is TP-Link's first WiFi 7 gaming router with true 10G. It also received a 2023 CES Innovation Award. Archer GE800 is a tri-band WiFi 7 gaming router that delivers WiFi speeds of over 18 Gbps. GE800 is powered by the latest CPU and powerful WiFi chipset, providing enough performance for the most intense gaming networks. GE800 is also equipped with two 10G ports and two 2.5G ports to meet the needs of multi-Gig entertainment** like gaming, 8K AR/VR, and home NAS setups. With abundant game acceleration functions, GE800 boosts gaming traffic, stabilizes connections, and reduces latency to ensure your gaming stays immersive by accelerating game devices, servers, and applications, including mobile games.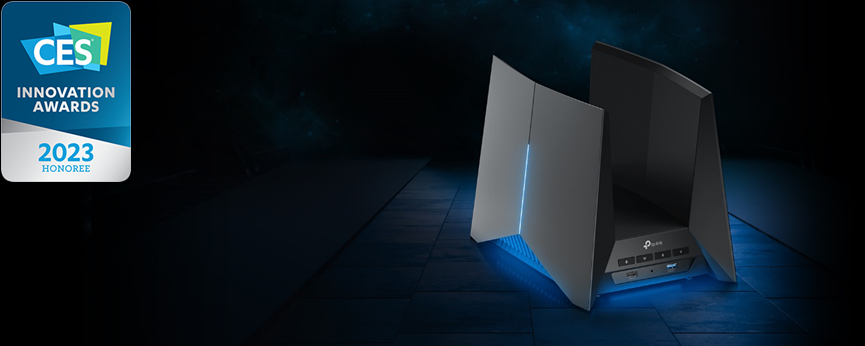 Lightning-Fast WiFi 7 in Every Corner: TP-Link WiFi 7 Range Extenders
TP-Link WiFi 7 range extenders help eliminate dead zones by boosting your wireless networks in your home and office. Equipped with EasyMesh-compatible, these WiFi 7 range extenders work with TP-Link WiFi 7 routers to form a seamless whole home Mesh WiFi. Two WiFi 7 range extenders were unveiled at CES. RE800BE, a BE19000 tri-band WiFi 7 range extender, has up to 19 Gbps WiFi speeds,* one 10G port, and two gigabit ports. While RE550BE is another tri-band WiFi 7 range extender with speeds up to 9214 Mbps, one 2.5G port, and two gigabit ports.
Reliable, Flexible, Connected: Aginet WiFi 7 Products for Internet Services Providers
Aginet is TP-Link's sub-brand dedicated to supporting Internet Service Providers (ISPs). Aginet offers innovative technology, flexible products, management solutions, and incomparable services to empower ISPs and provide a better user experience to end users around the globe. The included TAUC (TP-Link Aginet Unified Cloud) offers the TR-369 USP cloud server, carrier-grade TR-369 CPE, a customized mobile app, and tailor-made API services for our ISP customers to form the foundation of our TAUC solutions.
At CES, an XGS-PON WiFi 7 router with 22 Gbps WiFi speeds, XGB830v, was exhibited. A BE22000 WiFi router, EB810v, and a BE22000 Whole Home Mesh WiFi 7, HB810, were also introduced.
Break Through the Boundaries of Your Business: Omada Enterprise WiFi 7
TP-Link Omada has always been committed to providing SMB and enterprise clients with safe and reliable networking solutions. At CES, two brand-new WiFi 7 access points — Omada EAP780 and Omada EAP770 — were exhibited. These two access points have 22 Gbps tri-band WiFi 7 speeds and 11 Gbps WiFi 7 speeds, respectively. With Omada WiFi 7, even in an auditorium, meeting room, or hotel with numerous devices, everyone can work, enjoy games, or watch high-definition videos online smoothly.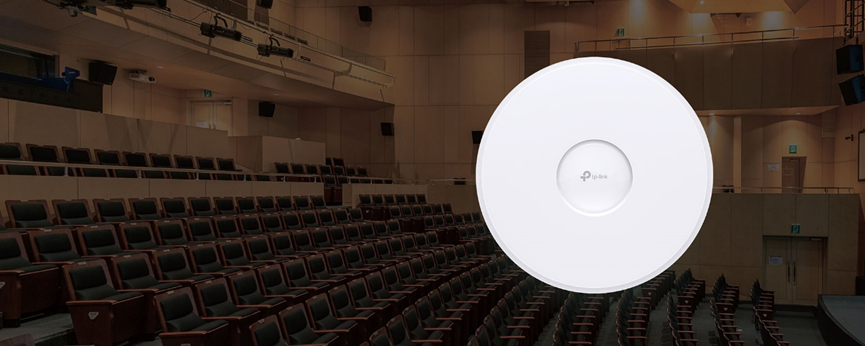 Summary of TP-Link's WiFi 7 Product Lineup
At CES, a complete WiFi 7 product for home networking, enterprise networking, and ISPs was demonstrated. Four Deco Whole Home Mesh WiFi 7 models, four WiFi 7 routers, one WiFi 7 gaming router, and two WiFi 7 range extenders, from flagships to entry-level products, offer unparalleled WiFi experiences for home users. Flexible WiFi speed selections range from BE9300 to BE33000, and flexible product combinations form true whole home Mesh WiFi. For enterprise WiFi 7, Omada EAP780 and 770 will be available, covering from BE22000 to BE11000.
As always, we aspire to deliver reliability in everything we do and create a lifestyle that is simple, smart, and connected for everyone. We look forward to seeing our customers embrace a better life with these new WiFi 7 products. Please stay tuned if you are interested in the aforementioned new products.
-------------------
About TP-Link
TP-Link is a global innovator and provider of consumer and enterprise networking products and the world's No. 1 provider of WLAN and broadband CPE devices**** with products available in over 120 countries for hundreds of millions of customers. TP-Link provides award-winning networking products in wireless routers, cable/DSL gateways, powerline adapters, range extenders, cloud cameras, smart home devices, and accessories for global end-users. We remain committed to intensive R&D, efficient production, and strict quality control. TP-Link also endeavors to provide stable Business WiFi solutions for small and medium business customers and reliable enterprise switches and routers.
*Maximum wireless signal rates are the physical rates derived from IEEE Standard 802.11 specifications. Actual wireless data throughput, wireless coverage, and quantity of connected devices are not guaranteed and will vary as a result of network conditions, client limitations, and environmental factors, including building materials, obstacles, volume and density of traffic, and client location. Use of Wi-Fi 7 and related features requires clients to also support the corresponding features to achieve the claimed performance.
**Multi-gig internet plans are required to achieve Wi-Fi speeds over 1 Gbps. Actual wireless performance will vary based on network environment and condition.
***Maximum 5G download and upload speeds depend on external factors such as the local 5G network coverage, data plan, real-time network capacity, client limitations, and environmental factors.
****According to IDC Worldwide Quarterly WLAN Tracker Report, Q4 2021 Release. Based on units shipped.
For more information about TP-Link, please visit us online at www.tp-link.com or follow us on:
- Facebook: facebook.com/tplink
- Twitter: twitter.com/tplink
- YouTube: youtube.com/tplinktech
- LinkedIn: linkedin.com/company/tp-link-technologies-co-ltd/
- TP-Link Community: community.tp-link.com
Media Contact: pr@tp-link.com
All information and pricing provided are subject to change without notice. TP-Link is a registered trademark of TP-Link Corporation Limited. All trade names are the property of their respective owners
From United States?
Get products, events and services for your region.