Jan.2023

06
CES 2023 | TP-Link Unveils a New Suite of Cutting-Edge Smart Home Products
January 6th, 2023 — TP-Link, a leading global provider of networking and smart home products, today revealed its latest innovative smart home products, demonstrating its commitment to delivering users smart, secure, and easy smart home solutions.
TP-Link's two smart home brands, Tapo and Kasa, further expanded their product categories and upgraded technologies and algorithms to provide users with comprehensive, high-quality smart home products. Embracing the newly industry-unified standard Matter, TP-Link has opened its ecosystem to improve compatibility for users.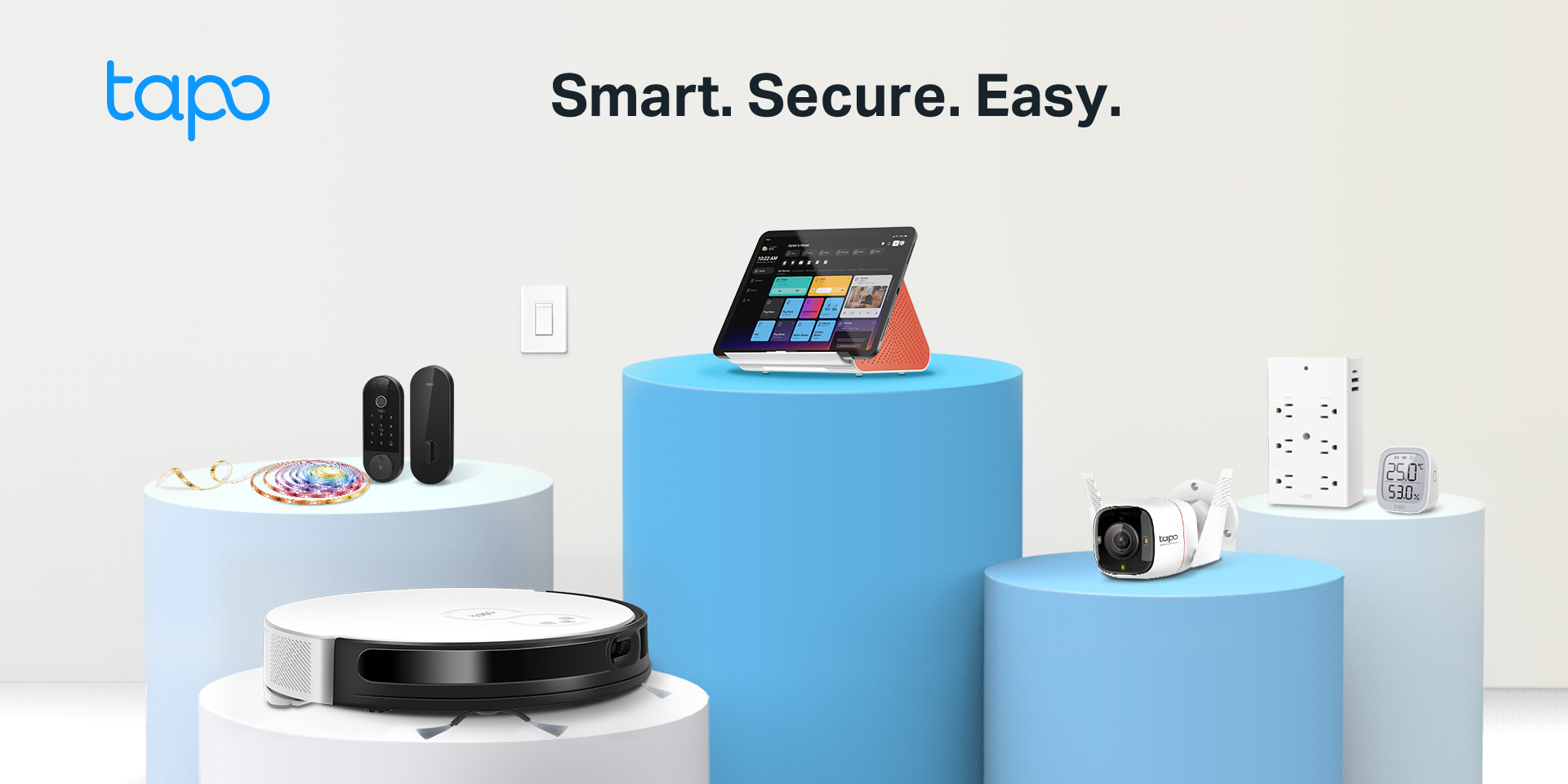 Leading the charge is Tapo RV30C Slim — a CES 2023 Innovation Awards Honoree. TP-Link launched its first robot vacuums in 2022 with the RV10 series and RV30 series, while the innovative RV30C Slim takes performance and efficiency to a new height with unparalleled MagSlim LiDAR Navigation technology. Adopting a compact Mini-dToF LiDAR sensor, RV30C Slim is TP-Link's thinnest LiDAR Navigation robot vacuum that cleans harder-to-reach areas. Powered by MagSlim LiDAR Navigation, RV30C Slim achieves millimeter-level measurement for more accurate perception and mapping of homes, greatly increasing cleaning coverage. RV70 OMNI will also make its debut at CES 2023 with an all-around Omni station and triple-AI technology.
TP-Link is making a big step forward by introducing the brand-new Homebase Tapo H900. Tapo H900 is a home connection center that supports devices based on WiFi, Sub-G, Bluetooth, Matter, Thread, and other protocols. With H900, users can manage all Tapo smart home devices and set customizing smart scenes for seamless automation. Additionally, Tapo H900 works as a video surveillance center as well as a video storage center, allowing users to watch live views from up to 16 cameras simultaneously. Apart from that, H900 also provides electronic photo frames, alarm clocks, calendars, notes, and other entertainment functions.
Tapo's next-generation smart home security cameras are also taking the stage. Tapo C325WB is Tapo's advanced outdoor security WiFi camera. It adopts a super aperture lens and superior sensor that captures images with more natural color and vivid details, even in ultra-low light conditions. Powered by a powerful algorithm chip, Tapo C325WB also comes with upgraded AI detection features. The camera also meets the IP66 waterproof rating and performs well even in harsh environments with rain and dust.
Another standout product is the battery-powered 2K QHD Tapo C425 Outdoor Security WiFi Camera. The camera is equipped with a built-in 10,000mah large capacity battery and can be magnetically mounted anywhere. Moreover, the camera works with the A200 Solar Panel for non-stop charging via solar energy (Tapo A200 sold separately). It not only keeps your camera powered on all year round but also helps save energy consumption in the face of new energy challenges around the world.
The upcoming dual video doorbell Tapo D660 showcases how TP-Link has been bunkering down to solve users' problems in real application scenarios. Despite there being many smart doorbells on the market, few of them can monitor the bottom and corners of doors. Packing a downward-facing camera with an algorithm chip, Tapo D660 delivers users complete surveillance of their doorways and deters porch pirates from stealing packages. Combined with a forward-facing camera, the dual-camera Tapo D660 offers users ultra-wide FOV of over 180° without blind spots.
Tapo is also launching a smart video door lock - a CES 2023 Innovation Awards Honoree. The Tapo smart video door lock is a 3-in-1 device that works as a door lock, a doorbell, as well as an outdoor security camera. Tapo's door lock supports multiple bank-grade unlocking methods, such as fingerprint, face recognition, app, password, and voice assistant unlocks. Additionally, with the Tapo app, users can lock and unlock the door from anywhere, set temporary user codes, view lock activity, and receive lock notifications. Embedded with a full-color doorbell, the smart video door lock also supports real-time video intercom, and the built-in 2K QHD super wide-angle camera helps monitor users' doorways 24/7.
While TP-Link focuses on developing useful products for users, it also strives to promote the integration of the industry and alleviate the fragmentation of the smart home market. TP-Link has been driving the practical application of the Matter protocol and is one of the first companies to receive the Matter 1.0 certification. By introducing Matter to the lines, TP-Link will bring users seamless interoperability across platforms and enable simpler setups.
TP-Link's first Matter-certified rollout will also make its debut at CES, including smart plugs, smart switches, smart outlet extenders, and smart bulbs. Tapo P125M Mini Smart Plug features a compact design to stack two plugs in the same outlet, while Kasa KP125M supports real-time energy consumption monitoring. The Tapo S505D Smart Dimmer Switch allows users to dim and brighten their lights in multiple ways. Featuring 3 smart AC outlets, 3 always-on AC outlets, and 3 USB ports, The Tapo P306 Smart WiFi Outlet Extender is also compatible with the Matter protocol and a wide range of smart home ecosystems. Lastly, the Matter-certified Tapo L535E Multicolor Smart Light Bulb produces up to 1,100 lumens of white brightness and has a dimming range from 100% to 1%.
Finally, on the heels of the previously released Smart Contact Sensor Tapo T100 and Smart Motion Sensor Tapo T110, TP-Link is introducing new smart sensors, Tapo T300, and Tapo T315. When Tapo T300 detects leaking water, it will send an instant alarm to prevent excess water damage. Tapo T315 detects real-time temperature and humidity with great accuracy. Pairing Tapo T315 with Tapo smart plugs and other smart devices keeps rooms at the appropriate temperature to provide users with constantly comfortable living spaces.
Pricing & Availability
TP-Link's lineup of Tapo and Kasa products will become available throughout 2023 at competitive price points. For more information, please reach out to sales.usa@tp-link.com.
###
About TP-Link
Founded in 1996, TP-Link is a global provider of reliable networking devices and accessories, involved in all aspects of everyday life. The company is consistently ranked by analyst firm IDC as the No.1 provider of WiFi devices, supplying distribution to more than 170 countries and serving billions of people worldwide.
With a proven heritage of stability, performance, and value, TP-Link has created a portfolio of consumer, business, and ISP networking products. Now, as the connected lifestyle continues to evolve, the company is expanding its business domain into Consumer Electronics, IoT, and Security technologies in order to meet the demands of tomorrow.
Media Contact: pr@tp-link.com
All information and pricing provided are subject to change without notice. TP-Link is a registered trademark of TP-Link Corporation Limited. All trade names are the property of their respective owners.
From United States?
Get products, events and services for your region.