Sep.2022

24
TP-Link Unveils Its Fastest WiFi 6E Mesh System — The Flagship Deco XE200
SHENZHEN, China — TP-Link®, a leading global provider of consumer and business networking products, today announced the flagship WiFi 6E whole home mesh system, Deco XE200, taking mesh WiFi speeds to a whole new level.
Powered by the latest WiFi 6E technology, our premium Deco XE200 delivers a huge boost in speed, coverage, and total capacity. If you're looking for a high-end WiFi 6E mesh system for your extreme networking needs, Deco XE200 is your best choice.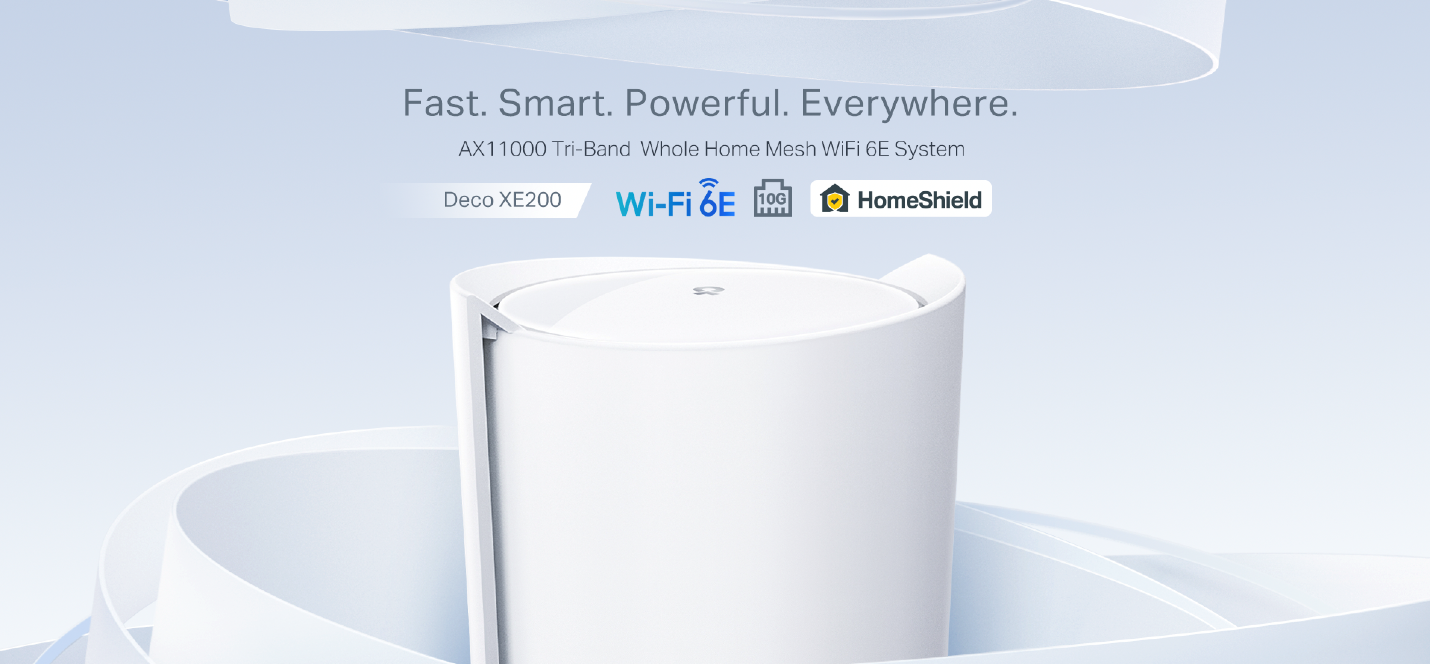 Featuring the latest 6 GHz band for a combined speed of up to 10.8 Gbps across 16 streams. Its dynamic backhaul provides solid connections to devices within 6,500 sq. ft. (2-pack) for over 200 devices. For home studios and offices that require top speeds for their high-bandwidth operations, each unit comes equipped with a 10 Gbps WAN/LAN port for 10G networking. With TP-Link's AI-Driven Mesh technology, the system uses advanced algorithms and self-learning to ensure its mesh WiFi suits every home.
6 GHz Band Makes All the Difference
Deco XE200 features Tri-Band WiFi with the greenfield 6 GHz band, adding 7× 160 MHz channels to prevent competition over bandwidth and speed drops.* It utilizes the capabilities of 6 GHz to enable high-bandwidth applications that require faster data throughput such as high-definition video streaming and virtual reality, as well as lower latency connectivity for online gaming.
16 Streams for High-Density Networking
Benefiting from 16× high-gain antennas, there's more than enough bandwidth for connected devices with 16 simultaneous data streams (8 of them on the 5 GHz band). The system improves the overall reliability and speeds more than typical 12-stream (or less) routers on the market, enhancing whole home wireless performance. Essentially: more streams, more available bandwidth.
Outstanding 10 Gbps Wired Performance
With a built-in 10 Gbps port, Deco XE200 maximizes home internet speeds with 10× the wired speed of a typical Gigabit Ethernet port. Meanwhile, with 10GbE, unified storage within a local area network (LAN) becomes more feasible. Users can store video archives and larger media files super-fast and stream them from any authorized device. This saves time spent backing up an entire computer or sharing files.
Whole Home Coverage, The Real Thing
Thanks to the newly opened 6 GHz band with more spectrum, Deco XE200 reinforces the backhaul performance between Deco units, bringing the most stable and strongest network, covering every corner of your home for up to 6,500 ft2 (2-pack). The backhaul also improves the overall WiFi performance of all non-6E devices.
AI-Driven Mesh, WiFi Tailored to Your Home
The integrated AI-Driven Mesh technology intelligently adjusts the system to best fit each home by learning individual home environments and network loads. With its algorithms and self-learning, devices will seamlessly switch to another network source when necessary for the most optimal connections.
Not just a Router, Also an IoT Hub
Deco XE200 functions as both a WiFi router and an IoT hub, connecting WiFi devices and enabling management of all TP-Link smart home devices through the Deco app.
Keep Everything Secure — WPA3 and HomeShield§
With the enhanced WPA3 encryption and TP-Link HomeShield, Deco XE200 is one of the most secure WiFi Mesh systems that keep your home network safe.
TP-Link HomeShield manages online time and blocks inappropriate content to develop healthy online habits for the family with Parental Controls. Quality of Service (QoS) and Network Protection keep your home network smooth and safe. With comprehensive reports, you can check all the statistics and insights to help you understand your home network better.
Key Features
AXE11000 Tri-Band WiFi – 4804 Mbps (6 GHz) + 4804 Mbps (5 GHz) + 1148 Mbps (2.4 GHz).
Works on the 6 GHz Band – Minimizes congestion with greenfield spectrum, delivering robust high-speed connections.
16-Stream WiFi – Simultaneous data transmission with 16 streams.
AI-Driven Mesh – Intelligently learns your network environment to provide the ideal WiFi unique to your home.
Premium 10 Gbps Wired Network – 1× 10 Gbps port + 2× Gigabit ports.
HomeShield – Provides comprehensive network protection, robust parental controls, and real-time IoT security.§
Setup Made Easier than Ever – The Deco app walks you through setup and installation, step-by-step.
Universal Compatibility – Backward compatible with all WiFi generations and works with any internet service provider (ISP).
###
About TP-Link
TP-Link serves as the network backbone for homes and businesses worldwide. With humble beginnings in 1996, the company has grown to what it is today: a global leader.
You can find our Reliably Smart devices connecting 1.7 billion people in over 170 countries and regions. These numbers have led analyst firm IDC to rank us as the No. 1 provider of Wi-Fi devices for over a decade.*
We understand the importance of the always-connected lifestyle. Our products feature the latest technologies and are engineered to last. The TP-Link portfolio includes home-business-ISP networking, surveillance, and consumer electronics. Rest assured that you're receiving our proven stability, performance, and value with every device.
As our lives grow ever more connected, TP-Link will continue to pursue excellence and explore the possibilities of tomorrow.
For more information about TP-LINK, please visit us online at www.tp-link.com or follow us on:
- Facebook: facebook.com/tplink
- Twitter: twitter.com/tplink
- YouTube: youtube.com/tplinktech
- LinkedIn: linkedin.com/company/tp-link-technologies-co-ltd/
Media Contact
*The FCC opened up 1200 MHz (7× 160 MHz) of spectrum in the 6 GHz band, paving the way for WiFi 6E in the US. The European Union has opened up 480 MHz (3× 160 MHz) spectrum in the 6 GHz band for the implementation of wireless access systems.
§HomeShield includes the Free Basic Plan. Fees apply for the Pro Plan. Visit tp-link.com/homeshield for more information.
From United States?
Get products, events and services for your region.