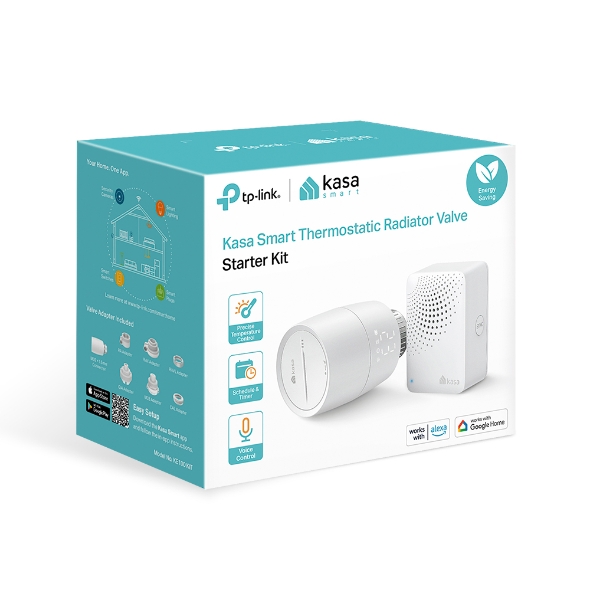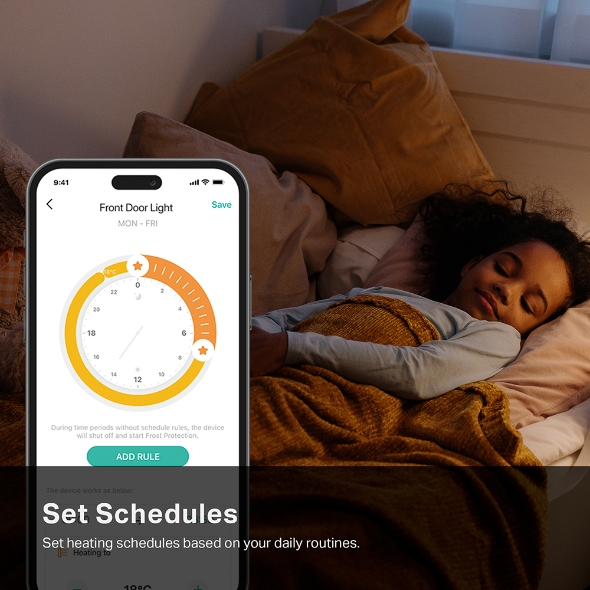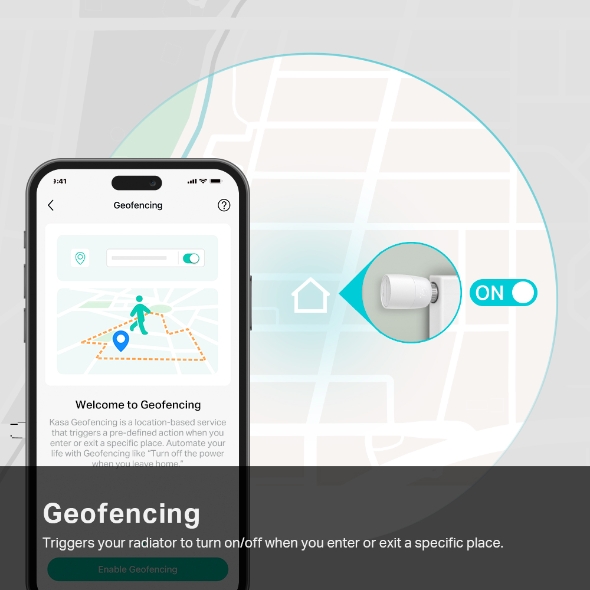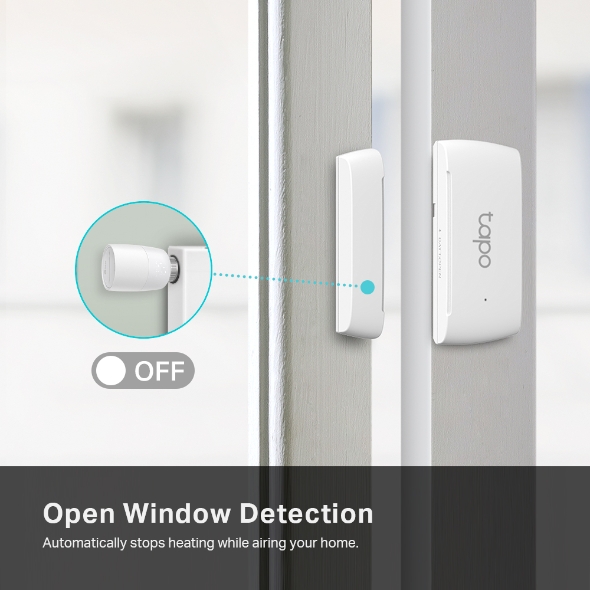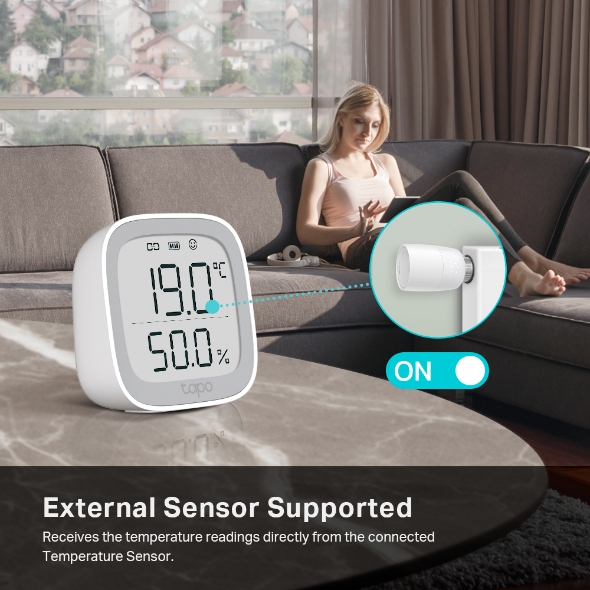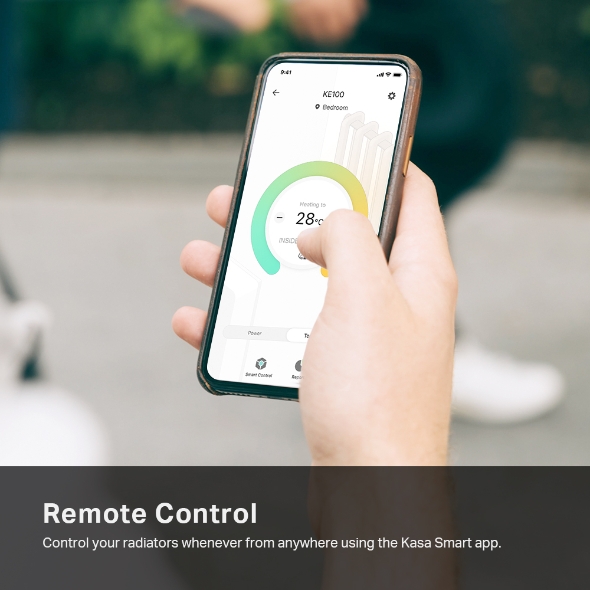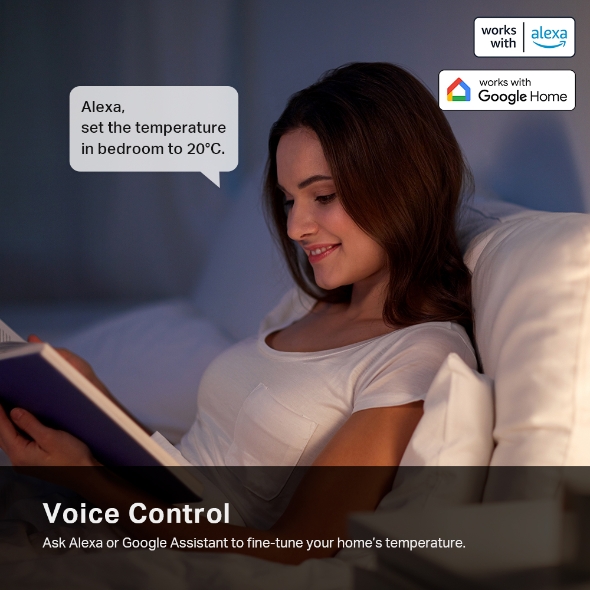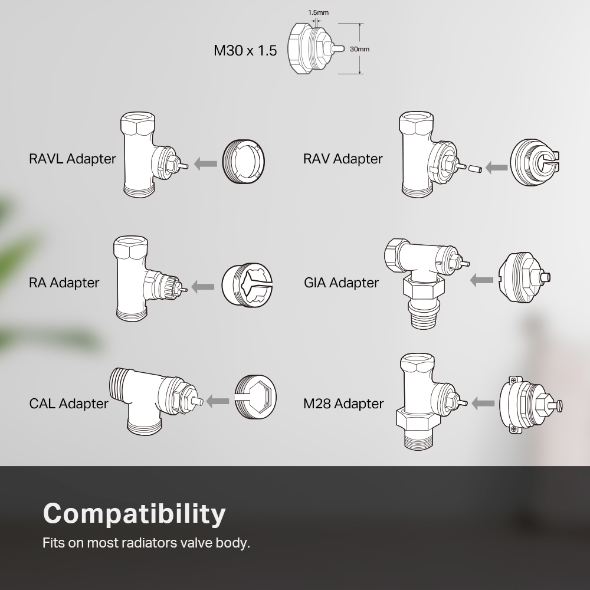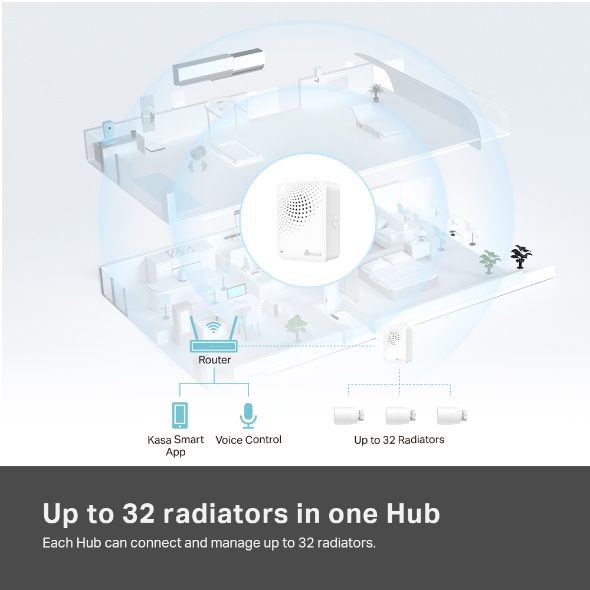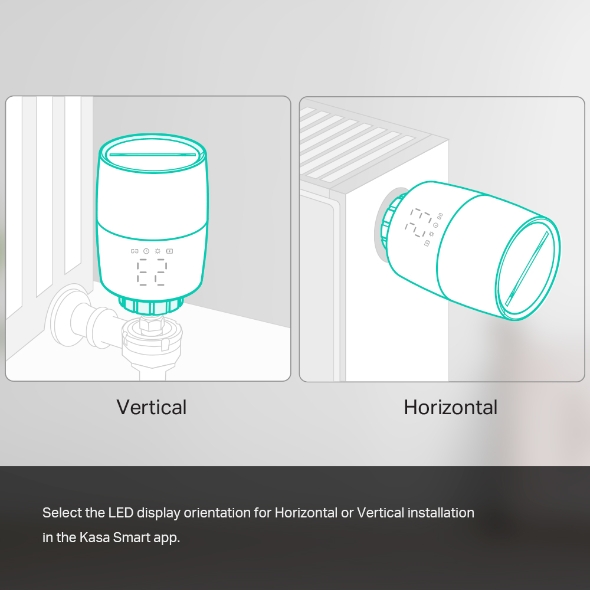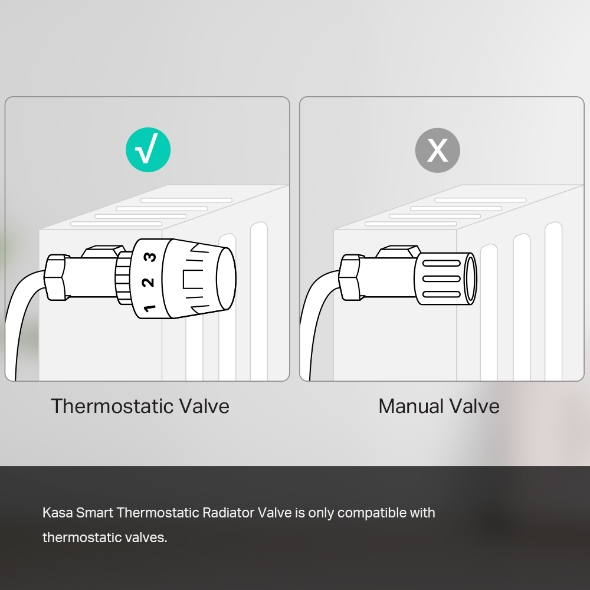 Kasa Smart Thermostatic Radiator Valve Starter Kit
Precise Temperature Control - Get the right temperature whenever you want it.
External Temperature Sensor - Pair with external temp sensor to

gather accurate temperature readings (no additional hub and app required)

Open Window Detection - Automatically turns off

the heating and activates Frost Protection when the connected window & door sensor (Tapo T110) is triggered.

Geofencing for Free - Your home heats up automatically as you approach and turns off when you're away.
Schedule & Timer - Make sure it is as hot as you need with presets and schedules that suit your life.
Voice Control - Hands-free control that syncs with Amazon Alexa, Google Assistant, or Siri ShortCuts.
Ultra-Long Standby - Works with lot hub, promising longer battery life (over one year).
Up to 32 Radiators – Each hub can connect and manage up to 32 radiators.
Versatile Compatibility – Fits on most radiator valve body thread (M30x1.5) and the six adapters(RA, RAV, RAVL, CAL, M28 and GIA) included allow more compatibility.
Frost Protection - Keep your pipes unfrozen and your house safe.
Hub Included - Simply replace your old radiator valve with Kasa and get started right away.
Comfort and Energy Savings Simplified
Free Geofencing
Window Open,
Heating Off
Room-by-Room Control
External Temp Sensor Support
Schedules
Voice Control
Remote Control
Group Control
Effortlessly Control Comfort, Seamlessly Save Energy
Keeps your home always comfortable without overheating or chilling.
Effortlessly save up tp 30%1 on energy consumption to reduce your cost of iving.
0.1℃ Measurement Accuracy
The built-in high-sensitivity sensor detects minor temperature variations.
2-sec Fast Response 2
Swiftly responds to temperature changes and remote commands. Its smart algorithm guarantees accurate comfort and avoids energy waste.
Up to 10 kg Thrust
Houses a powerful motor to open and close most valves without a hitch. Smoothly control your radiators for the perfect temperature in seconds.
Schedules
Geofencing
Remote Control
Voice Control
Heat Your Rooms Automatically
Set heating schedules for each room based on your daily routine, saving energy and money on your energy bills.
Warm on Arrival
With the free Geofencing feature, your home will heat up when you are on the way home. Set your desired range, from 100 meters to 2 kilometers, and you can always walk into a suitably cozy home.
Control from Anywhere
Control all your radiators in your home from your phone. No more guessing if you left the heater on in an empty room.
Hands Free Control
Ask Alexa or Google Assistant to fine-tune your home's temperature. No need to get up from the sofa or move a finger.
Tailored Heating
From room-specific adjustments to synchronized device control, KE100 provides versatility and ease.
Room-by-Room Comfort
Cut Heating Costs
Set the perfect temperature for each room individually and zone your home's heating. No more wasting energy on empty rooms.
Devices Group Control
Comfort at Ease
Group several smart radiator valves together and control them with one touch. Ideal for larger rooms with more than one radiator, providing a consistent temperature throughout your home.
Unified Home Temperature: One Hub for All
With multi-layer and multi-room control, the Kasa Hub keeps you warm and cozy. Thanks to dependable long-range connectivity, it links up to 32 radiators, ensuring comfort even in spacious homes.
Router
Kasa Smart App
Voice Control
Up to 32 Radiators
Better with the Tapo Sensor
No need for additional apps or hubs, simply connect the smart sensor to your Kasa Smart Hub in the Kasa Smart App to enhance your smart heating.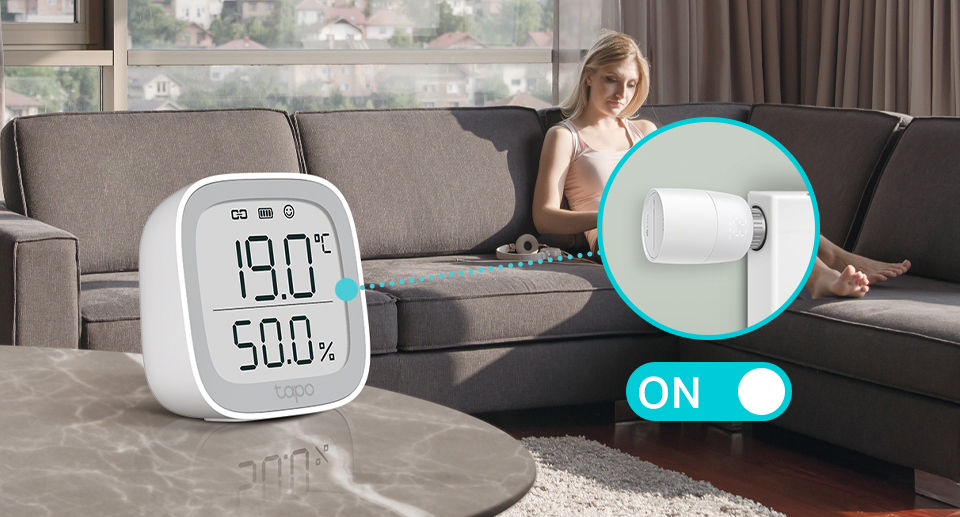 External Temperature Sensor
Supports external temperature sensors like Tapo T310 and Tapo T315 and enjoy precise temperature control in any part of the room, as your TRV automatically adjusts based on readings from these sensors, not just around the radiator.
Open Window Detection
Automatically turns off the heating and activates Frost Protection when the connected contact sensor (Tapo T110) is triggered. This helps you save energy and keep your house safe.
1Open the Kasa Smart App > Find KH100 > Tap to add Tapo Sensor to the same KH100 as KE100
2Go to App Home Page > Find KE100 > Tap to set temperature correction/ window open detection
1 Year+ Battery Life 4
2× AA/LR6 batteries easily last through an entire heating season.
Digital Display
Rotate the LED display 180° for easy viewing.
Manual Control
Knob tweaks temperature in 0.5°C increments.
M30 × 1.5 Connector
Compatible with the majority of radiator valve threads.
Versatile Compatibility
All six included adapters offer more
compatibility with the most common
valves on the market.
RA Adapter
RAV Adapter
RAVL Adapter
GIA Adapter
M28 Adapter
CAL Adapter
Night Mode

Reduce the frequency of adjusting the motor while maintaining a comfortable temperature for a restful night's sleep.

Quick & Easy Installation

Uninstall your existing thermostat and easily screw KE100 onto the radiator with the provided adapters.

Child Lock

Prevent kids from unintentionally adjusting your radiator.

Frost Protection

Keep your pipes unfrozen and your house safe.
NETWORK
System Requirements
Android 5.0 or higher, iOS 10 or higher
Wireless Type
Smart Radiator Valve: 868 MHzKasa Hub: 2.4 GHz Wi-Fi, 868 MHz
GENERAL
Operating Temperature
0 ºC ~ 40 ºC (32 °F ~ 104 °F )
Operating Humidity
10%~90% RH, Non-condensing
Dimensions( H X W X D )
Smart Radiator Valve φ56.5 × 84 mm (φ2.2 × 3.3 in)Kasa Hub 72×70.3×51 mm (2.8×2.7×2 in)
Materia
PC
Buttons
Smart Radiator Valve: Control Knob, SYNC/Reset ButtonKasa Hub: SYNC/Silence Button
Power Requirements
Smart Radiator Valve: 3.0V DC (2 x AA/LR6 batteries)Kasa Hub: AC, 100-240 V, 50/60 Hz
Certifications
CE, UKCA, RoHS
PACKAGE CONTENTS
Package Contents
1× KE1001× KH1002× AA/LR6 batteries1× RA adapter1× RAV adapter1× RAVL adapter1× CAL Adapter1× M28 Adapter1× GIA AdapterQuick Start Guide
From United States?
Get products, events and services for your region.