What if the Deco DSL network connection is intermittent?
NOTE:
If your problem belongs to the following 2 situations, refer to the FAQ The internet connection is unstable or suddenly stops working when connected to the Deco network for troubleshooting.
The Deco network in wireless router mode is intermittent.
The wired network is fine, only the wireless keeps dropping. (refer to case 3 of the FAQ)
Kindly note this article is only applicable to Deco DSL models when configured in DSL modem router mode.
If all end devices keep dropping internet connectivity (that means, the wireless network/wired connection is connected but no internet access) or you're not sure if your wired devices work stably, when the problem happens, please check the DSL port light status (the small round LED next to the Deco DSL port).
Note: DSL port light and Internet LED are different. Please see the pictures below.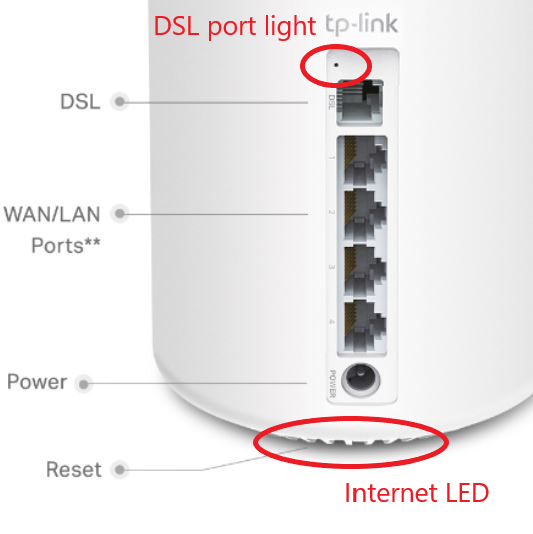 Case 1: The DSL port light is solid white
Go to Deco APP -> More -> Internet Connection -> IPv4 to check the WAN IP address of the Deco. If there is an IP address, but Deco has no internet access, refer to the link to change the DNS server to 8.8.8.8 and 8.8.4.4 for a try.
If you have an old modem router, please test whether the old modem router's internet is stable under the same line. Or try to confirm with your ISP whether their service is stable.
Case 2: DSL port light is flashing white or off
Try unplugging and replugging the DSL cable and see if the network can recover.
If you are located in Australia, try to enable SRA (Go to APP>>More>>Advanced>>DSL Settings>>DSL status>>enable SRA).
If there is a phone splitter, please remove the splitter. Connect the DSL cable to the DSL port on the wall directly, and see if the network can be stable.
Change another DSL cable (phone cable).
If you have another old modem router, please test if the old modem router's network is stable under the same line. Or contact your ISP to check if your DSL line is stable.
If the above steps do not resolve your issue, please contact TP-Link Support and provide the following information:
The results of the above troubleshooting steps.
How often does this problem happen?
When did you buy the product and when did the problem start? Did it work before?
Your TP-Link ID (email account), Region, ISP.
The model number, hardware, and firmware version of your Deco units.
Get to know more details of each function and configuration please go to Download Center to download the manual of your product.
Questa faq è utile?
Your feedback helps improve this site.
From United States?
Get products, events and services for your region.