Come impostare la funzionalità VoIP su un modem router VoIP? (nuova interfaccia)
Preparazione: per prima cosa è necessario collegare il modem router a Internet. Solo dopo averlo collegato a Internet è possibile impostare correttamente la funzionalità VoIP.
In questa guida è stato utilizzato il modem router Archer VR900v come esempio.
Accedi all'interfaccia web del modem router, come indicato nella guida "Come accedere alla piattaforma di gestione web del tuo Modem Router". Dopodichè segui i passaggi seguenti:
Passo 1:
Vai su Avanzate > Telefonia / VoIP > Numeri di telefono e fai clic su Aggiungi.
Passo 2:
Scegli il tuo provider di telefonia e inserisci le informazioni necessarie come richiesto, quindi fai clic su Salva per rendere effettive le impostazioni. Diversi provider di telefonia hanno parametri diversi. Contatta il tuo provider se non conosci i dati da inserire.
Per maggiori informazioni consulta le guide dedicate ai singoli Provider.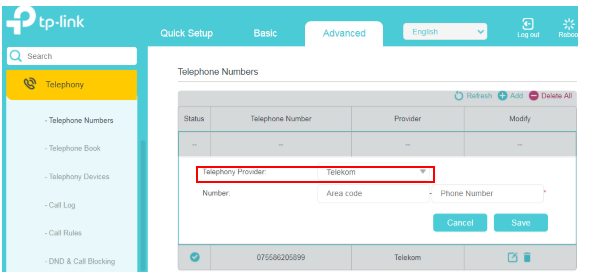 Passo 3:
Se il tuo Provider non è presente nell'elenco, scegli Altro come fornitore di telefonia e inserisci i parametri richiesti. Fai clic su Salva per rendere effettive le impostazioni.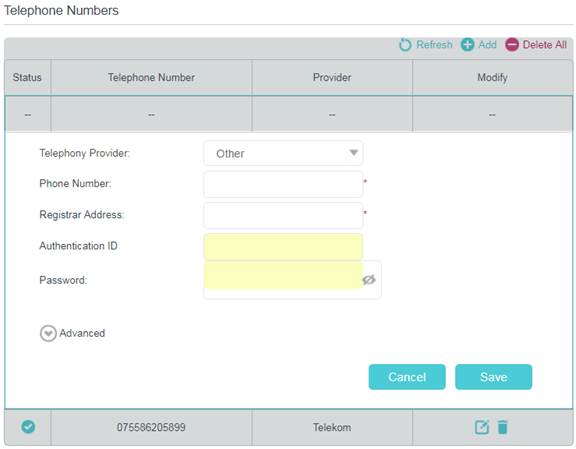 Phone Number: il numero utilizzato per chiamare e rispondere.
Registrar Address: di solito un nome di dominio, o un indirizzo IP.
Authentication ID and Password: informazioni facoltative da inserire solo se si è in possesso di questi dati.
Per maggiori informazioni sui singoli Provider consulta le guide dedicate:
Tecnologia F ( Fibra FTTH ):
Tecnologia FR ( VDSL / FTTC / FTTS ):
Questa faq è utile?
Your feedback helps improve this site.
From United States?
Get products, events and services for your region.