Come configurare TL-WPS510U lavorando in modalità infrastruttura tramite la sua pagina Web su MAC OS 10.12?
Per una migliore guida, supponiamo che ci sia una seguente richiesta per la rete: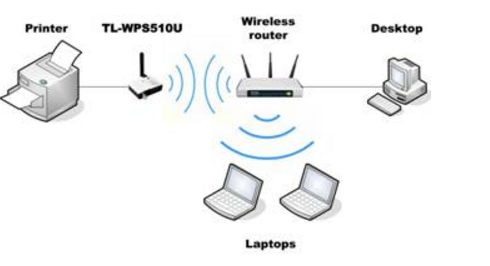 Il router wireless è il centro della rete wireless e ogni host (client) comunicherà con TL-WPS510U tramite il router wireless. La rete locale è 192.168.1.0/255.255.255.0 con un router wireless 192.168.1.1 e TL-WPS510U deve impostare il suo IP su 192.168.1.10.
Passo 1
Su MacBook, modifica l'IP del Wi-Fi in 192.168.0.100/255.255.255.0. Poiché l'indirizzo IP predefinito di TL-WPS510U è 192.168.0.10, è necessario impostare l'IP Wi-Fi del MacBook sulla stessa sottorete del server di stampa.
Fai clic sull'icona Apple sul lato sinistro della barra superiore, quindi scegli System Preferences.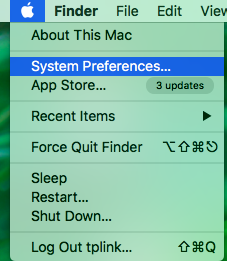 Nella nuova finestra, selezionare Network.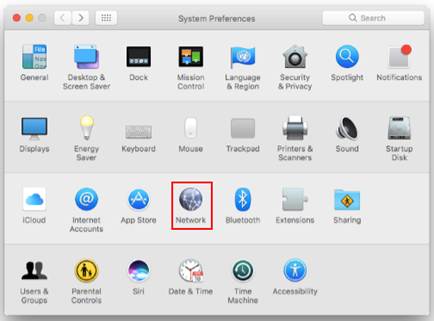 Segui i passaggi seguenti per impostare l'indirizzo IP del Wi-Fi.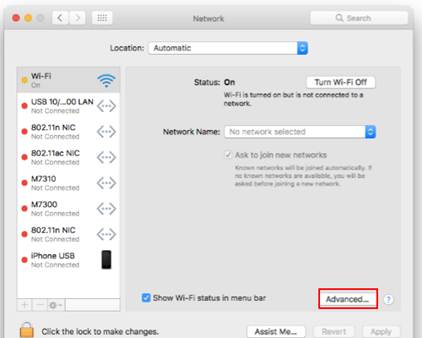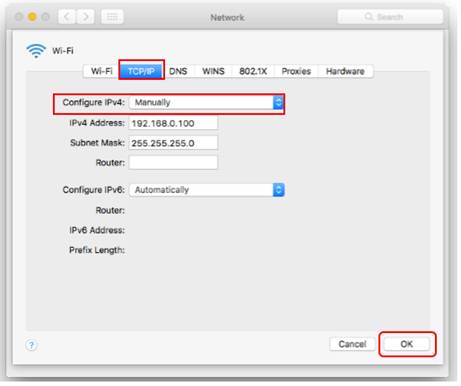 Nota: ricordarsi di fare clic su OK, poi fare clic su Apply nella finestra precedente per salvare le impostazioni.
Passo 2
Collega il tuo MacBook a TL-WPS510U. Il server di stampa funzionerà in modalità Ad-Hoc, con SSID WLAN-PS nelle impostazioni predefinite di fabbrica. Poi, selezionare la rete wireless WLAN-PS per la connessione. Se è necessario ripristinare TL-WPS510U ma non si sa come fare, fare riferimento alle FAQ 236 (Come ripristinare TL-WPS510U ai valori predefiniti di fabbrica)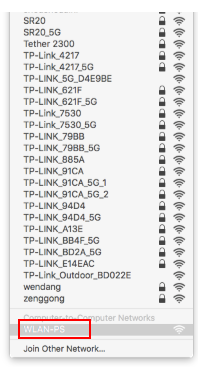 Passo 3
Apri Safari e accedi a TL-WPS510U utilizzando 192.168.0.10 e modifica il suo indirizzo IP in 192.168.1.10/255.255.255.0, il router predefinito è 192.168.1.1. TL-WPS510U salverà e si riavvierà dopo la configurazione.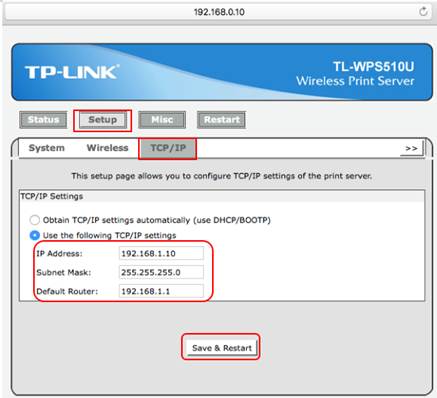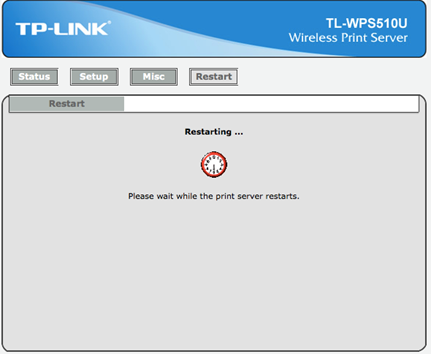 Passo 4
Su MacBook, modifica l'IP del Wi-Fi in 192.168.1.100/255.255.255.0 e connetti nuovamente alla rete Ad-Hoc WLAN-PS.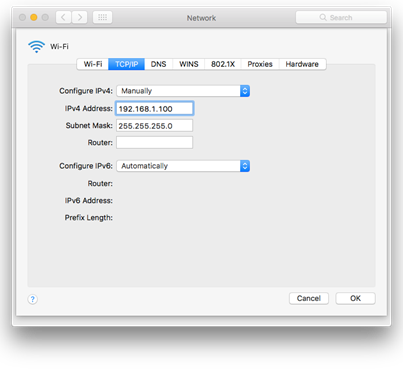 Passo 5
Accedere a TL-WPS510U e configurare i parametri wireless in base alla propria rete wireless. In questo esempio, l'SSID è TP-Link_Print Server e il tipo di sicurezza è WPA2-PSK, con la password impostata su 0123456789. Dopo la configurazione, TL-WPS510U deve anche salvare e riavviare nuovamente.
Se non si è sicuri delle impostazioni di sicurezza wireless, verificare sul router wireless.

Accedere a TL-WPS510U con http://192.168.1.10, fare clic su Setup, poi su Wireless. Scorri verso il basso e seleziona la rete wireless TP-Link_Print Server e imposta la sicurezza wireless.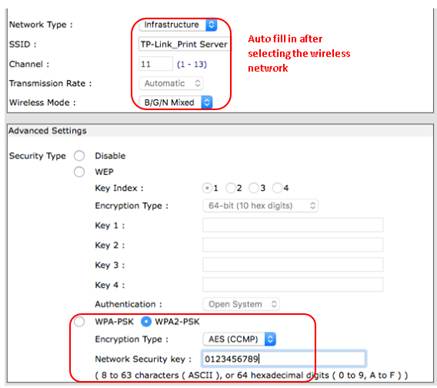 Passo 6
Su MacBook, torna alle impostazioni TCP / IP come mostrato al passo 4 e modifica "Configure IPv4" in "Using DHCP" e salva la modifica. Poi collegare il wifi del router, che è TP-Link_Print Server e la password è 0123456789, come indicato al passo 5.
.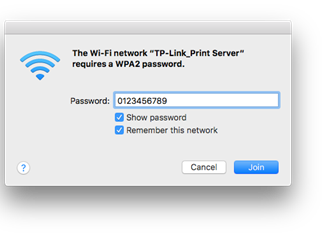 Passo 7
Prova ad accedere a TL-WPS510U e puoi vederlo nell'elenco degli host del router wireless. Ciò significa che TL-WPS510U funziona in modalità Infrastruttura e può comunicare con il router wireless e il MacBook.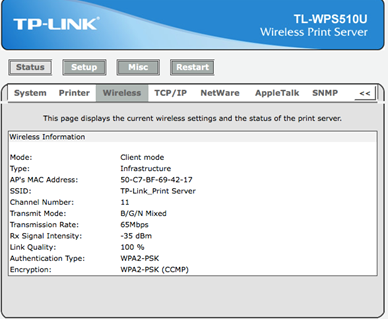 Passo 8
Fare clic sull'icona Apple, andare su System Preferences -> Printers & Scanners.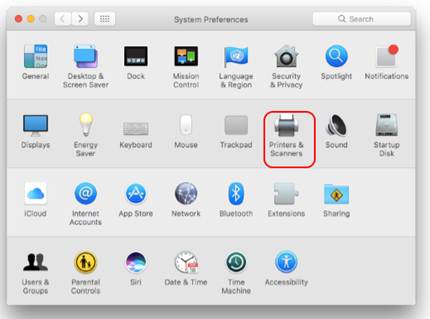 Nella nuova finestra, fai clic su "+" per aggiungere una stampante.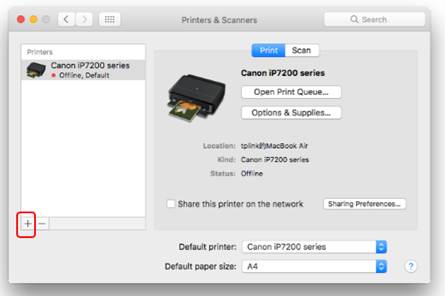 Passo 9
Scegliere IP nella barra superiore e configurare le opzioni come segue:
Ø Protocol: Line Printer Daemon - LPD
Ø Address: 192,168.1.10 (The IP of printer server)
Ø Queue: lp1
Alla fine, selezionare il driver della stampante e fare clic su Add per completare il processo.
Se non riesci a trovare il driver della tua stampante, puoi provare Generic PostScript Printer / Generic PCL Laser Printer o Auto Select.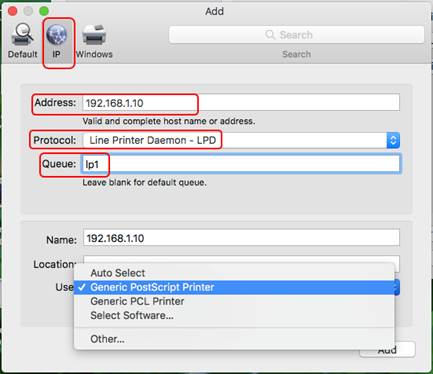 Passo 10
La stampante verrà visualizzata nella casella. Se si desidera impostarlo come stampante predefinita, selezionare 192.168.1.10 come stampante predefinita.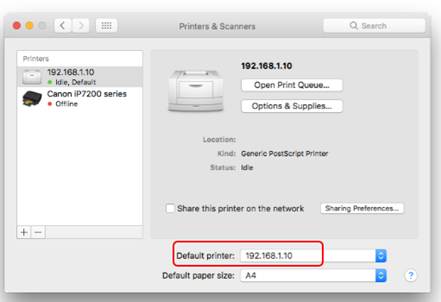 Questa faq è utile?
Your feedback helps improve this site.
From United States?
Get products, events and services for your region.