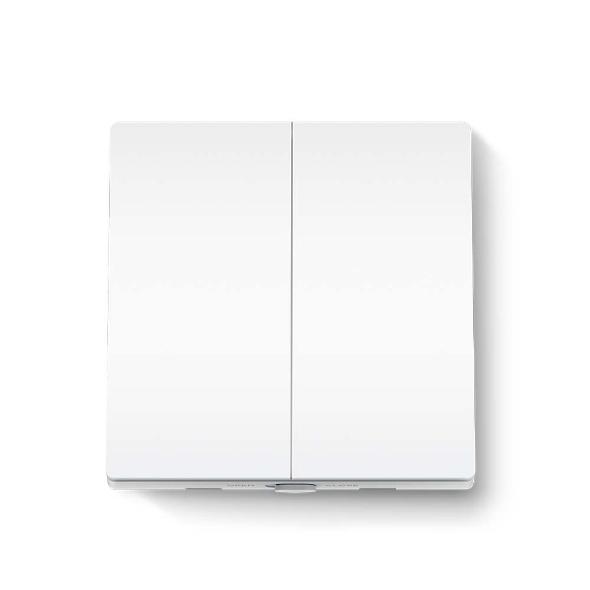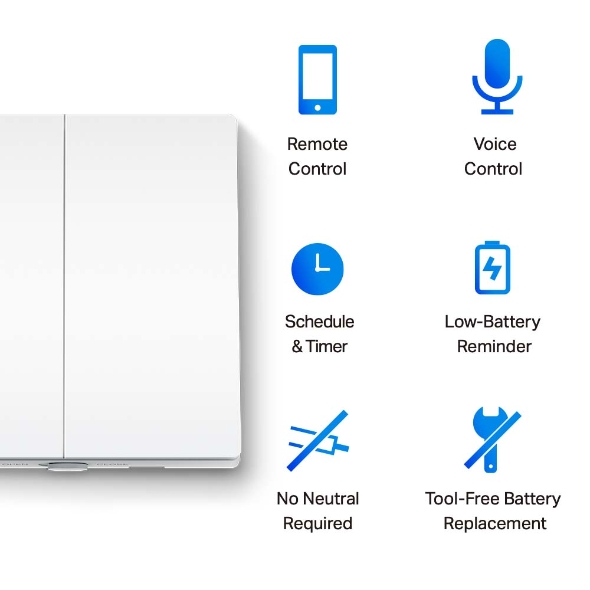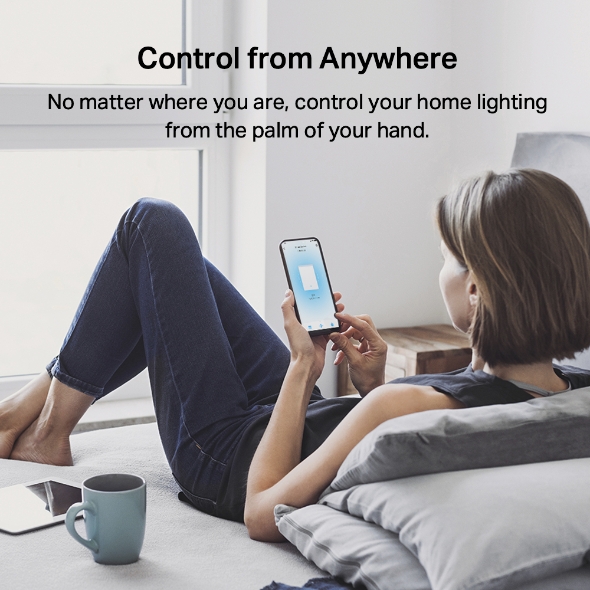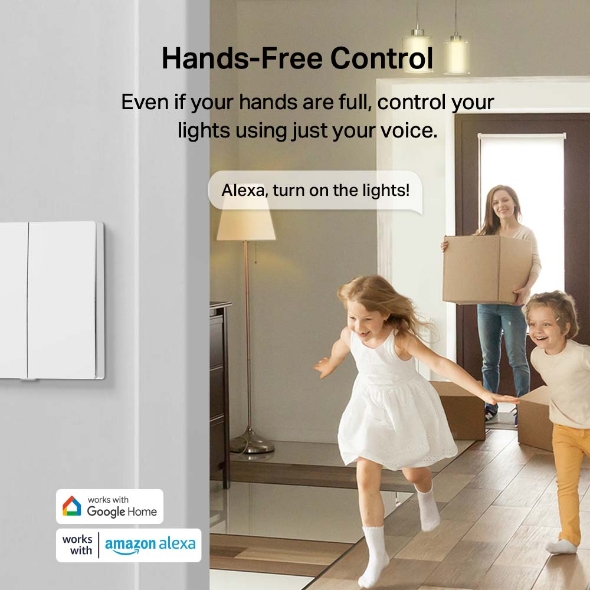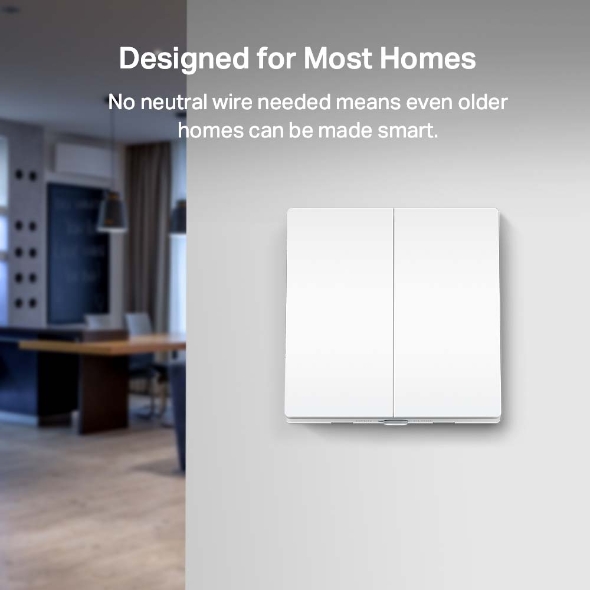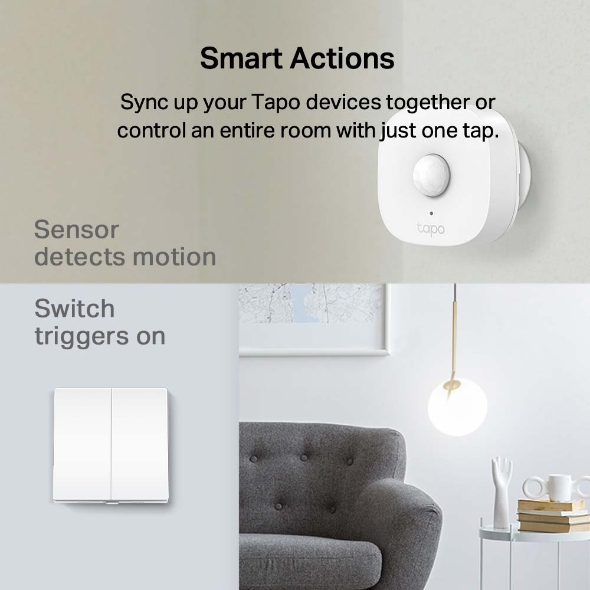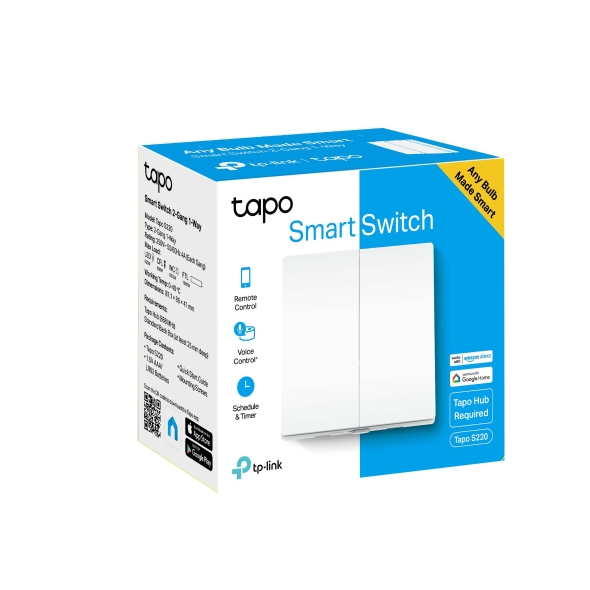 Tapo S220
Interruttore Smart, 2-Gang 1-Way
Controllo da remoto – Accendi/spegni istantaneamente la luce ovunque ti trovi tramite l'app Tapo.
Controllo vocale – Gestisci il tuo interruttore con i comandi vocali grazie ad Amazon Alexa o Google Assistant.
Programmazione – Imposta una pianificazione per gestire automaticamente i dispositivi ad orari prefissati.
Modalità assenza – Scoraggia visitatori indesiderati simulando la tua presenza quando sei lontano da casa.
Cablaggio semplificato - Nessun cavo neutro richiesto. Scopri la procedura di installazione
Alimentazione a batteria – Massima semplicità di sostituzione.

Hub necessario

– Per funzionare correttamente e dialogare con gli altri dispositivi della gamma, Tapo S220 deve essere abbinato a uno smart Hub Tapo come il modello H100.
Vivi smart in tutta semplicità
Tapo S220 Interruttore Smart, 2-Gang | 1-Way
Pieno controllo ovunque ti trovi
Non sei sicuro di aver spento la luce nell'altra stanza? Verifica tramite app Tapo e spegni le luci comodamente dal tuo letto.
Controllo hands-free
Mani impegnate? Non importa quante buste della spesa stai portando, basta chiedere al tuo assistente vocale preferito di accendere le luci per te!
Programmazione & Spegnimento ritardato
Una vera casa intelligente funziona da sola: pianifica l'accensione delle luci in base alla tua routine quotidiana oppure imposta timer on/off per una maggiore comodità.
Sincronizza le luci per accendersi al tuo risveglio.

Imposta le luci del bagno per avvisarti quando è ora di uscire dalla vasca.

Concediti qualche minuto in più prima di uscire ritardando lo spegnimento delle luci di casa.
Una nuova esperienza d'uso con le Smart Actions
Grazie alle Smart Actions, coordinate tramite Smart Hub H100, i tuoi dispositivi Tapo lavorano insieme per creare una casa smart su misura per le tue esigenze. Attiva il tuo interruttore quando viene rilevato un movimento con il sensore di movimento. Raggruppa luci e dispositivi su un unico interruttore per controllare l'intera stanza con un solo tocco.
Installazione e manutenzione semplice
Hot / Line

Lin

Lout

Nessun cavo neutro richiesto.

Adatto a ogni ambiente senza bisogno di modificare il cablaggio di casa.

Sostituzione batteria rapida

Sostituisci le batterie in piena autonomia senza richiedere l'aiuto di un elettricista.
Modalità assenza
Quando parti lasci una luce sempre accesa per scoraggiare i malintenzionati? Smetti di consumare energia! La modalità assenza accende e spegne le luci simulando la tua presenza in casa senza sprechi.

Adatto a ogni stile
La maggior parte degli interruttori smart richiede un cavo neutro, ma l'interruttore intelligente Tapo no. Sperimenta tutta la comodità di una casa domotica senza ricablare l'intera casa.
Massima compatibilità, nessun flickering
Supporta tutti i tipi comuni di lampadine inferiori a 1000W, senza requisiti di carico minimo.
Adatto a tutti i membri della famiglia
L'interruttore Smart Tapo offre pieno controllo manuale. Perfetto per chi preferisce i bei vecchi tempi o per i bambini che non hanno ancora il proprio smartphone.
Configurazione semplice
Once you've installed the Tapo app and followed its in-app guide, replace your traditional switch and pair with a Tapo Hub (H100) to begin using your smart switch.
Scarica l'app gratuita
Segui le istruzioni in-app
Installa l'interruttore e abbinalo all'hub Tapo H100
Ecosistema Tapo
Vivi una nuova esperienza di smart home all'insegna dell'integrazione e dell'automazione grazie ai dispositivi intelligenti Tapo coordinati dallo smart Hub H100.
TECHNICAL SPECIFICATIONS
Rating
250 V~ 50/60 Hz 4 A (Each Gang)
Max Load
600 W LED / 600W CFL / 1000W INC / 1000W FTL / 50 W Fan
Standby Power Consumption
65uA
Wireless
868 MHz
GENERALE
Operating Temperature
0ºC~ 40ºC (32°F ~ 104°F )
Operating Humidity
10%~90%RH, Non-condensing
Certifications
CE, RoHS, UKCA
Dimensioni
87.1 × 86 × 41 mm
PACKAGE CONTENTS
Package Contents
Tapo S2202× 1.5 V AAA/LR03 Batteries2× Mounting ScrewsQuick Start Guide
From United States?
Get products, events and services for your region.