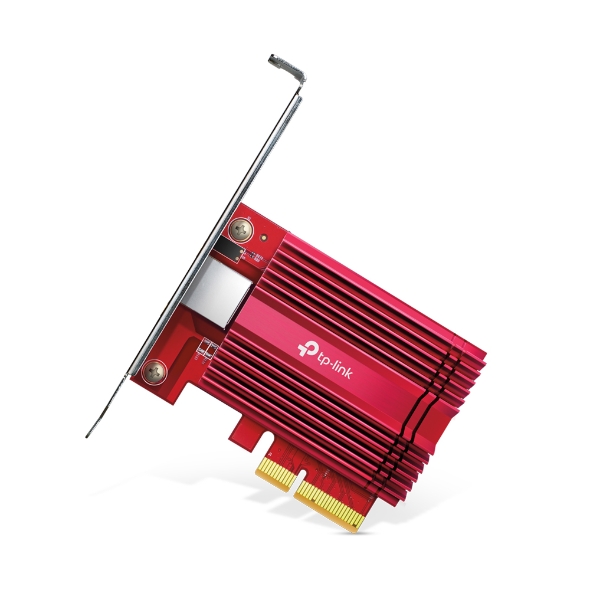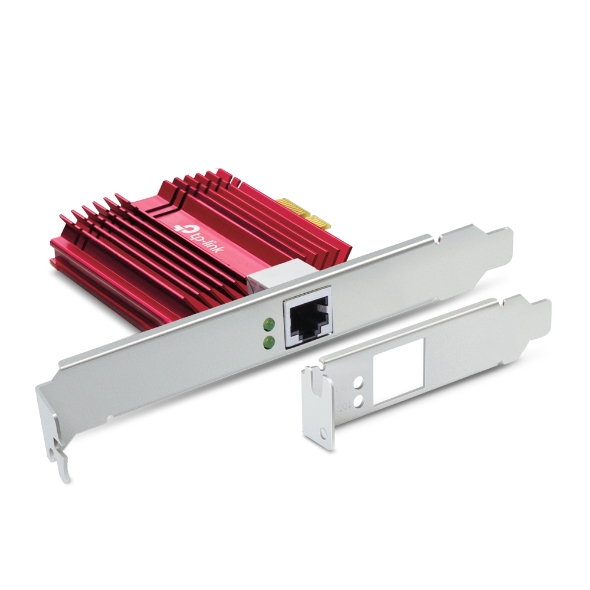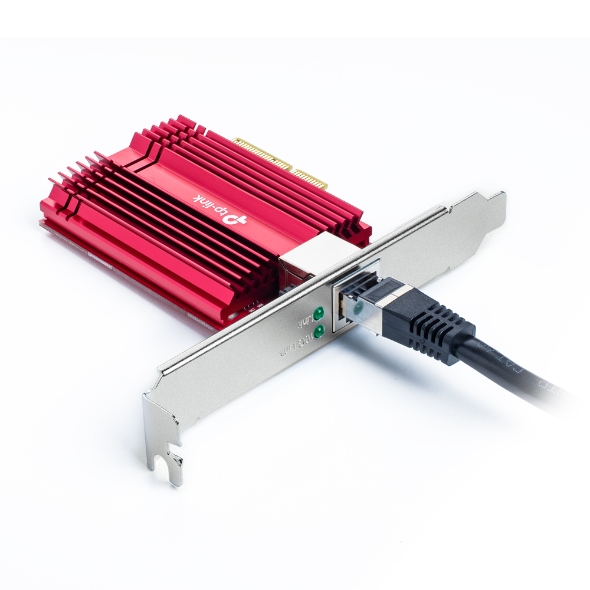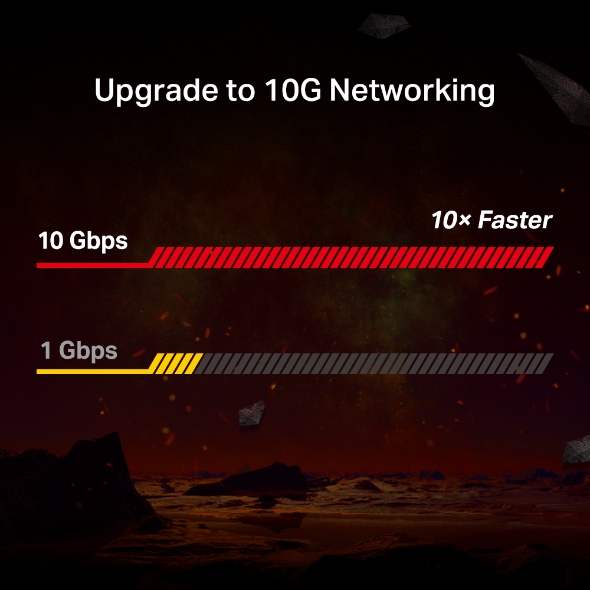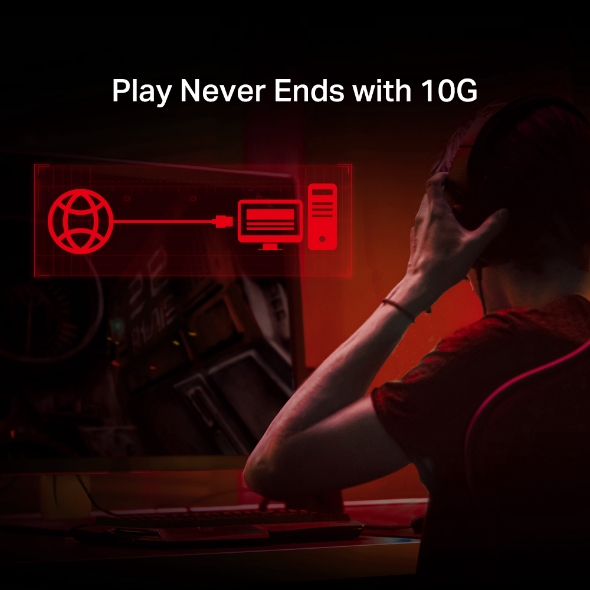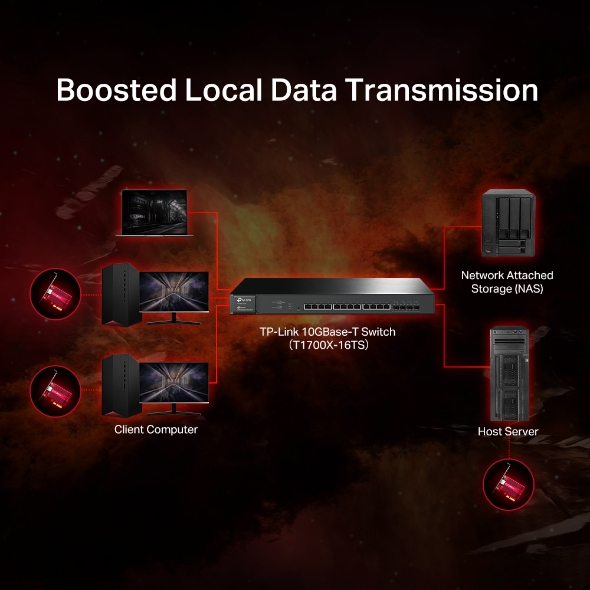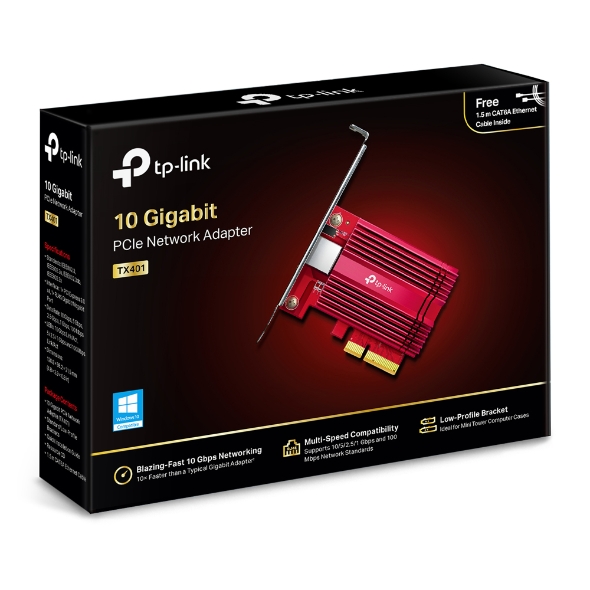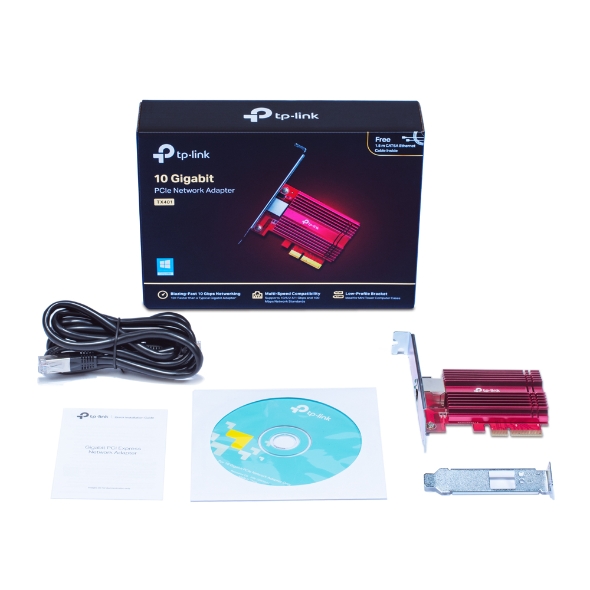 TX401
Adattatore Ethernet 10 Gigabit PCIe
Connettività cablata 10Gbps - Grazie alla tecnologia 10GBase-T, TX401 è in grado di supportare connessioni con velocità 10Gbps, per trasmissioni dati ultra rapide e fluide. Compatibile anche con gli standard Fast Ethernet e Gigabit Ethernet, grazie alla negoziazione automatica della velocità. †
Cavo Ethernet CAT6A - Per massimizzare le performance della rete, incluso nella confezione cavo LAN CAT6A, lunghezza 1.5m, che supporta connessioni con velocità fino a 10GB.
Supporti standard e low-profile - Forniti supporti standard e low-profile, adatti per installazione su mini tower PC.
Ampia compatibilità - Pienamente compatibile con Windows 11/10/8.1/8/7, Windows Servers 2019/2016/2012 R2 e Linux.‡
Velocità cablata
senza limiti
Adattatore Ethernet 10GB
con slot PCIe 3.0
TX401
Connettività cablata 10Gbps
Raggiungi velocità di connessione cablate senza paragoni grazie alla connettività Ethernet 10 Gigabit: la nuova frontiera per network locali ad alta intensità.
10 Gbps
1 Gbps
10× Velocità
Accesso Internet 10Gbps

Sfrutta il pieno potenziale della tua connessione ad alta velocità

Connessione NAS 10Gbps

Connessioni locali ultra-rapide

10 Gbps Host Server Building

High Hardware Configuration for a Powerful Server
Gaming senza limiti
Un acceso a Internet con velocità 10 Gbps ti permette di ottenere performance senza paragoni, ideali sia per le attività lavorative che per le tue sfide online: effettua data-streaming live senza interruzioni, download di file pesanti e back-up massivi via cloud.
Connessioni locali ultra-rapide
Ideale per i network locali, TX401 ti aiuta a creare canali di comunicazione ultra-rapidi tra il server centrale e le macchine collegate alla rete, ideale in uffici e postazioni di lavoro domestiche per il trasferimento e la condivisione di file pesanti.
Network Attached Storage
(NAS)
TP-Link
Switch 10GBase-T
(T1700X-16TS)
Client PC
Host Server
Client PC
Client PC
Connettività versatile
La tecnologia 10GBase-T è trocompatibile con numerose velocità di connessione cablate, incluse le connettività 10 Gbps, 5 Gbps, 2.5 Gbps, 1 Gbps e 100 Mbps Base-T. La porta Ethernet 10G è in grado di negoziare in modo del tutto automatico le velocità di connessione per una trasmissione dati fluida e stabile.
10 Gbps
5 Gbps
2.5 Gbps
1 Gbps
100 Mpbs
QoS
A Bandwidth Buff for Gaming
La tecnologia Quality of Service assicura adeguata disponibilità di banda al tuo PC Gaming, evitando congestioni e rallentamenti nei momenti di maggior azione.
Indicatore LED
5/2.5/1 Gbps e 100 Mbps Link/Act
Indicatore LED per 10 Gbps Link/Act
PCI Express 3.0 ×4
Porta RJ45 Gigabit/Megabit
Supporto Standard
Supporto Low-Profile
Cavo Cat6a (1.5 m)
PCI Express 3.0 ×4

Supporta il nuovo standard PCI Express Gen3 ×4.

Installazione semplice

Software di installazione e Utility forniti su CD.

Compatibilità

Funziona con Windows 11/10/8.1/8/7, Windows Servers 2019/2016/2012 R2, Linux.
CARATTERISTICHE HARDWARE
Standard e protocolli
IEEE 802.3, IEEE 802.3u, IEEE 802.3ab, IEEE 802.3bz, IEEE802.3an,IEEE802.3az, IEEE 802.3x
Interfaccia
1× PCI Express 3.0 x4, 1× RJ45 Gigabit/Megabit Port
Media
10GBASE-T/5GBASE-T/2.5GBASE-T/1000BASE-T/100BASE-TX
LED
10 Gbps Link/Act, 5 / 2.5 / 1 Gbps and 100 Mbps Link/Act
Velocità di trasferimento dati
100 Mbps, 1 Gbps, 2.5 Gbps, 5 Gbps, 10 Gbps for Half-Duplex mode,200 Mbps, 2 Gbps, 5 Gbps, 10 Gbps, 20 Gbps for Full-Duplex mode
Dimensions
120.8 × 98.2 × 21.5 mm (4.8 × 3.9 × 0.8 in)
Flow control
802.3x
ALTRO
Certificazione
FCC, CE, RoHS
Contenuto della confezione
10 Gigabit PCIe Network Adapter (TX401)Standard/Low-Profile BracketsQuick Installation GuideResource CD1.5 m CAT6A Ethernet Cable
Requisiti di sistema
Windows 11/10/8.1/8/7, Windows Servers 2019/2016/
2012 R2, Linux
Ambiente
Operating Temperature: 0℃~40℃ (32℉ ~104℉)Operating Humidity: 10%~90% non-condensingStorage Humidity: 5%~90% non-condensing
† La massima velocità di trasferimento dati su cavo si riferisce alle specifiche dello Standard IEEE 802.3. I risultati reali no nsono garantiti e possono variare in base a fattori ambientali, qualità del cablaggio e performance del computer.
‡ Per assicurare la piena compatibilità dopo un update del sistema operativo potrebbe essere necessario un aggiornamento del driver della scheda wireless, disponibile al seguente link tp-link.com/it/download-center.
From United States?
Get products, events and services for your region.