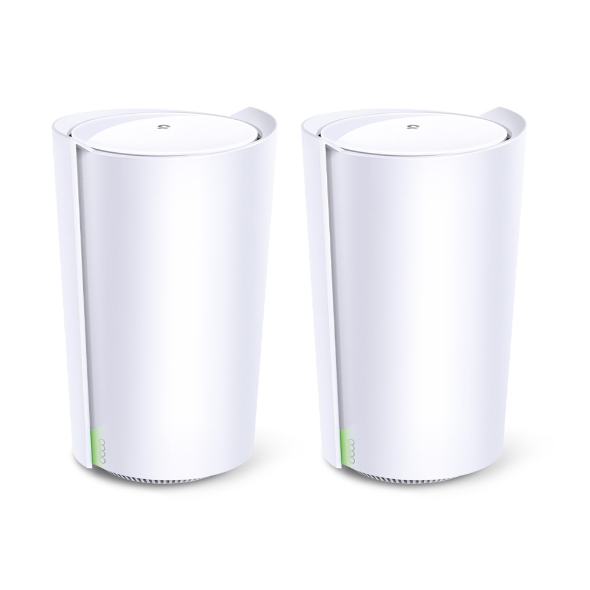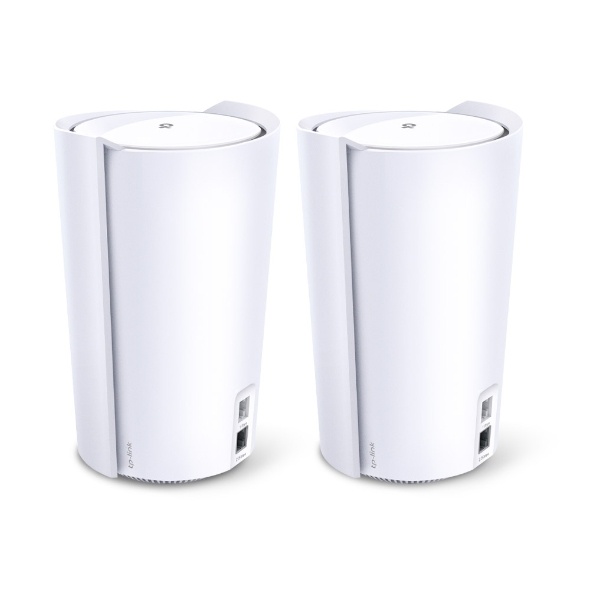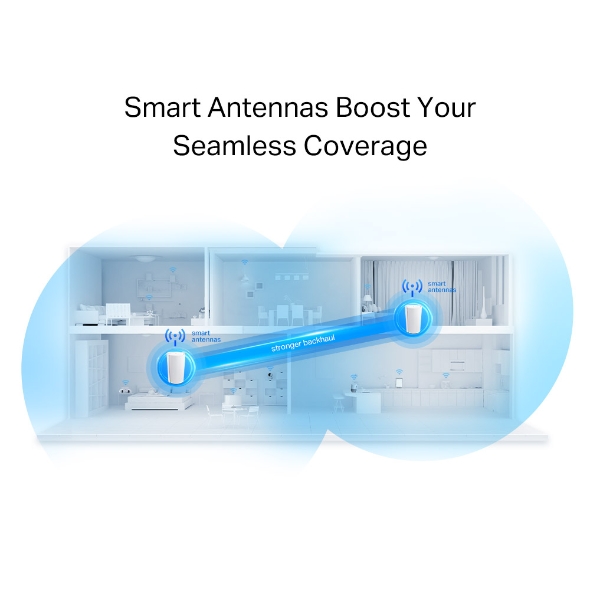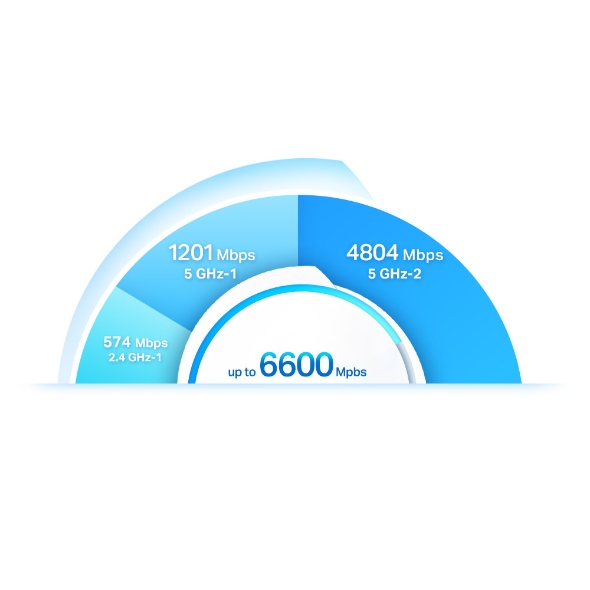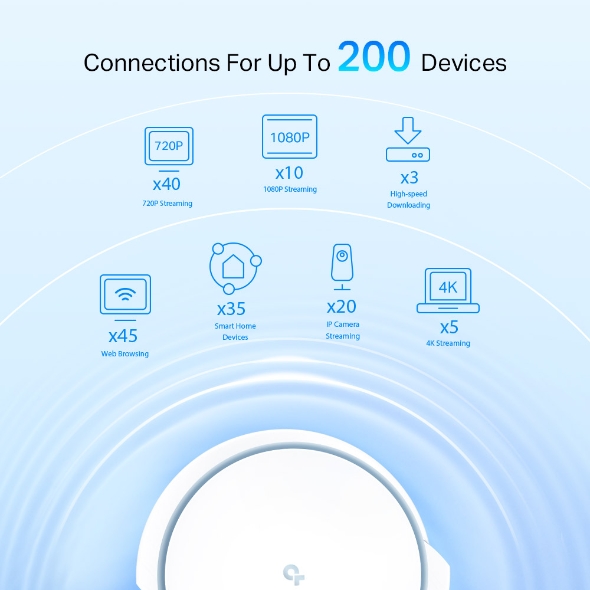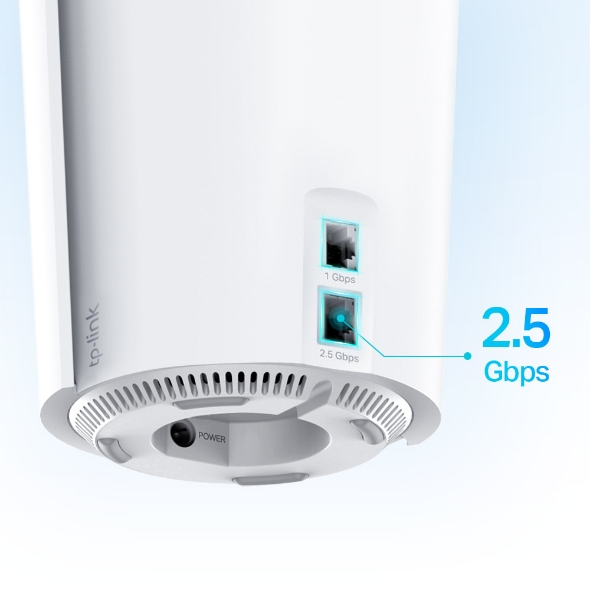 Deco X90
Sistema Mesh Wi-Fi 6 AX6600
Wi-Fi 6 Tri-Band AX6600 - Tre bande wireless e tecnologie avanzate Wi-Fi 6 per velocità di connessione estreme fino a 4804Mbps + 1201Mbps in 5Ghz e 574Mbps in 2.4GHz.
Tecnologia Mesh AI-Driven - Una copertura Wi-Fi estesa, stabile e senza interruzioni, in grado di adattarsi in modo intelligente all'ambiente circostante per fornire le migliori performace di connessione.
Ampia capacità di rete - Supporta fino a 200 client senza cali di performance.
TP-Link HomeShield - Un sistema di difesa d'avanguardia per proteggere la rete e i dispositivi connessi.
App Deco - Installazione guidata e gestione intuitiva della rete.
Functional and Beautiful
Sistema Mesh Wi-Fi 6 Tri-Band AX6600
Deco X90
Antenne Smart per una copertura Wi-Fi
senza interruzioni
Le unità Mesh di Deco X90 sono equipaggiate con antenne smart che sfruttano algoritmi intelligenti per localizzarsi a vicenda. Una volta individuate, le unità stabiliscono tra di loro un potente collegamento di backhaul in grado di distribuire una copertura wireless senza interruzioni in ogni angolo della casa.
Streaming simultanei per connessioni ultraveloci
Deco X90 combina la potenza di 3 bande (2x 5GHz + 2.4Ghz) per creare una rete Mesh Wi-Fi 6 senza interruzioni di segnale, in grado di gestire fino a 8 streaming dati simultanei. Ideale per incontrare le necessità di banda di tutti i tuoi dispositivi Wi-Fi, in particolare quelli impegnati in attività come lo streaming di video 8K e il cloud gaming. †
Ultra-Fast Broadband Internet Access
A 2.5 Gbps port and a gigabit port allow you to take full advantage of your broadband speed. Plug your PCs, smart TVs, or game consoles into the ports for blazing-fast wired connections.
Ampia capacità
di rete

Grazie a tecnologie Wi-Fi 6 avanzate come OFDMA e MU-MIMO, Deco X90 è in grado di aumentare in modo sensibile la capacità e l'efficienza della rete in ambienti ad alta densità di traffico. Non importa quanti dispositivi siano connessi in contemporanea, ognuno sarà in grado di godersi un'esperienza di connessione immersiva, senza cali di performance o buffering. △
Supporta fino a
200
dispositivi connessi
Web Browsing
720P Streaming
Dispositivi Smart Home
1080P Streaming
IP Camera Streaming
Dowload
4K Streaming
Tecnologia Mesh AI-Drive: ottimizzazione costante
La tecnologia Mesh AI-Driven consente a Deco X90 di distribuire un segnale Wi-Fi potente e stabile, senza interruzioni. Il sofisticato algoritmo di Deco rileva numerosi fattori imparando automaticamente a riconoscere l'ambiente di rete, la tipologia di client e il comportamento dell'utente per fornire un'esperienza di connessione unica su misura per la tua abitazione.*
Autodidatta
Algoritmi avanzati
Sicurezza avanzata per tutti i tuoi client
Crea un ambiente di rete sicuro personalizzando il tuo network grazie alle funzionalità di TP-Link HomeShield. Sia che tu voglia identificare i punti deboli della rete, regolare la permanenza online dei più piccoli, oppure bloccare siti malevoli, HomeShield mette a tua disposizione numerosi strumenti per gestire pienamente la rete. §
Proteggi la tua privacy e i dipositivi connessi rilevando le minacce cibernetiche.

Tieni la tua famiglia al sicuro gestendo il tempo passato in rete e bloccando contenuti inappropriati.

Assegna priorità di banda a dispositivi e utenti per un'esperienza di connessione ancora più rapida e stabile.

Statistiche e Insights per aiutarti a conoscere meglio il tuo network.
Installazione rapida
Apri la confezione di Deco, installa la comoda app Deco - per dispositivi Android e iOS - infine segui le semplici istruzioni a monitor.
1 Connetti Deco al router sorgente

2 Scarica l'app Deco e segui le semplici istruzioni di setup

3 Completa la configurazione seguendo le istruzioni in-app.
Wi-Fi dalla massima semplicità
Gestione intuitiva

Con app Deco puoi gestire la tua rete Wi-Fi in casa e da remoto, visualizzare i dispositivi connessi, assegnare priorità, creare una rete guest e molto altro.

Controllo Vocale

Abbina Deco X90 ad Amazon Alexa per impartire semplici comandi vocali alla rete.

Massima compatibilità

Deco X90 è pienamente compatibile con tutti gli altri modelli della gamma Deco: crea una rete su misura per le tue esigenze di connessione combinando diverse tecnologie.
Seamless Roaming
I prodotti Deco lavorano all'unisono nel creare un'unica rete Wi-Fi nella quale, grazie ai protocolli di fast roaming IEEE 802.11r/k/v, per la prima volta disponibili su prodotti consumer. I dispositivi connessi sono liberi di muoversi passando automaticamente da un Deco all'altro in modo del tutto trasparente, senza disconnessioni o perdite di segnale.
Adaptive routing

La tecnologia Mesh di Deco consente alla rete di selezionare in modo dinamico il percorso migliore per mettere in comunicazione i dispositivi connessi e la rete Internet, massimizzando le performance sull'intero network.
Self-Healing

La funzionalità di autodiagnosi fa in modo che se una delle unità Deco che compongono la rete ha un problema e non è in grado di gestire il traffico, il sistema reagisce adattandosi istantaneamente per non interrompere la connessione.
Hybrid Mesh: Wi-Fi + Powerline
I modelli Deco Hybrid Mesh sono in grado, attraverso la tecnologia Powerline, di scambiare dati utilizzando l'impianto elettrico come cavo di rete, fornendo connettività in punti non raggiungibili da tecnologia Wi-Fi Mesh pura a causa di muri spessi e schermati o di distanze eccessive tra le unità.
Quando la tecnologia Powerline e quella mesh lavorano in sinergia la velocità dell'intero network risulta potenziata.
Wi-Fi + Powerline:

Hybird Wi-Fi System

Velocità aumentata

Rete Mesh tradizionale:

Sistema Wi-Fi Standard
Powerline

Note:la tecnologia Wi-Fi Mesh + Powerline è disponibile con Deco P9
Funzione Smart Hub IoT
Una Rete Deco Mesh tradizionale è ideale per supportare i dispositivi Smart di casa, come telecamere, lampadine e prese Wi-Fi. Con Deco M9 Plus dotato di Smart Hub IoT è anche possibile gestire dispositivi smart dotati di protocollo Bluetooth e ZigBee, rendendo possibili scenari domotici complessi e ad elevata automazione.
- - -

Wi-Fi

- - -

Zigbee

- - -

Bluetooth
Wi-Fi 6 Mesh
I vantaggi del nuovo standard Wi-Fi 6
I modelli Deco dotati di standard Wi-Fi 6 802.11ax di nuova generazione sono l'ideale per connettere ambienti ad alta densità di dispositivi Wi-Fi fornendo una copertura Wi-Fi ampia, efficiente e dall'elevata velocità per un numero di client sempre maggiore.
Ampia copertura

Capacità aumentata

Altissima velocità di connessione
Deco Network Management at Your Fingertips!
The Deco app provides the easiest way to set up, manage and monitor your Deco Whole Home Mesh Wi-Fi System through your iOS or Android devices.
Setup Just Got a Lot Easier
Unbox Deco, install the app and then simply follow the on-screen directions. Deco app will take care of the rest and get your network up and running in minutes.
Connect Deco to your cable modem and turn on both devices

Download and launch the Deco app

Follow the in-app instructions to configure your Deco system.
Simple Management
Deco makes it easy to manage your Wi-Fi from anywhere, whether you're on the couch, at work, or anywhere in between.
Simple Management Dashboard

View the working status of your network, check the connected devices and get all the features your router offers.

Multiple Decos, One App

The Deco app manages all your Deco networks and devices connected to your Deco Wi-Fi.

Check the Connected Devices

View a list of your connected devices with the ability to pause and resume internet access, test the internet speed and prioritize or block the devices.

Remote Management

Remotely take control of the network with a tap of your phone—no matter where you find yourself.
Powerful Parental Controls
Simple, intuitive parental controls make it easy to keep your children safe while they're online.
Easily create a profile for each family member and set custom time limits and online time allowances. Assign devices to profiles so rules extend to individual devices as well as family members.

Keep your family safe online with one-touch security settings that block content based on age-appropriateness.

Set limits on how much time each person in your family can spend online.

With Insights, you can check out which sites your children visit and how much time they spend on each. It's a great way to know your children are safe while they're having fun online.

Take a break from Wi-Fi for dinner and family game nights. Just tap a button to suspend internet access for everyone in your home.
An Intuitive App Full of Features
Monthly Usage Summary
See a comprehensive list of your network details every month, including usage,
blocked content, security threats and more.
Home Automation
Make your life easy with powerful automation and voice control tools.
*Currently only for Deco M9 Plus
Flexible Shortcut
Flexibly control all devices from your phone or tablet with just one click.
*Currently only for Deco M9 Plus
Protect Your Network
Built-in Antivirus helps you defend against malicious website and guard your online payment.
*Currently only for Deco M9 Plus, Deco P7 and Deco M5
Prioritize Your Devices
Choose which devices always have the fastest connections
or set priority for a specific time duration.
Set Application Priorities
Allocate more bandwidth for the activities most important to you with simple controls.
*Currently only for Deco M9 Plus, Deco P7 and Deco M5
Share Wi-Fi with Friends
Set up separate Wi-Fi profiles for guests and share the password to
make it easier for them to hop online.
Check Your Speed
Run a speed test to ensure you're getting the internet speeds you're paying for.
View every device on your network and see how much bandwidth they're using.
Our Support Always Has Your Back
Have questions about Deco? Help is always just a click away. Find the answers in Deco app and don't hesitate to contact us with just a simple click.
Support
Notes: App interfaces and functions may vary slightly based on the app version and Deco models.
SICUREZZA
Network Security
SPI FirewallAccess ControlHomeShield Security

---

Real-Time IoT ProtectionMalicious Site BlockerIntrusion Prevention SystemDDoS Attack PreventionHome Network Scanner
Guest Network
1× 5 GHz Guest Network1× 2.4 GHz Guest Network
WiFi Encryption
WPA-Personal
WPA2-Personal
WPA3-Personal
WIRELESS
Standards
Wi-Fi 6IEEE 802.11ax/ac/n/a 5 GHzIEEE 802.11ax/n/b/g 2.4 GHz
WiFi Speeds
AX66005 GHz: 4804 Mbps (802.11ax, HE160)5 GHz: 1201 Mbps (802.11ax)2.4 GHz: 574 Mbps (802.11ax)
WiFi Range
4-6+ Bedroom Houses (2-pack)

---

TP-Link Mesh TechnologyOptional Ethernet backhaul work together to link Deco units to provide seamless coverageAI-Driven MeshIntelligently learns the network environment to provide ideal Wi-Fi unique to your home4× High-Gain Antennas (Internal)Multiple antennas form a signal-boosting array to cover more directions and large areas2× Smart Antennas (Internal)Smart antennas auto-detect other Deco units to establish a stronger backhaul between one another to boost WiFi coverageTri-BandProvides an extra 5 GHz band working exclusively as the strong backhaul, strengthening the WiFi coverageBeamformingConcentrates wireless signal strength towards clients to expand WiFi range
WiFi Capacity
Very High

---

Tri-BandDistribute devices to different bands for optimal performance4×4 MU-MIMOSimultaneously communicates with multiple MU-MIMO clientsOFDMASimultaneously communicates with multiple WiFi 6 clients8 StreamsMore than enough bandwidth for connected devices
Working Modes
Router ModeAccess Point Mode
HARDWARE
Ethernet Ports
1× 2.5 Gbps Port1× Gigabit Port*Per Deco Unit Supports WAN/LAN auto-sensing
Buttons
Reset Button
SOFTWARE
Protocols
IPv4 IPv6
Service Kits
HomeShieldLearn More>
Parental Controls
HomeShield Parental Controls

---

Custom ProfilesProfessional Content Filter LibraryFamily TimeBedtimeOff TimeTime RewardsFamily Online Time RankingPause the InternetWeekly and Monthly Reports
WAN Types
Dynamic IPStatic IPPPPoEPPTPL2TP
Quality of Service
HomeShield QoS

---

QoS by Device
Cloud Service
OTA Firmware UpgradeTP-Link ID DDNS
NAT Forwarding
Port Forwarding
UPnP
IPTV
IGMP ProxyIGMP SnoopingBridge Tag VLAN
DHCP
Address ReservationDHCP Client ListServer
DDNS
TP-Link
Management
Deco App
TEST DATA
WiFi Transmission Power
CE:<20 dBm (2.4 GHz)<30 dBm (5 GHz)FCC:<30 dBm (2.4 GHz)<30 dBm (5 GHz)
PHYSICAL
Dimensions (W×D×H)
5.1 × 4.8 × 8.3 in (130 × 123 × 210 mm)
Package Contents
Deco X90 (2-pack)2 Deco X90 Units1 RJ45 Ethernet Cable2 Power Adapters1 Quick Installation GuideDeco X90 (1-pack)1 Deco X90 Unit1 RJ45 Ethernet Cable1 Power Adapter1 Quick Installation Guide
ALTRO
Requisiti di sistema
Android 5.0 or later
iOS 9.0 or later
*Note: The minimum system requirements will be updated alongside updates to the app, subject to official website information.
Certificazioni
CE, EAC, FCC, IC, RoHS, RCM
Ambiente
Operating Temperature: 0℃~40℃ (32℉ ~104℉)Storage Temperature: -40℃~70℃ (-40℉ ~158℉)Operating Humidity: 10%~90% non-condensingStorage Humidity: 5%~90% non-condensing
Press Release: TP-LINK UNVEILS ITS FASTEST SMART WI-FI 6 MESH SYSTEM — THE ULTIMATE WHOLE HOME WIRELESS NETWORK
† Le stime relative alla massima velocità di trasmissione wireless si riferiscono alle specifiche dello standard IEEE 802.11. I dati di throughput, copertura e massimo numero di dispositivi connessi sono basati su test eseguiti in normali condizioni d'uso, i risultati possono variare in base a: 1) fattori ambientali, inclusi materiali di costruzione, oggetti fisici e ostacoli, 2) condizioni del network, incluse interferenze locali, volume e densità del traffico, posizione del dispositivo, complessità del network e network overhead; 3) limitazioni del client, incluse performance stimate, posizione, qualità di connessione e condizioni del client.
△ L'uso delle tecnologie Wi-Fi 6 incluse OFDMA, MU-MIMO, 1024-QAM, e BSS Color necessitano di client dotati del medesimo standard wireless.
§HomeShield include il Free Basic Plan. Il Pro Plan è a pagamento. Visita il sito tp-link.com/homeshield per maggiori informazioni.
*Le informazioni applicate agli algoritmi AI sono archiviate localmente e non vengono caricate in cloud.
From United States?
Get products, events and services for your region.