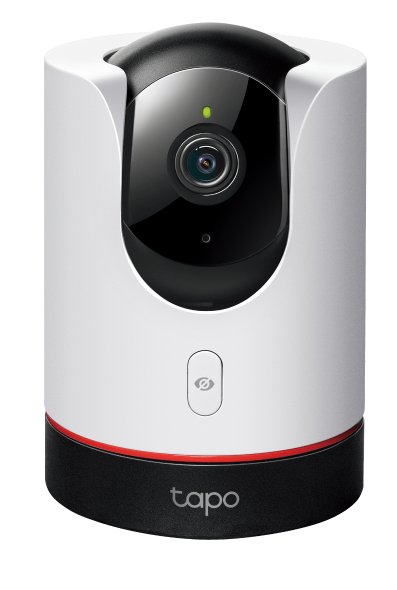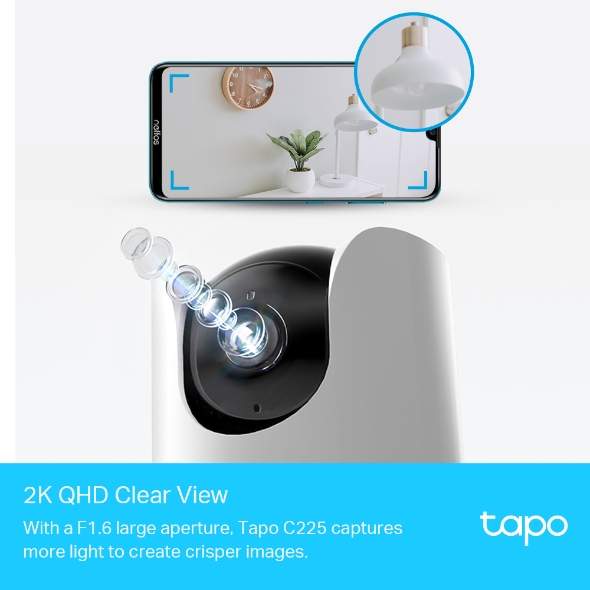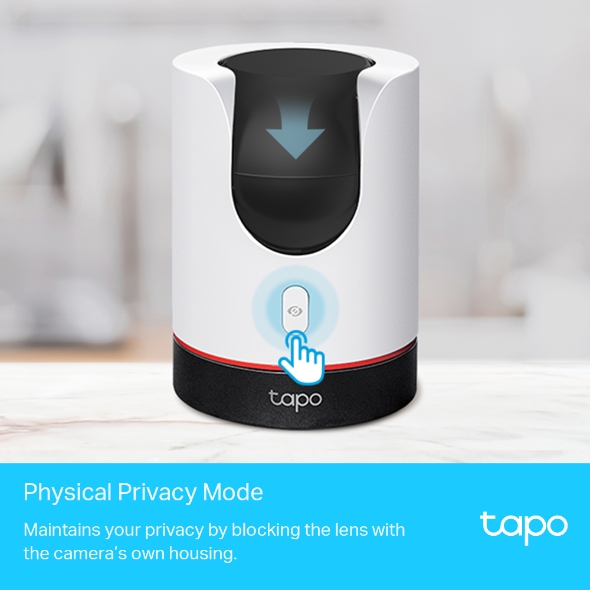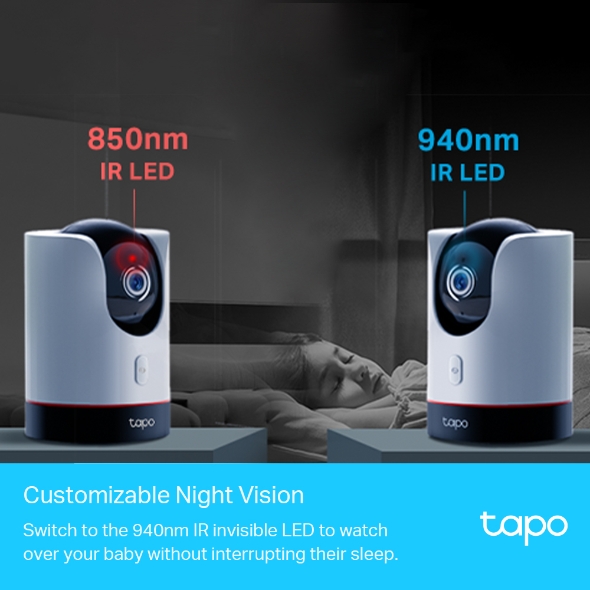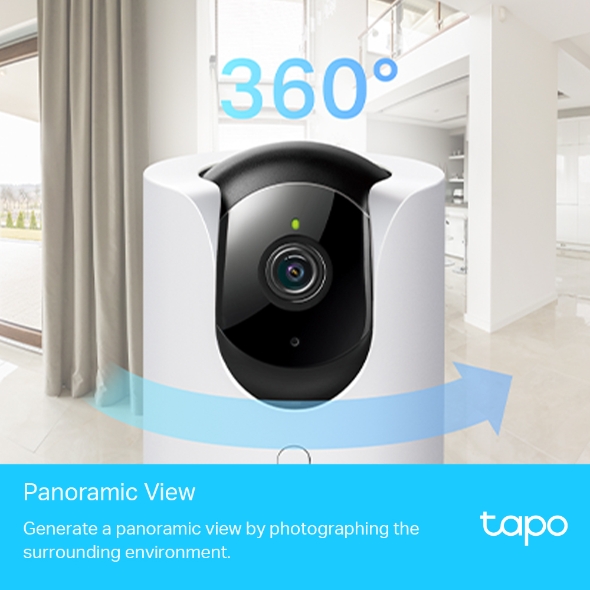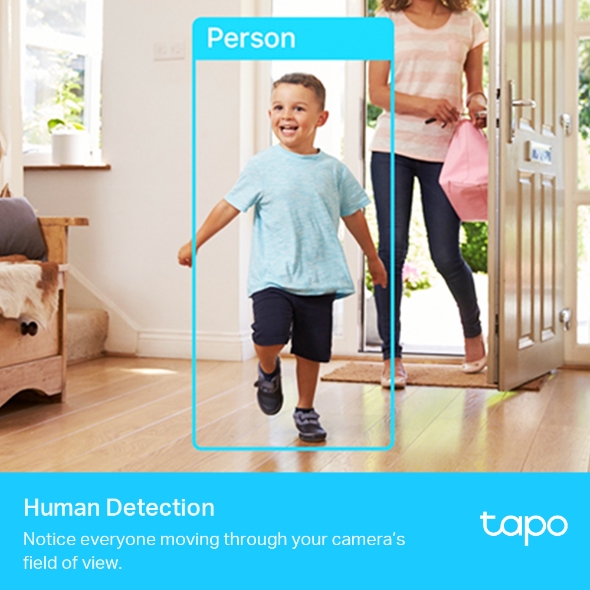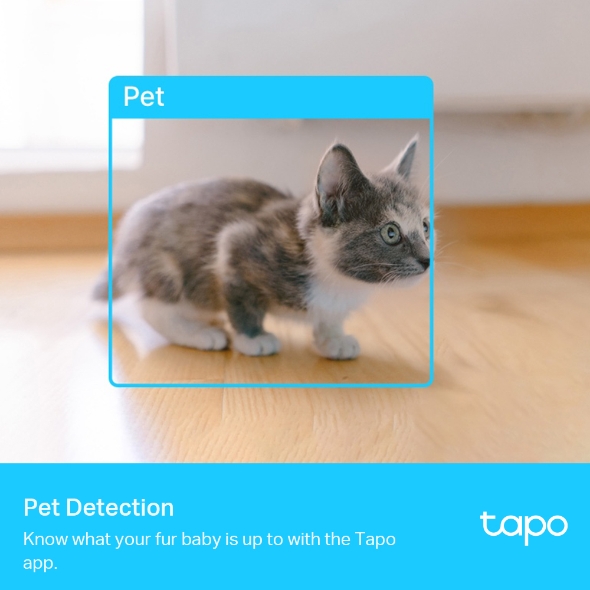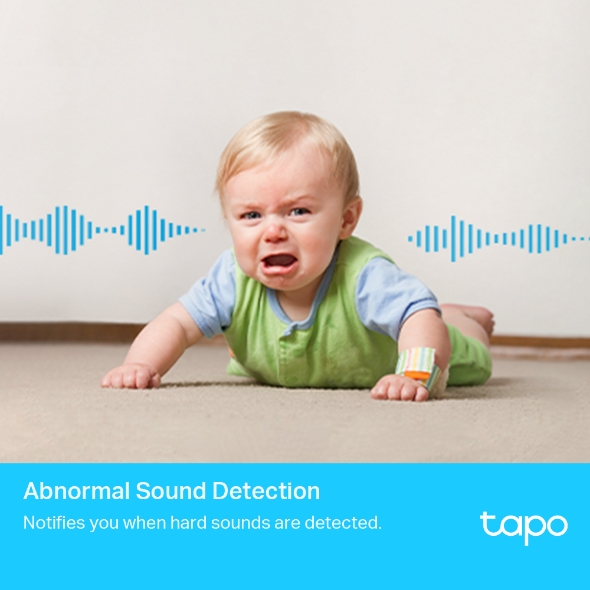 Telecamera di sorveglianza AI, risoluzione 2K, Wi-Fi, Pan/Tilt
Rilevazione e Notifiche Smart AI - Gli algoritmi Smart AI sono in grado di riconoscere persone, animali, veicoli e suoni anomali, riceverai notifiche di rilevamento solo in caso di reale necessità.
Movimento Pan/Tilt -

Tieni d'occhio ogni agolo della stanza grazie al movimento orizzontale 360°.

Smart Motion Tracking -

Traccia gli spostamenti di un soggetto in movimento mantenendo l'obiettivo su di lui.

Sensore starlight - Il sensore starlight ad alta sensibilità cattura immagini di qualità superiore anche in condizioni di scarsa illuminazione.
Allarme acustico e luminoso - Scoraggia i visitatori indesiderati attivando l'allarme acustico e luminoso integrato.
Two-Way Audio - Microfono e speaker integrati per consentire la comunicazione con chi si trova nell'area sorvegliata.
Privacy Mode - Consente di oscurare fisicamente la lente dell'obiettivo per assicurarti la massima privacy.
Configurazione semplice - Segui le istruzioni in app per configurare il tuo dispositivo in pochi minuti.
Smart. Sicuro. Semplice.
Riprese panoramiche e protezione privacy
Pan/Tilt AI Home Security Wi-Fi Camera
Tapo C225
2K QHD
Rilevamenti e notifiche smart AI
Physical privacy mode
Visione panoramica
Night vision personalizzabile
Opzioni di storage flessibili
Smart motion tracking
Physical Privacy Mode
Proteggi la tua privacy bloccando la lente con il corpo della telecamera.
Riprese cristalline 2K QHD
Grazie all'apertura F1.6, Tapo C225 riesce a catturare più luce creando immagini più nitide e definite.
Rilevamenti e notifiche Smart AI
Gli algoritmi Smart AI identificano persone, animali e veicoli, inoltre sono in grado di riconoscere particolari suoni, ad esempio il pianto di un bambino, inviandoti notifiche solo quando necessario.
Rilevamento persone

Riconosce coloro che si muovono all'interno del campo visivo della telecamera.

Rilevamento animali

Scopri cosa sta combinando il tuo cucciolo grazie ad app Tapo.

Rilevamento suoni

Ricevi notifiche quando vengono rilevati suoni anomali.
Funzionalità Beta
*Coming Soon
Night vision personalizzabile
Rendi la sorveglianza notturna ancora più discreta sfruttando il LED IR 940nm, invisibile ad occhio nudo.
Sensore starlight
Il sensore starlight altamente sensibile cattura immagini di qualità superiore anche in condizioni di scarsa illuminazione.
Senza sensore starlight
Con sensore starlight
Smart motion tracking
Segue con precisione un soggetto mantenendolo all'interno del campo visivo della fotocamera, con una velocità di rotazione fino a 120°/s.
Opzioni di storage flessibile

Salva i video registrati nella Micro SD Card inserita†(fino a 512 GB) oppure sfrutta il servzio di storage Cloud Tapo Care**.

Zone di attività

Ricevi notifiche solo quando vengono rilevate attività in zone specifiche.

Rilevamento Cross-Line

Ricevi notifiche quando qualcosa o qualcuno supera il confine stabilito.

Allarme acustico e luminoso

Attiva l'allarme per scoraggiare visitatori indesiderati in caso di rilevamenti.

Visione panoramica

Genera una vista panoramica fotografando l'ambiente circostante.

Hey! Fai attenzione con quello!

Audio Two-Way

Consente la comunicazione tramite un microfono e un altoparlante integrati.
CAMERA
Sensore di immagine
1/3"
Risoluzione
2K QHD (2560 × 1440 px)
Lenti
F/NO: 1.6±5%; Focal Length: 4mm±5%
Night Vision
Night Vision
View Range
360° Horizontal, 149° Vertical
NETWORK
Sicurezza
128 bit AES encryption with SSL/TLS
Wi-Fi Protocol
IEEE 802.11b/g/n, 2.4 GHz
Protocol
TCP/IP, DHCP, ICMP, DNS, NTP, HTTPS, TCP, UDP, ONVIF
Frequency
2.4 GHz
Wireless Security
WPA/WPA2-PSK
ACTIVITY NOTIFICATIONS
Input Trigger
Motion Detection, Person Detection, Line-Crossing Detection, Camera Tampering, Baby Crying Detection, Vehicle Detection, Pet Detection, Cat Meows Detection, Dog Bark Detection, Glass Break Detection, Smoke Alarm Detection
Output Notification
Notification, Snapshot(Tapo Care).
VIDEO
Video Compression
H.264
Frame Rate
2560×1440@15fps
Video Streaming
2K QHD
Audio Compression
G.711
AUDIO
Comunicazione audio
two-way audio
Audio Input & Output:
Built-in microphone and speaker
*Le immagini e le informazioni riportate sono solo a scopo illustrativo. Il prodotto può variare.
From United States?
Get products, events and services for your region.