Qual è la differenza tra gli account Master Administrator, Administrator e Viewer in Omada Controller?
Candidarsi a: Controllore Omada SDN
1. Panoramica
Quando si aggiungono nuovi amministratori al controllore Omada, esistono tre tipi di ruoli di account in Omada Controller: Master Administrator, Administrator e Viewer (Omada Controller supporta impostazioni personalizzate dei ruoli utente dalla versione 5.9, ma questi tre ruoli sono rimasti quelli predefiniti). Come suggerisce il nome, quando si accede con un account amministratore si avranno più privilegi rispetto a quello di viewer, il che vi aiuterà a limitare l'accesso di qualcuno al vostro Omada Controller ma non volete che abbia tutti i permessi per sbirciare tutte le vostre configurazioni e i vostri dati in Omada Controller aggiungendolo come account viewer.
Quando si aggiungono nuovi utenti (account Amministratore o Viewer) nel Controllore Omada, è possibile specificare i siti per i quali si desidera che i nuovi utenti abbiano l'autorizzazione; questi utenti non possono vedere i siti oltre l'autorizzazione, cancellare i siti esistenti o aggiungere nuovi siti. L'amministratore master può aggiungere account amministratore o viewer nel controller Omada, mentre l'amministratore può aggiungere solo account viewer; in questa parte non è consentita alcuna operazione per l'account viewer.
2.Illustrazione
1) Account amministratore principale
Questo è l'account a cui appartiene originariamente il controllore; ciò significa che quando si avvia il controllore per la prima volta, l'account con cui si accede sarà etichettato come account Master Amministratore e avrà pieno accesso (massima priorità) a tutte le configurazioni del controllore.
2) Account amministratore
Questo è il ruolo più prioritario che si possa aggiungere al Controller, rispetto all'account Amministratore Master, l'account Amministratore è bloccato per
Vista globale: Registri
Vista globale: Impostazioni
Vista sito: Trasmissione->Qualità dei Servizi
Vista sito: VPN->Wireguard
Vista del sito: Profili->Tipo di servizio
Vista del sito: Servizi->Proxy DNS
Vista del sito: Servizi->Esporta dati
Esci (angolo in alto a destra)
È praticamente la stessa cosa con l'account amministratore master in altre parti.
3) Viewer account
Compared to Administrator account, L'account Viewer ha queste restrizioni:
Nessun accesso: non è possibile raggiungerlo o vedere nulla.
Sito->Account Dispositivo
Cablato->Internet->WAN
Reti Wreless->WLAN->Ottimizzazione WLAN AI
VPN->VPN->IPsec Failover/ SSL VPN
Servizi-> Prenotazione DHCP/DNS dinamico/SNMP
Impostazioni Dell'Account (in alto a destra)
Solo visualizzazione: si ha accesso ad esso ma non si ha il permesso di modificare o vedere i dettagli delle voci esistenti.
Dashboard
Mappa
Dispositivi->Elenco Dispositivi
Insight
Registri
Strumenti
Rapporto
Reti Cablate->Internet->Modalità WAN
Reti cablate->Internet->LAN
Reti Wireless->WLAN
Sicurezza di Rete->ACL
Sicurezza di Rete->Filtraggio URL
Sicurezza della Rete->Difesa Dagli Attacchi
Sicurezza di Rete->Firewall
Sicurezza di Rete->Binding IP-MAC
Trasmissione
Autenticazione->Portale/ Autenticazione basata su MAC/ Profilo RADIUS/ LDAP
services->mDNS/ UPnP/ SSH/ Reboot Schedule/ PoE Schedule/ IPTV/ Upgrade Schedule
3. Ruolo personalizzato in Omada Controller v5.9
Dopo aver aggiornato il controller Omada alla versione 5.9, è possibile personalizzare i diversi ruoli con le diverse autorizzazioni desiderate.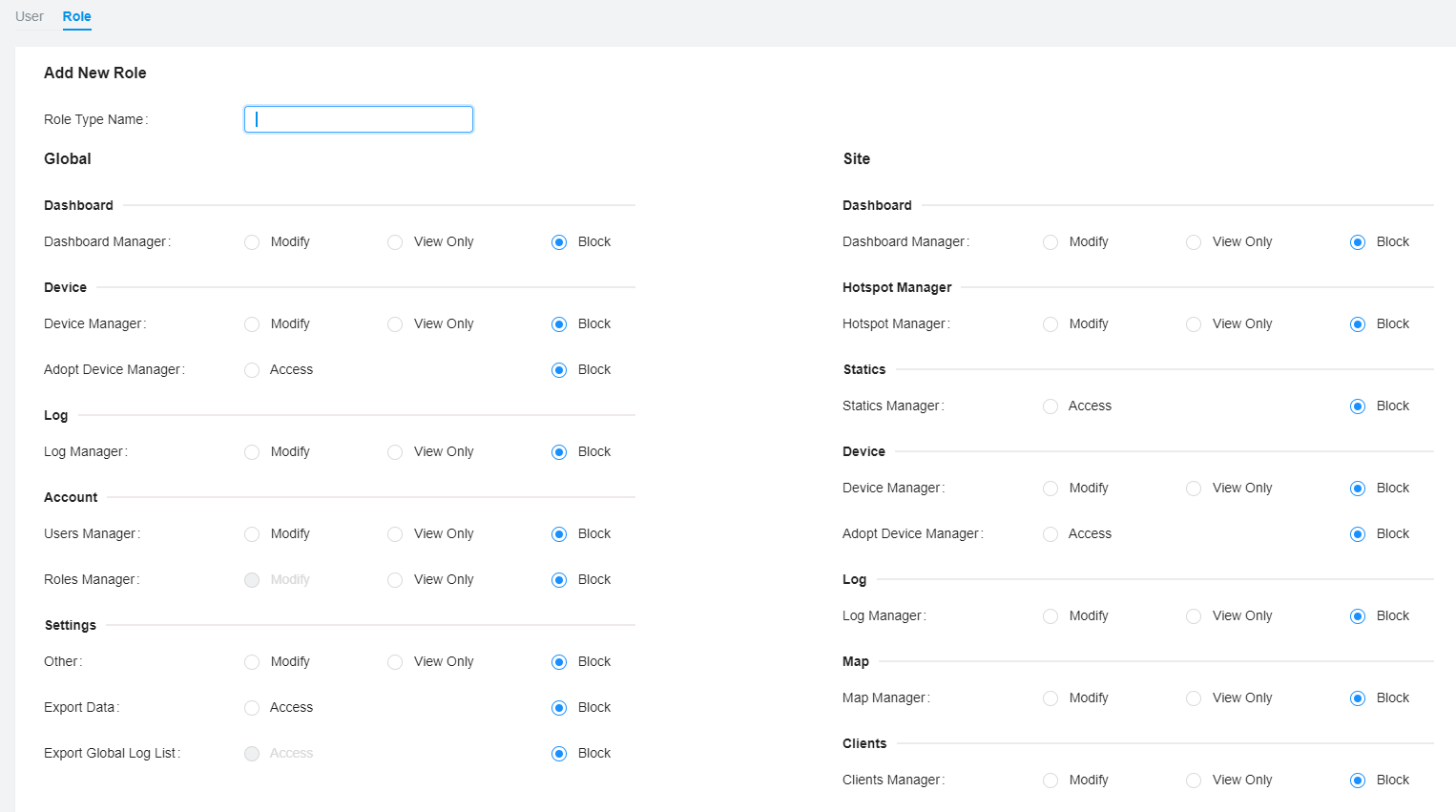 Questa faq è utile?
Your feedback helps improve this site.
From United States?
Get products, events and services for your region.