Come importare il template di un Captive Portal custom in Omada Controller
L'Interfaccia di Gestione Centralizzata della soluzione Cloud Omada SDN permette di creare Captive Portal offrendo numerose possibilità di personalizzazione: dalla scelta del metodo di autenticazione alla customizzazione degli elementi grafici della pagina. Tra questi troviamo la modifica del background, l'aggiunta del proprio logo e la scelta dei colori dei campi di inserimento dati e del testo. Nei casi in cui è necessaro creare effetti particolari è però possibile importare pagine customizzate attraverso l'apposita funzionalità.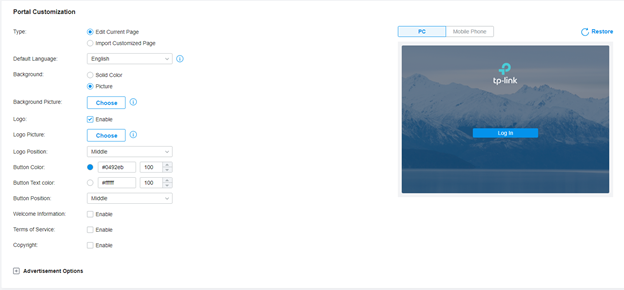 Tutti i metodi di autenticazione supportano l'utilizzo di template custom (se l'autenticazione è impostata su External Portal Server sarà possibile associare la landing inserendo IP o URL della pagina, senza bisogno di caricare il proprio template).
Con gli altri metodi di autenticazione scegli "Import Customized Page", carica il tuo file, la pagina importata sarà il tuo Captive Portal.

Note:
Il backend della pagina è linkato al database del Controller, devi assicurarti che i dati trasmessi dall'utente sulla pagina vengano trasmessi al controller. Per realizzare la tua pagina clicca su "Download the Template".
Puoi caricare non solo file HTML, ma anche file Zip contenenti tutte le risorse statiche necessarie alla pagina, come ad esempio le immagini. (Funzionalità supportata da v4.4.4 e successive)

Se importi un file HTML, non potrai associarlo a nessuna risorsa statica esterna. Se importi un pacchetto Zip, la pagina potrà attingere solo alle risorse contenute nello zip.

Per fare in modo che il Controller la riconosca, la pagina principale nel pacchetto zip deve essere nominata "index.html".
Questa faq è utile?
Your feedback helps improve this site.
From United States?
Get products, events and services for your region.