How to build a Campus Network using TP-LINK products
In campus, both teachers and students have Internet access requirement whenever and whatever possible. To help build a Campus Network, TP-LINK has provided a full solution.
What are the Basic needs of Campus Network?
Normally, a campus network should meet the following needs:
Both wired and wireless access available, teachers can have online teaching and researching, for students they can google for what they need.
Network should be fast and stable.
Allow remote access of campus Intranet resources.
Authority level for sensitive information.
Simple management and low cost of maintenance.
What kind of solution can meet the needs of Campus Network?
Here we provide a full solution including the network topology, product features and parameters.
Topology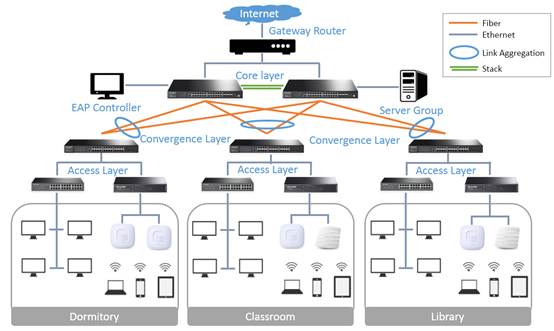 Features
The solution we provided has the following features:
A wide range of wireless coverage both indoor and outdoor
Various optional Access Point, and all kinds of installation methods including ceiling/wall mount, desktop and pole mount make it flexible to adapt to different environment such as classroom, dormitory, playground and canteen.
Central management and configuration
Adopt Software Controller, can be installed on any PCs as command center.
Automatically discover all TP-LINK EAP series devices, configure and manage all APs together. Support L2 networking between controller and AP, also support L3 networking even if the controller is behind NAT devices.
Full Gigabit wired network, redundancy design, fast and stable
Support gigabit wired-speed forwarding, especially on core switch, forwarding speed reaches up to 10Gbps
Support STP on Core Layer and Convergence Layer switches, easy design of redundancy as well as link backup
Client to LAN VPN provide remote access to Campus Intranet Resources
Support IPSec/PPTP/L2TP, for students or teachers outside campus can visit intranet whenever and whatever possible through IPSec/PPTP/L2TP VPN.
Multiple functions available including L3 routing, VLAN and DHCP Relay
Support L3 Routing and Static Routing, which can separate the network into different subnets and set different VLAN for each subnets.
Support DHCP Relay so that clients in different network segment can share the same DHCP Server.
High network security features such as IP-MAC-Port-VID Binding, IEEE802.1X Authentication, make the network security issue easy to maintain.
Support IP-MAC-Port-VLAN Binding, 802.1X Authentication, ARP inspection, which can provide authentication and higher security to the Campus Network.
IP source guard can guarantee each PC with a specific IP address with a specific VLAN, that is to say, illegal user do not have network access key unless the administrator permits.
Multiple wireless authentication methods, strictly control the access permission
Support Multi-SSID, each SSID maps to a certain VLAN for VLAN partition in wireless side
Support multiple authentication methods like Portal and Radius authentication
Support AP Isolation to ban communication among different wireless clients
Which product should I choose to set up the Campus Network?
Here is a list which includes the TP-LINK devices for reference:
Device

Model

Feature

Core Switch

Stackable L3 Managed Switch

(T3700G-28TQ)

Stackable

Support L3 Routing, Static Routing

Pluggable, Redundant power module design, working around the clock

Convergence Switch

Gigabit L2 Managed Switch

(T2600G-28TS)

Full gigabit ports, wired-speed forwarding

Access Switch

Unmanaged Switch

(TL-SG1024)

Full gigabit ports, wired-speed forwarding

Unmanaged PoE Switch

(TL-SG1008P)

Full gigabit ports, wired-speed forwarding

4*PoE ports, transfer data and power on one single cable

Wireless AP

EAP220

11n dual band with maximum speed of 600Mbps

Ceiling/Wall mounting

Supports 802.3af Standard PoE

EAP320

11ac dual band with maximum speed of 1200Mbps

Ceiling/Wall mounting

Supports 802.3at Standard PoE

EAP330

11ac dual band with maximum speed of 1900Mbps

Ceiling/Wall mounting

2*gigabit ports, ETH1 supports 802.3at Standard PoE
Note: Refer to Appendix table for select EAP model selection.
Can I know any detailed information about the EAPs?
By referring to the appendix shown below, you can know the detailed information and parameters of our EAP products.
Auranet EAP series specification
Model

Items

EAP330

EAP320

EAP220

EAP120

Wireless Throughput

AC1900

2.4GHz:600Mbps

5GHz:1300Mbps

AC1200

2.4GHz:300Mbps

5GHz:867Mbps

N600

2.4GHz:300Mbps

5GHz:300Mbps

N300

2.4GHz:300Mbps

Ethernet Port

2*GE

1*GE

1*GE

1*GE

Internal Antennas

2.4GHz:3*6dBi

5GHz:3*7dBi

2.4GHz:2*6dBi

5GHz:2*7dBi

2.4GHz:2*4dBi

5GHz:2*4dBi

2.4GHz:2*4dBi

Power Supply

802.3at PoE

802.3at PoE

802.3af PoE

802.3af PoE

Captive Portal

√

√

√

√

Airtime Fairness

√

√

-

-

Beamforming

√

√

-

-

Band Steering

√

√

√

-

Load Balance

√

√

√

√
Questa faq è utile?
Your feedback helps improve this site.
From United States?
Get products, events and services for your region.