Come aggiornare il firmware di uno switch tramite il Menu di Avvio
Bootutil è la modalità sicura di uno switch. Quando lo switch non può essere avviato a causa di qualcosa che non va nel firmware, possiamo provare ad accedere al menu di avvio e scaricare nuovamente il firmware tramite la funzione FTP.
Nota: questo articolo è adatto solo per le serie TP-Link 3 e 5 (come TL-SG5428E), gli switch T2700 e T3700 e il bootutil potrebbe presentare alcune differenze tra i diversi switch.
Installazione dell'hardware

Collegare il PC alla porta della console dello switch.
Collegare il server FTP alla porta 1 dello switch.
Salvare il firmware (file bin) dello switch nel file condiviso del server FTP. Partiamo dal presupposto di avere già impostato il server FTP e salvato il firmware come di seguito:
Indirizzo IP FTP: 192.168.1.4
Nome utente FTP: admin
Password FTP: 666666
Nome del firmware: update.bin
Nota: è possibile fare riferimento alla FAQ 993 per configurare un server FTP.
2. Configurare il terminale seriale nel PC.
Esistono molti strumenti che possono fungere da terminale seriale, qui utilizziamo PuTTY come esempio. Procedere come segue per configurare PuTTY per gestire lo switch.
Apri PUTTY.
Verrà visualizzata la finestra di configurazione PuTTY mostrata di seguito, fare clic su Connection—Serial nella barra di sinistra e selezionare Serial line to connect to, in questo esempio è COM1 ed è correlata alla porta seriale che si utilizza, si prega di scegliere in base alla propria reale situazione. Configura Speed (baud) come 38400, Data bits come 8, Stop bits come 1, Parity come None, Flow control come None.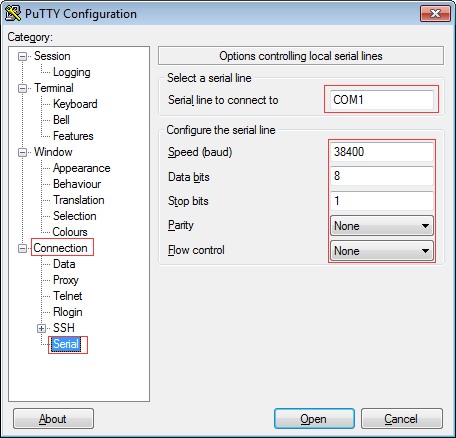 Poi fare clic su Session nella barra di sinistra e selezionare Serial, poi fare clic su Open.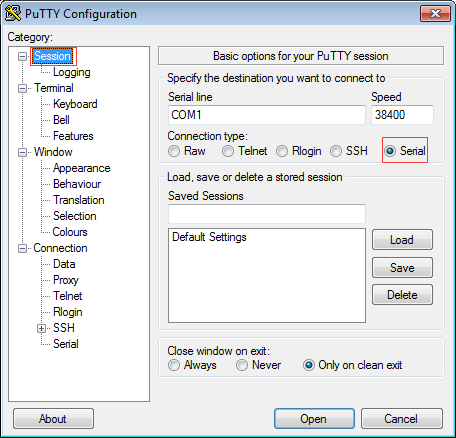 Scarica il firmware tramite il menu di avvio
Per scaricare il firmware sullo switch tramite la funzione FTP, è necessario accedere al menu di avvio dello switch.
Spegnere e riavviare lo switch. Quando viene richiesto "Press CTRL-B to enter the bootutil", premere il tasto CTRL-B per accedere al menu di avvio mostrato come di seguito.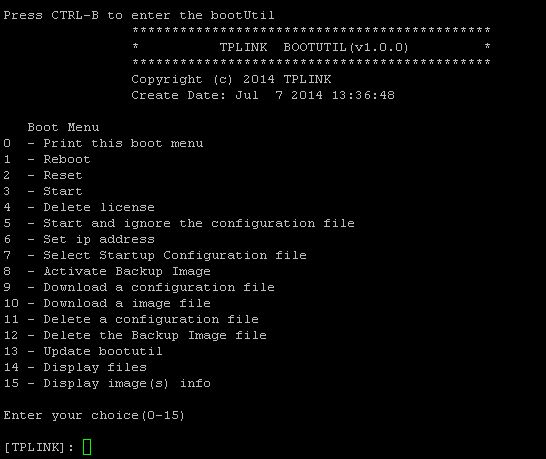 Poiché il prompt viene visualizzato per un breve periodo, si consiglia di non rilasciare il tasto CTRL-B finché non si accede al menu di avvio dopo aver acceso lo switch.
2. Dopo aver effettuato l'accesso al menu di avvio, configurare innanzitutto i parametri IP dello switch e l'indirizzo IP dello switch deve trovarsi nella stessa sottorete del server FTP. Inserire 6 e specificare a turno l'indirizzo IP, la maschera IP e il gateway.
Ad esempio: configurare l'indirizzo IP come 192.168.1.100, mask come 255.255.255.0 e gateway come 192.168.1.1. I passaggi dettagliati sono mostrati nella figura seguente.

Inserire 10, poi scegliere 1 per configurare i parametri del server FTP che mantiene il firmware e scaricare il firmware sullo switch dal server FTP.

Dopo aver scaricato correttamente il firmware dello switch, è necessario specificare l'attributo del firmware scaricato, si consiglia di specificarlo come immagine di backup come mostrato nell'immagine seguente.

Nota: solo gli switch con funzione Dual Image come T2700 e T3700 necessitano di questo passaggio.
Inserire 1 e Y per riavviare lo switch..

Questa faq è utile?
Your feedback helps improve this site.
From United States?
Get products, events and services for your region.