Multi-Gig Ethernet: What is it, and how to set it up at home
For most users, a single Gigabit Ethernet connection is more than enough for their daily use of a home network. But for a small office or big family where numerous devices have to share a single connection, this may not be enough.
And in case you haven't heard, Wi-Fi 7, which is expected to deliver unprecedented improvements in speed and efficiency, is around the corner. Meanwhile, more and more internet service providers have offered super-fast Multi-Gig internet plans at a more affordable price.
Add all these things up, and you'll likely need faster-than-Gigabit wired connections to match the speeds needed today and in the future. Multi-Gig Ethernet could be just the answer.
Do you need Multi-Gig connections?
How to build a Multi-Gig Ethernet?
Find the best Multi-Gigabit devices for you
Multi-Gig Ethernet, just as the name suggests, refers to a link that delivers connection speeds higher than one Gigabit. However, when you dig a little deeper into the technical details, Multi-Gig connections usually mean hooking up to a BASE-T RJ45 network port that supports speeds anywhere from 1 Gbps to 10 Gbps. More importantly, these ports remain backwards compatible.
The concept of Multi-Gig didn't take shape until the NBASE-T 802.3bz standard was released in 2016. Before being issued, 10G Ethernet networks could only be set up over Cat6a cables. Cat5e and Cat6 cables, which were widely deployed, could only run 1-Gigabit networks. There was no in-between. And the previous 1-Gigabit and 10-Gigabit Ethernet ports, many of which were early 10GBASE-T switches, did not support intermediate speeds. As a result, if you tried running a network-attached storage (NAS) device capable of 5 Gbps speeds and connect it to a 10G port Router, the NAS wouldn't operate at full capacity because previous 10G ports didn't support these in-between speeds like a Multi-Gig port.
The new standard of 802.3bz, which is also called 2.5GBASE-T and 5GBASE-T, allows you to run 2.5G, 5G, and possibly 10G on your existing Cat5e and Cat6 cabling. It's a huge win for businesses and home users, as it allows for a cost-saving alternative to re-wiring with Cat6a for a faster network. Meanwhile, the Multi-Gig port can automatically negotiate to operate at various speeds (10 Mbps / 100 Mbps / 1 Gbps / 2.5 Gbps / 5 Gbps / 10 Gbps).
This enables your devices to operate at full speed with flexibility. For example, a 2.5G Multi-Gig port can support all of the following connection speeds: 10 Mbps, 100 Mbps, 1 Gbps, and 2.5 Gbps.
If you're like everybody else, you too probably enjoy having the fastest internet connection. Multi-Gig technology came out in response to this growing demand. For added flexibility, Multi-Gig ports generally work in two modes for home users—WAN or LAN.
Multi-Gig Internet Access Requires Multi-Gig WAN Ports
Nowadays, ISPs in many areas have started offering Multi-Gig internet access plans with competitive pricing. For such cases, the Multi-Gig WAN port becomes an ideal choice for unleashing your full internet performance.
It's easy to see how you would need a Multi-Gigabit router when you have internet services with speeds higher than 1 Gbps. But actually, even if you only have 1 Gbps of speed from your ISP (common in the US), you probably need a Multi-Gigabit router or Mesh system to get full use out of your network's listed speed. Routers with Gigabit ports usually can't reach the theoretical peak of 1 Gbps due to extra activity sharing the Ethernet bandwidth. So with a Multi-Gig router, you would have enough Ethernet bandwidth to fully enjoy all of your 1 Gbps speed.
Multi-Gig LAN Ports for Super-Fast Transfer Rates
Ideally, if you have a router with more than one Multi-Gig port, you can use one for WAN connections to make full use of your internet access and others for the LAN connections to transmit stable Multi-Gigabit connections. This helps you experience immersive gaming without lag when you connect your gaming PC to the Multi-Gig LAN port. Or more often, though, Multi-Gig technology is increasingly being used to enable home or studio unified storage.
By connecting your Network-Attached Storage (NAS) server to the router via a Multi-Gig LAN port, you can transfer files at Gigabit speeds from it. This way, you can speed up the direct editing of large images and videos from your NAS with Multi-Gig Ethernet networking; or store movies and photography in a matter of seconds and access them from anywhere instantly. With a 10G or 2.5G Multi-Gig Ethernet network, all these tasks could cost you only a tenth of the time compared with a Gigabit network.

Wireless technology keeps upgrading year after year to match users' increasing needs. That's why more and more products are coming equipped with Multi-Gig ports. That just leaves one question: do you actually need Multi-Gig Ethernet?
To answer this, you should consider Multi-Gig Ethernet if you're…
>Looking for a future-proof home networking solution when furnishing your home;
>Sharing a single network connection with multiple family members and devices;
>Often sending large files like 4K Blu-ray movies, projects, and games between multiple devices;
>A content creator finding the perfect solution to access and manage your files instantly;
>A game player looking to level up your network to dominate the competition;
>A network storage enthusiast trying to unleash your system's full read/write speeds.
If any of these describe you, then you're probably someone who needs Multi-Gig Ethernet network performance and can enjoy the full benefits of it.
Step 1: Find a Multi-Gig internet plan for super-fast speeds
It's important to pick up an appropriate Multi-Gig internet plan. It determines the upper limit of your transmission rate while exploring the World Wide Web.
Step 2: Prepare suitable cables which connect everything
Whether you have a lightning-fast Multi-Gig internet plan or a 10G Ethernet NAS server. The right Ethernet cables are pretty vital and really make a difference. Choose the proper cables for different Multi-Gig speeds.
| | |
| --- | --- |
| | Maximum Speed at 100 Meters |
| CAT5e | 5 Gbps |
| CAT6: Unscreened | 5 Gbps |
| CAT6: Screened | 10 Gbps |
| CAT6A | 10 Gbps |
| CAT7 | 10 Gbps |
| CAT7A | 10 Gbps |
| | |
| --- | --- |
| | Maximum Distance for up to 10 Gbps |
| CAT6: Unscreened | 55 meters |
| CAT6: Screened | 100 meters |
| CAT6A | 100 meters |
| CAT7 | 100 meters |
| CAT7A | 100 meters |
*There is currently no standard for CAT5E to transmit the maximum distance of 10 Gbps. According to the actual measurement of TP lab, the maximum distance can reach 70m. The actual transmission distance is not guaranteed and will vary as a result of environmental factors.
Step 3: Multi-Gig network devices to unleash your full potential
You will also need a router with Multi-Gig ports, which plays a central role in your home network. Additionally, to maximize the value of your high-speed access, a Multi-Gig switch is also a good choice to extend your existing Multi-Gig network.
Step 4: Upgrade your clients to match the listed speed
Some high-end PC systems and NAS devices have built-in Multi-Gig Ethernet ports. When your clients lack Multi-Gig connectivity, you could equip them with Multi-Gig Network Interface Controllers (NIC)—mostly with PCI-E connectors or Thunderbolt connectors.
Multi-Gig Routers
Dual 10G Ports, Beyond Fast
Interface: 1× 10 Gbps RJ45/SFP+ Combo WAN/LAN Port + 1× 10 Gbps RJ45 WAN/LAN Port + 1× 2.5 Gbps RJ45 WAN/LAN Port + 4× Gigabit LAN Ports, 1× USB 3.0 Port
Equipped with two 10G ports—one RJ45 port and an RJ45/SFP+ combo port—Archer AXE300 provides flexible support for both fiber and copper connections. AXE300's additional 2.5G port, 4 Gigabit ports, and USB 3.0 port make it an ideal solution for future-proofing your home wired network.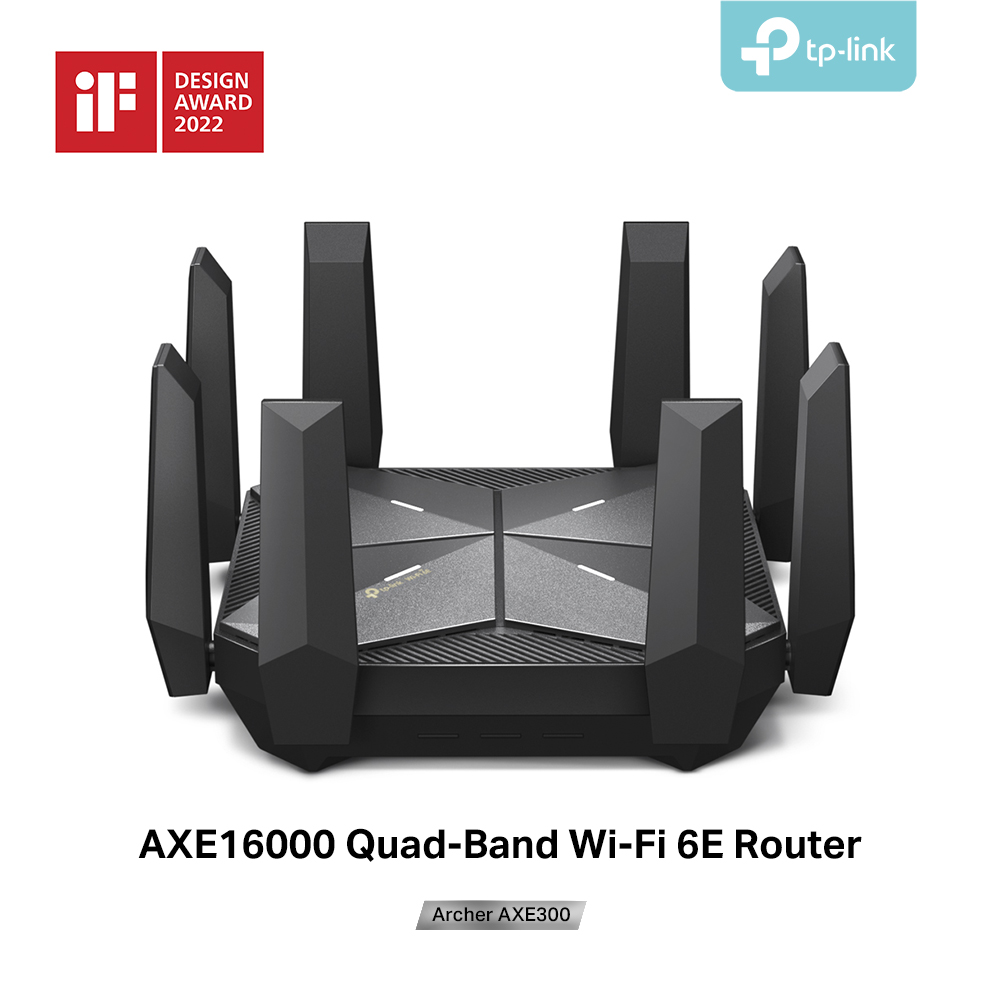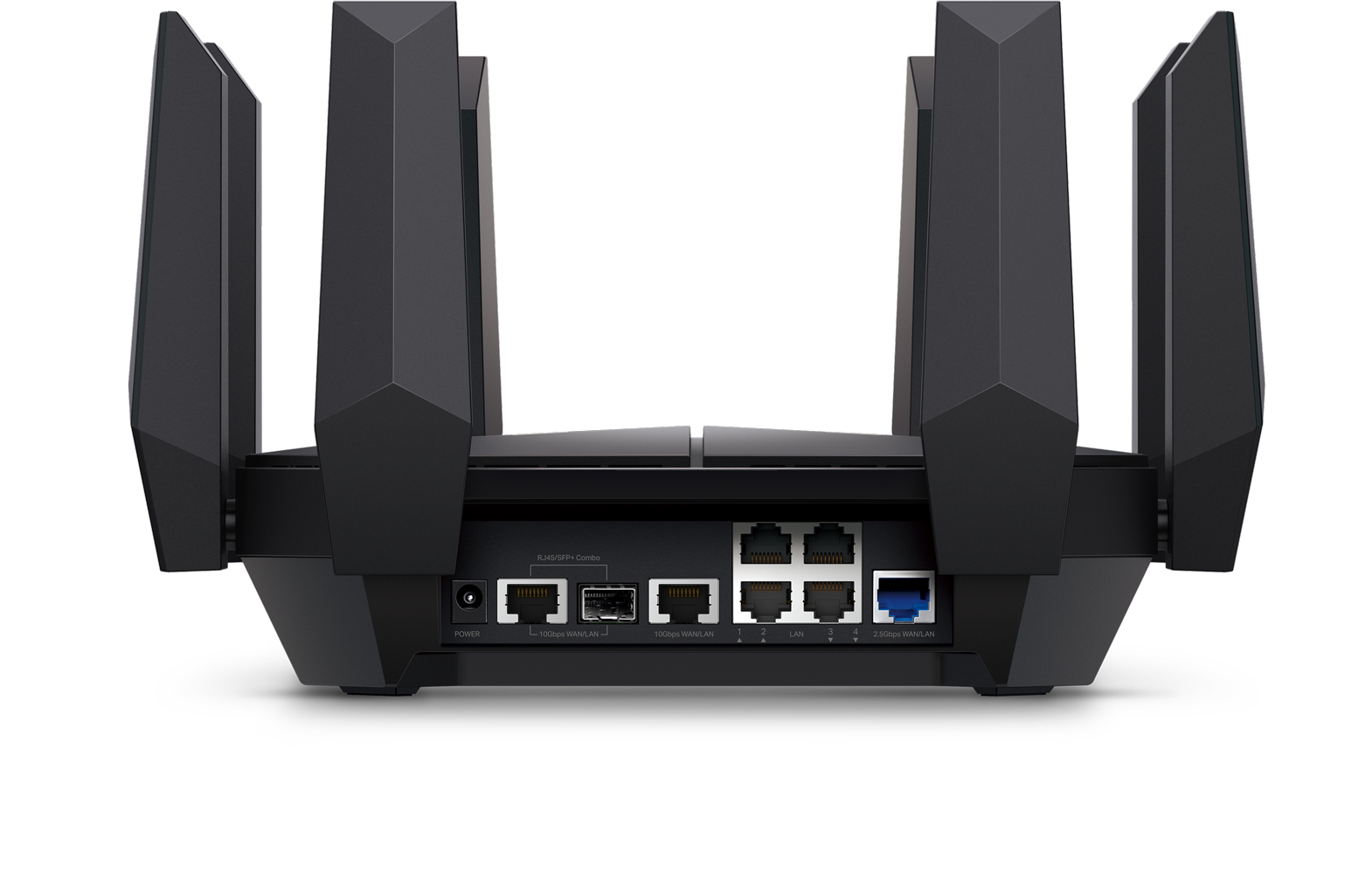 Archer AX3000 Pro
Best overall value for a 2.5G Multi-Gig Router
Interface: 1× 2.5 Gbps RJ45 WAN/LAN Port + 1× Gigabit RJ45 WAN/LAN Port + 3× Gigabit LAN Ports, 1× USB 3.0 Port
A 2.5 Gbps port and 1 Gbps port make full use of the Gigabit speeds from your local ISP. Break through the 1G bottleneck and drive your devices to peak performance. WAN/LAN support gives you remarkable flexibility to tailor both ports to fit your network's needs.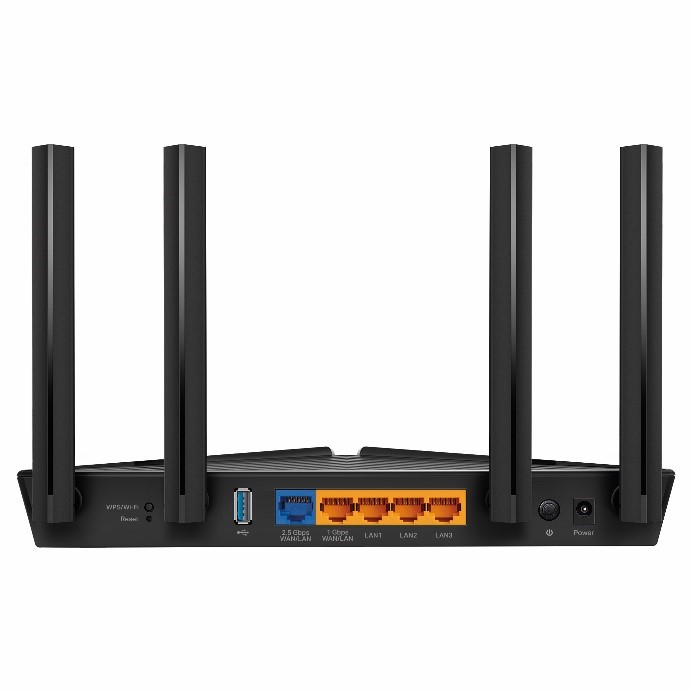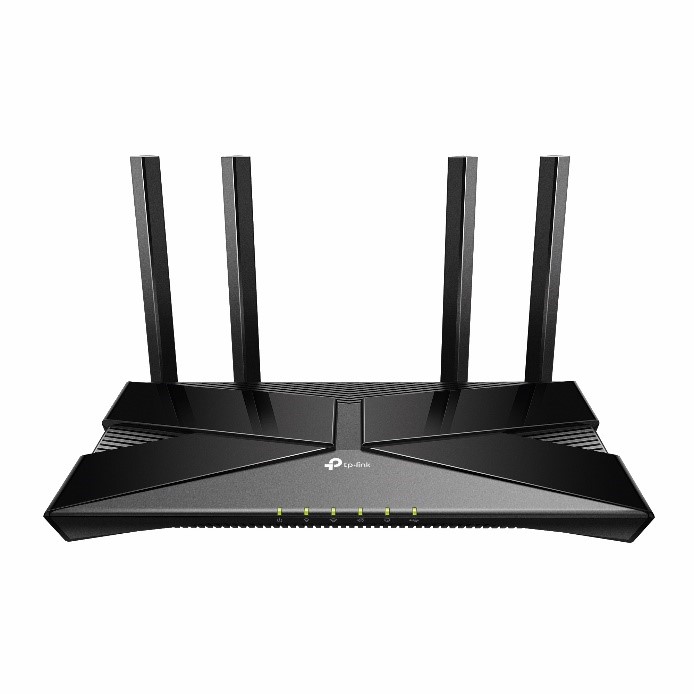 Multi-Gig Mesh System
AXE5400 Tri-Band Mesh Wi-Fi 6E System
Interface: 1× 2.5 Gbps Port + 2× Gigabit Ports per Deco (Supports WAN/LAN auto-sensing)
A 2.5 Gbps port and 2 Gigabit ports allow you to take full advantage of your broadband speed. Plug your PCs, smart TVs, or game consoles into the ports for blazing-fast wired connections.Brand-New 6 GHz Band – Experience the latest frequency of WiFi.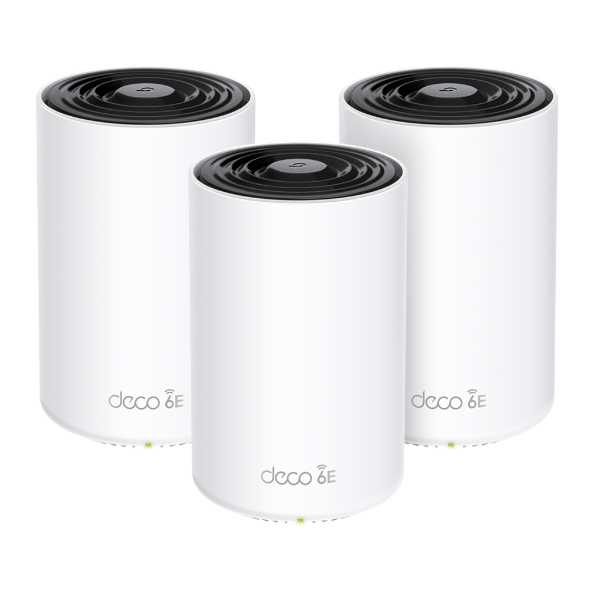 Tri-Band Whole Home Mesh WiFi 6E System with 10G Port
Interface: 1× 10 Gbps port + 2× Gigabit ports per Deco unit (WAN/LAN auto-sensing)
Deco XE200, featuring the latest WiFi 6E standard, minimizes congestion with the brand new 6 GHz band, delivers robust high-speed connections, and boosts your WiFi range. 1× 10 Gbps port and 2× Gigabit ports make full use of your local ISP's Multi-Gigabit speeds. WAN/LAN support meets the rest of your internet demands.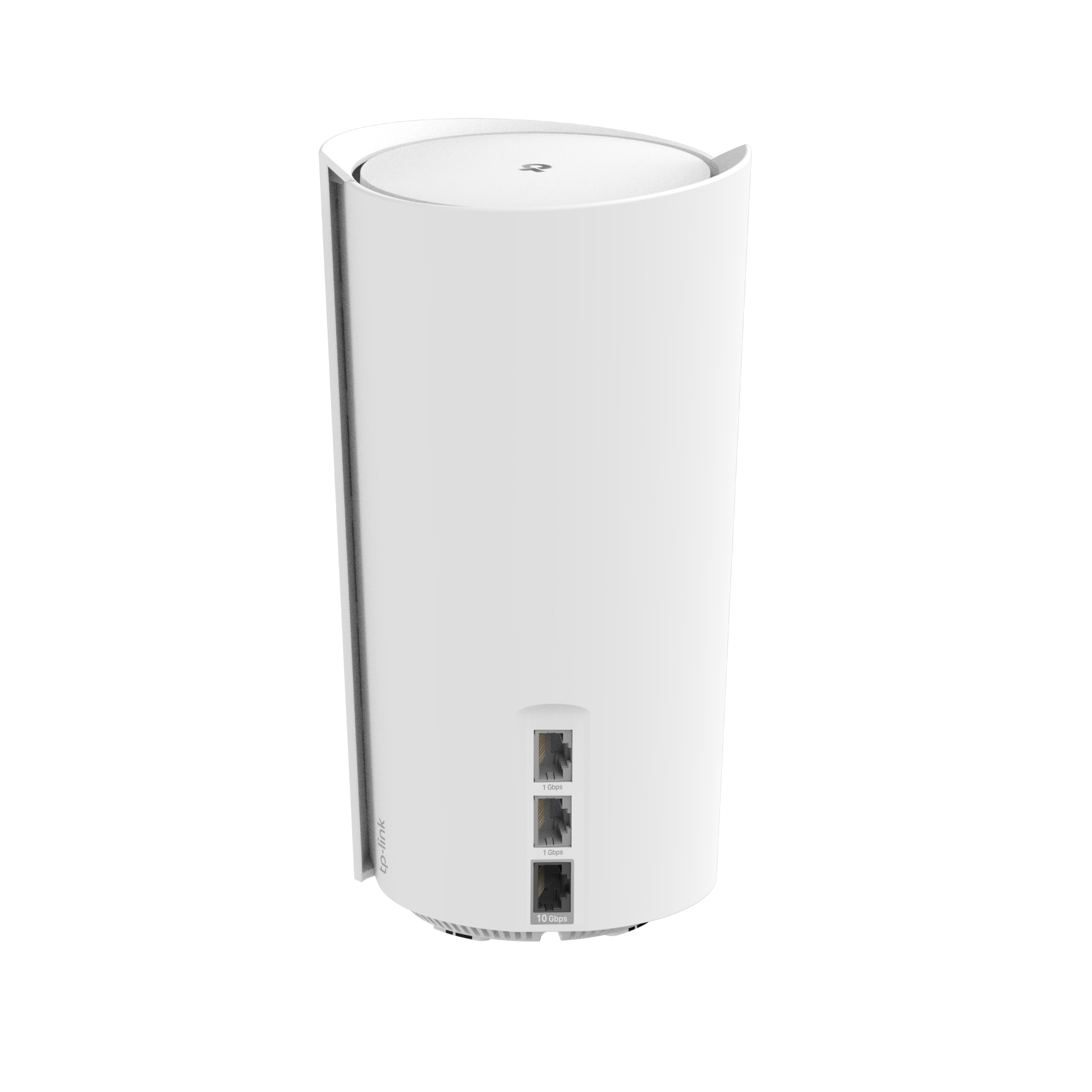 Deco X4300 Pro
Future-Proof Your Mesh WiFi System with a 2.5 G Port
Interface: 1× 2.5 Gbps port + 2× Gigabit ports per Deco unit (WAN/LAN auto-sensing)
Armed with Wi-Fi 6 technology, Deco X4300 Pro is designed to deliver a huge boost in coverage, speed, and total capacity. A 2.5 Gpbs port and dual Gigabit ports make full use of your Gigabit speeds. WAN/LAN support meets all of your other internet demands.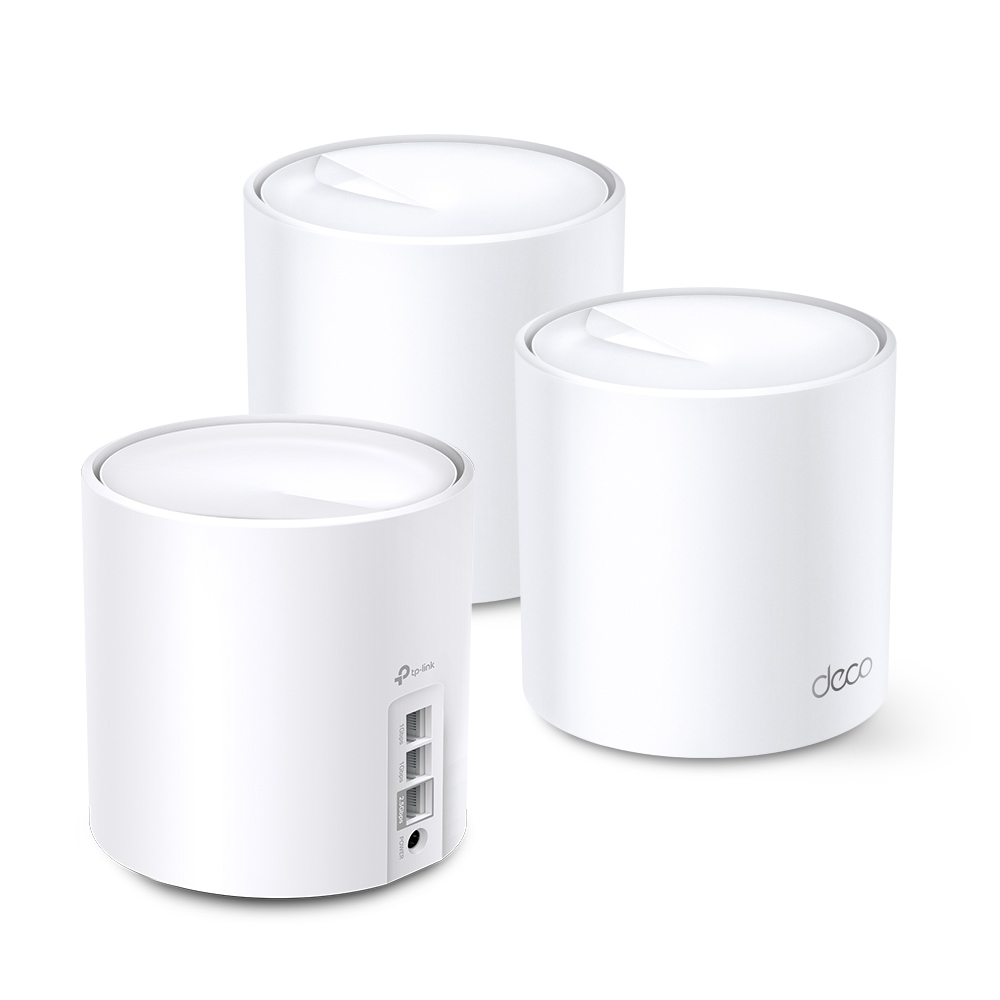 Multi-Gig Switches
8-Port 10G Desktop/Rackmount Switch
Interface: 8× 100Mbps/1Gbps/2.5Gbps/5Gbps/10Gbps Ports, Auto-Negotiation, Auto-MDI/MDIX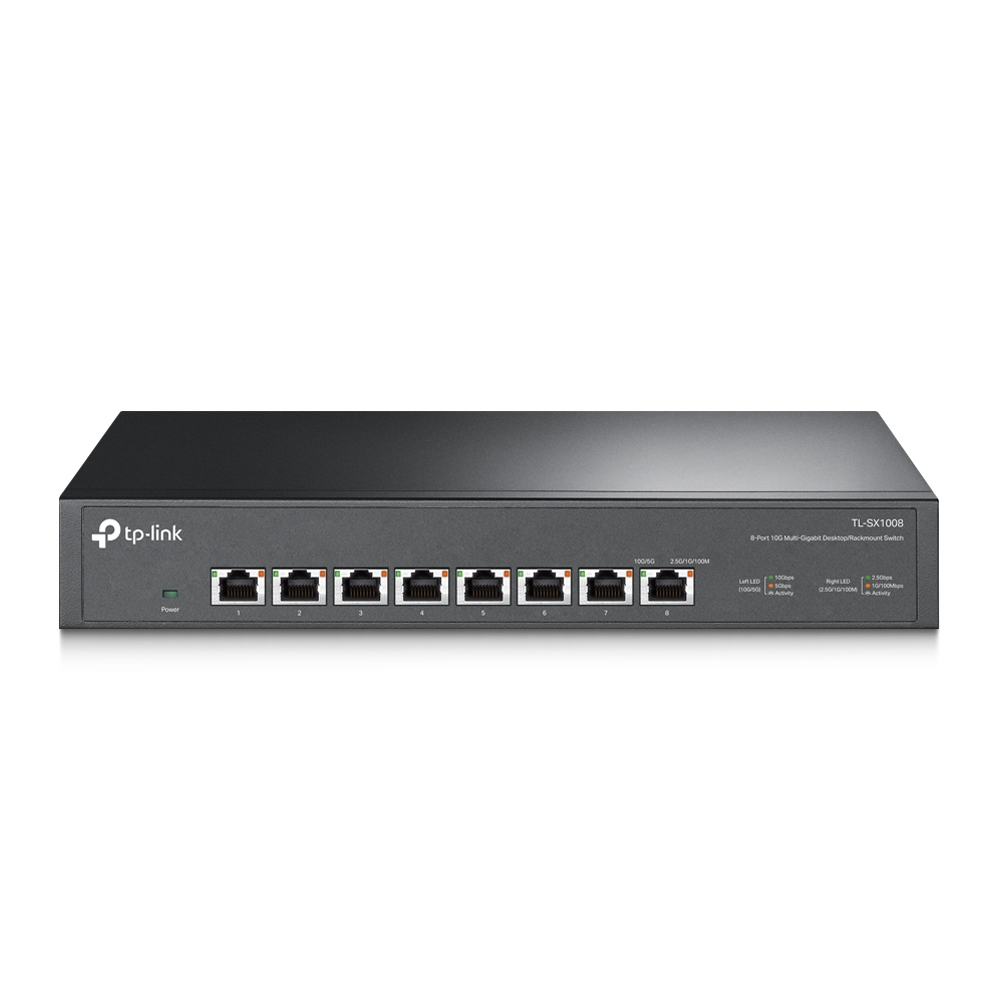 8-Port 2.5G Desktop Switch
Interface: 8× 100Mbps/1Gbps/2.5Gbp Ports, Auto-Negotiation, Auto-MDI/MDIX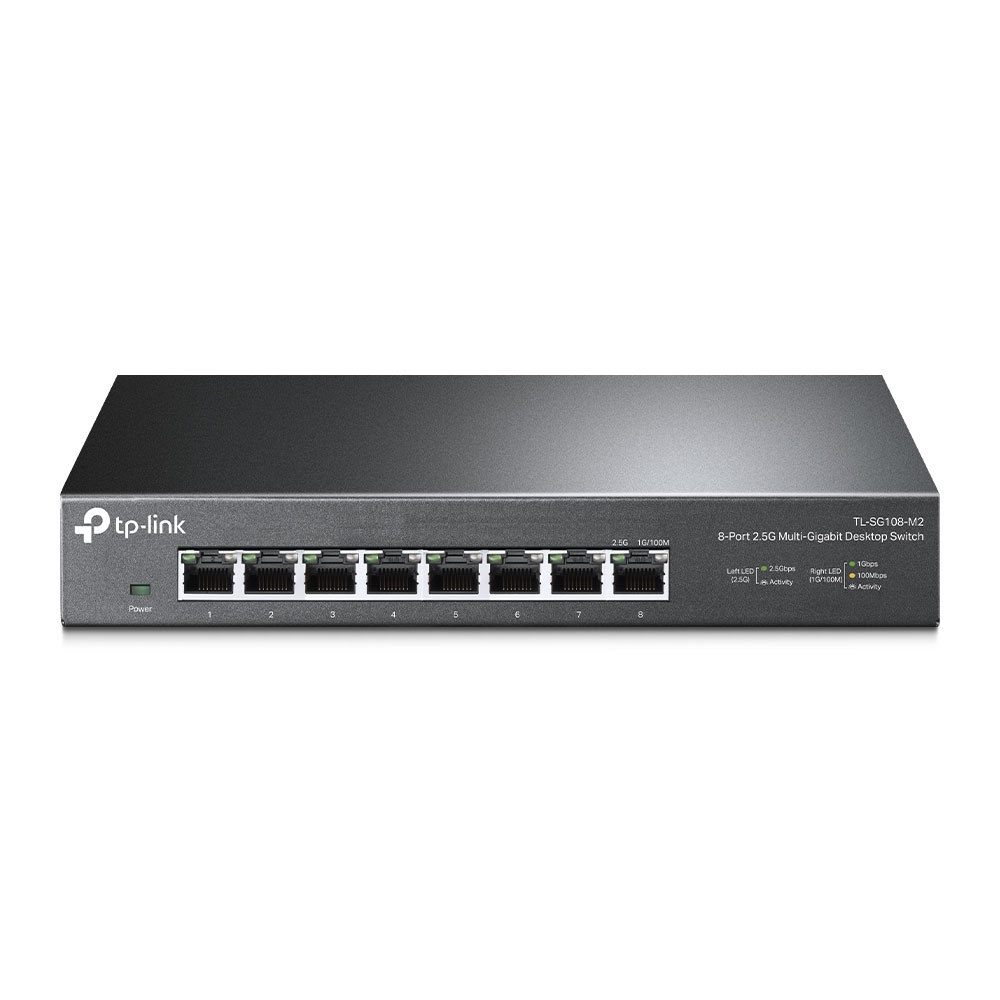 Multi-Gig Network Interface Controllers (NIC)
10 Gigabit PCI Express Network Adapter
Interface: 1× PCI Express 3.0 x4, 1× 10GBaseT RJ45 Port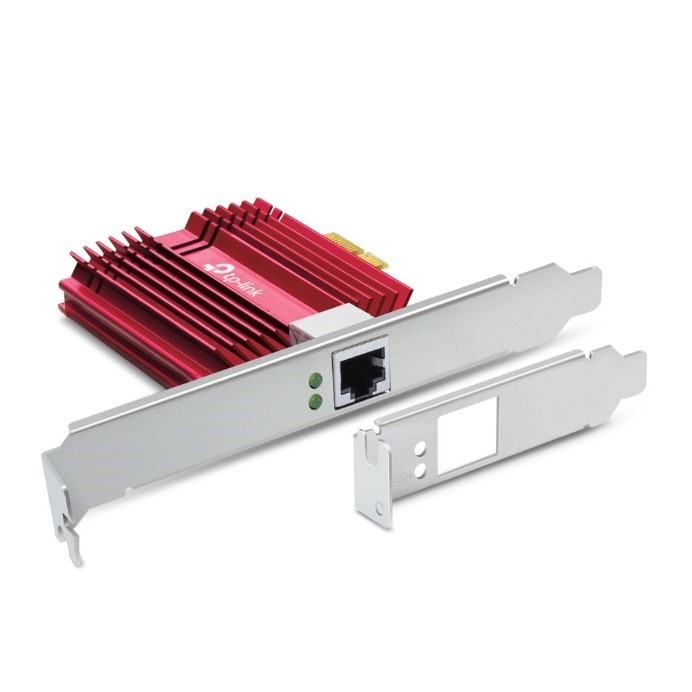 TP-Link is driving the use of Multi-Gigabit technology to the masses. We provide comprehensive Multi-Gigabit solutions for both home users and business users. If you are looking for high-speed connectivity with a scalable and affordable network, then the TP-Link Multi-Gigabit Solution is the right choice.