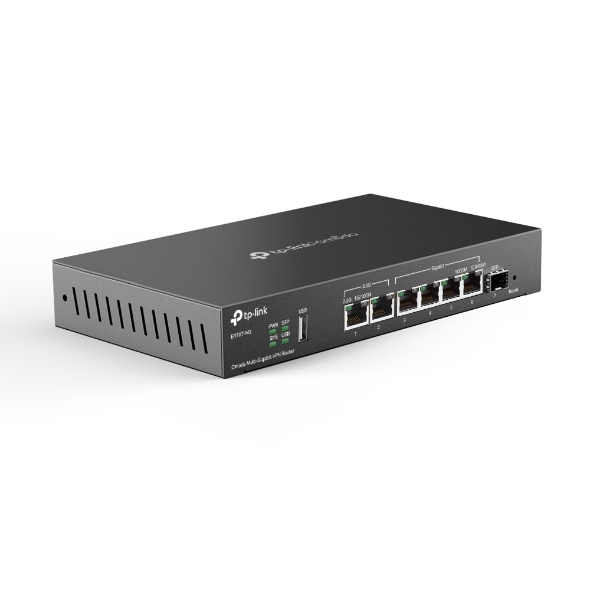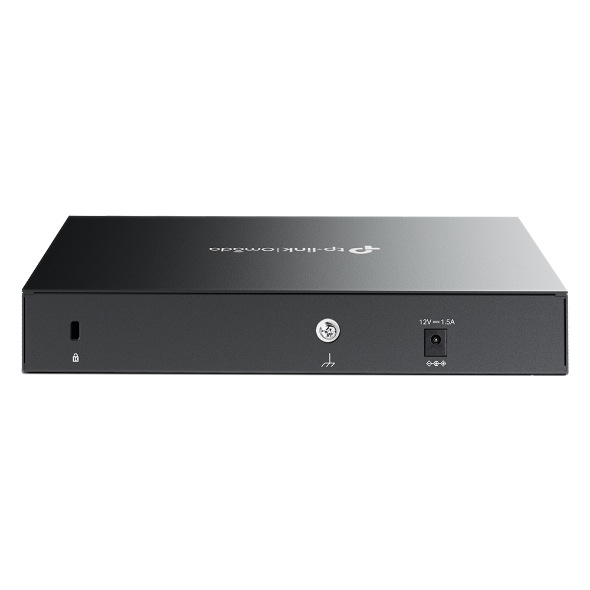 ER707-M2
Omada Multi-Gigabit VPN Router
Two 2.5G Ports: 1× 2.5G WAN and 1× 2.5G WAN/LAN ports provide high-bandwidth aggregation connectivity.
Up to 6 WAN Ports: 2.5G RJ45, gigabit Fiber, and gigabit RJ45 WAN ports with load balance raise the utilization rate of multi-line broadband.
Highly Secure VPN: Enterprise-standard SSL/IPSec/GER§/PPTP/L2TP VPN & OpenVPN are ideal for use across multiple branches and for WFH.
Integrated into Omada SDN: Supports Zero-Touch Provisioning (ZTP),** Centralized Cloud Management, Intelligent Monitoring, and more.
Centralized Management: Cloud access and Omada app provide the utmost in management convenience.
Extensive Security Features: Protect your network and data with advanced firewall policies, DoS defense, IP/MAC/URL filtering, and more security functions.
Learn more about Omada Cloud SDN>​
SSL/IPSec/GER§ /PPTP/L2TP VPN
Dual 2.5 Gbps Ports, Engineered for Dense Environments
Delivering high-speed transmissions through dual 2.5 Gbps ports, ER707-M2 is designed for multi-person environments such as retail stores, hotels, and offices. Enjoy a blazing-fast network experience while working from home.
6× WAN Ports & 1 USB WAN for Mobile Broadband
Empowered with up to 6× WAN SFP and RJ45 ports, ER707-M2 supports various internet access.△ Multi-WAN Load Balancing distributes data streams based on the bandwidth proportion of every WAN port to increase the utilization rate of multi-line broadband.
Connect a 4G/3G modem to the USB 2.0 port for a LTE WAN backup.
1× USB 2.0 Port
1× 2.5G RJ45 WAN Port
1× 2.5G RJ45 WAN/LAN Port
4× Gigabit RJ45
WAN/LAN Ports
1× Gigabit SFP
WAN/LAN Port
High-Security VPN
Pass-through traffic and a variety of VPN protocols, such as SSL, GRE§, IPSec, PPTP, and L2TP, are available on ER707-M2, giving consumers versatile options. One-click auto IPSec VPN simplifies VPN configuration and facilitates network management and deployment.* The router also features a built-in hardware engine to boost VPN performance.
Abundant Security Features
Powerful Firewall
Advanced firewall policies
protect your network and data.
IP/MAC/URL Filtering
Forcefully prevent viruses and attacks from intruders.
Convenient VLAN Support
Create virtual network segments for
enhanced security and simplified
network management.
IP-MAC Binding
Reserves static IP assignment
for clients to defend against ARP
attacks and spoofing.
DoS Defense
Automatically detects and blocks
Denial of Service (DoS) attacks such
as TCP/UDP/ICMP Flooding, Ping of
Death, and other related threats.
One-Click ALG Activation
One-Click ALG Activation for
applications such as FTP, H323, SIP,
IPsec, and PPTP.
Internet Access Management Strategy
Standardize users' online behavior and easily specify the internet access rights and strategies of employees via IP/MAC/URL Filtering and Access Control List (ACL). Captive Portal authentication facilitates network resource control by capturing, authenticating, and classifying user access. Appropriate network resources can also be allocated for particular users or guests.
Omada SDN—The Smarter Cloud Solution for Business Networking
As the router that seamlessly integrates into the Omada Software Defined Networking (SDN) platform, ER707-M2 allows for remote and centralized management, anywhere, anytime. Standalone management via the Web UI or app is also available to maximize convenience.
Wall-Plate AP
Ceiling Mount AP
Outdoor AP
Omada Cloud-Based Controller
Cloud Access
JetStream PoE Switches
Omada Multi-Gigabit VPN Router ER707-M2
Wi-Fi 6 AP for High-Density Environments
Hassle-Free Centralized Cloud Management:
100% centralized cloud management of the whole network from different sites—all controlled from a single interface anywhere, anytime.
Easy Management with the Omada App
Follow configuration instructions on the free Omada app to get set up in minutes. Omada lets you configure settings, monitor the network status and manage clients, all from the convenience of a smart phone or tablet.
SECURITY
Access Control
Source/Destination IP Based Access Control
Filtering
• WEB Group Filtering§• URL Filtering• Web Security§
ARP Inspection
• Sending GARP Packets§• ARP Scanning§• IP-MAC Binding§
Attack Defense
• TCP/UDP/ICMP Flood Defense• Block TCP Scan (Stealth FIN/Xmas/Null)• Block Ping from WAN
HARDWARE FEATURES
Standards and Protocols
• IEEE 802.3, IEEE802.3u, IEEE802.3ab, IEEE802.3z, IEEE 802.3x, IEEE 802.1q, IEEE802.3bz• TCP/IP, DHCP, ICMP, NAT, PPPoE, NTP, HTTP, HTTPS, DNS, IPSec, PPTP, L2TP, OpenVPN, SNMP, WireGuard VPN
Interface
• 1× 2.5G RJ45 WAN Port• 1× 2.5G RJ45 WAN/LAN Port• 1× Gigabit SFP WAN/LAN Port• 4× Gigabit RJ45 WAN/LAN Ports• 1× USB 2.0 Port (Supports USB storage, and LTE backup with LTE dongle)
Network Media
• 10BASE-T: UTP category 3, 4, 5 cable (Max 100 m) EIA/TIA-568 100Ω STP (Max 100 m)• 100BASE-TX: UTP category 5, 5e cable (Max 100 m) EIA/TIA-568 100Ω STP (Max 100 m)• 1000BASE-T: UTP category 5, 5e, 6 cable (Max 100 m)• 2500BASE-T: UTP category 5, 5e, 6 cable (Max 100 m)
Fan Quantity
Fanless
Button
Reset Button
Power Supply
12V/1.5A Adapter
PoE Budget
-
Flash
128MB NAND
DRAM
1 GB DDR4
LED
PWR, SYS, SFP, USB, WAN (Speed, Link/Act), LAN (Speed, Link/Act)
Dimensions ( W x D x H )
8.9 × 5.2 × 1.4 in (226 × 131 × 35 mm)
Protection
4 kV surge protection
Enclosure
Steel
Mounting
Desktop/Wall Mounting
Max Power Consumption
14.2 W (with USB2.0 connected)7.1 W (without USB2.0 connected)
PERFORMANCE
Concurrent Session
500,000
New Sessions /Second
6,000
NAT (Static IP)
2365.17 Mbps / 2364.45 Mbps
NAT(DHCP)
2364.45 Mbps / 2366.04 Mbps
NAT(PPPoE)
2347.14 Mbps / 2348.29 Mbps
NAT (L2TP)
1308.86 Mbps / 974.10 Mbps
NAT (PPTP)
1236.27 Mbps / 1280.99 Mbps
IPsec VPN Throughput
• ESP-SHA1-AES256: 673.3 Mbps• ESP-SHA256-AES256: 650.2 Mbps• ESP-SHA384-AES256: 629.3 Mbps• ESP-SHA512-AES256: 633.8 Mbps
L2TP VPN Throughput
• Unencrypted: 1243.7 Mbps• Encrypted: 561.0 Mbps
SSL VPN Throughput
132.24 Mbps
66 Byte Packet forwarding rate
1832.69 Mbps / 1741.84 Mbps
1,518 Byte Packet forwarding rate
2461.18 Mbps / 2457.32 Mbps
BASIC FUNCTIONS
WAN Connection Type
• IPv4_Static IP• IPv4_Dynamic IP• IPv4_PPPOE• IPv4_L2TP• IPv4_PPTP• IPv6_PPP• IPv6_DHCPv6• IPv6_Static IP• IPv6_6in4• IPv6_Pass-Through• Mobile Broadband: 4G/3G modem for backup via USB port
MAC Clone
Modify WAN/LAN MAC Address†
DHCP
• DHCP Server• DHCPv6 PD Server (only in Standalone Mode)• DHCP Options Customization• DHCP Address Reservation• Multi-IP Interfaces*• Multi-Net DHCP*
IPv6
StaticIP / SLAAC / DHCPv6 / PPPoE / 6to4Tunnel / PassThrough / Non-Address mode
VLAN
802.1Q VLAN
IPTV
IGMP v2/v3 Proxy, Custom Mode, Bridge Mode
ADVANCED FUNCTIONS
Advanced Routing
• Static Routing• Policy Routing• RIP (only in Standalone Mode)• OSPF (only in Standalone Mode)
Bandwidth Control
• IP/Port-based Bandwidth Control• Guarantee & Limited Bandwidth
Load Balance
• Intelligent Load Balance• Application Optimized Routing• Link Backup (Timing§, Failover)• Online Detection
NAT
• One-to-One NAT§• Multi-Net NAT• Port Forwarding• Port Triggering§• NAT-DMZ• FTP/H.323/SIP/IPSec/PPTP ALG• UPnP
Session Limit
IP-based Session Limit
VPN
IPsec VPN
• 100 IPSec VPN Tunnels• LAN-to-LAN, Client-to-LAN• Main, Aggressive Negotiation Mode• DES, 3DES, SHA1, AES128, AES192, AES256 Encryption Algorithm• IKEv1/v2• MD5, SHA1, SHA2-384 and SHA2-512 Authentication Algorithm• NAT Traversal (NAT-T)• Dead Peer Detection (DPD)• Perfect Forward Secrecy (PFS)
PPTP VPN
• PPTP VPN Server• PPTP VPN Clients (12)• 60 Tunnels (Shared with L2TP)• PPTP with MPPE Encryption
L2TP VPN
• L2TP VPN Server• L2TP VPN Clients (12)• 60 Tunnels (Shared with PPTP)• L2TP over IPSec
OpenVPN
• OpenVPN Server• OpenVPN Clients (6)• 66 OpenVPN Tunnels*
AUTHENTICATION
Web Authentication
• No Authentication• Simple Password*• Hotspot (Local User/Voucher* /SMS*/Radius*)• External Radius Server• External Portal Server*• LDAP
MANAGEMENT
Omada App
Yes. Requiring the use of OC300, OC200, Omada Cloud-Based Controller, or Omada Software Controller.
Centralized Management
• Omada Cloud-Based Controller• Omada Hardware Controller (OC300)• Omada Hardware Controller (OC200)• Omada Software Controller
Cloud Access
Yes. Requiring the use of OC300, OC200, Omada Cloud-Based Controller, or Omada Software Controller.
Service
Dynamic DNS (Dyndns, No-IP, Peanuthull, Comexe)
Maintenance
• Web Management Interface• Remote Management• Export & Import Configuration• SNMP v1/v2c/v3*• Diagnostics (Ping & Traceroute)§• NTP Synchronize§• Port Mirroring• CLI (only in Standalone Mode)• Syslog Support
Zero-Touch Provisioning
Yes. Requiring the use of Omada Cloud-Based Controller.
Management Features
• Automatic Device Discovery• Intelligent Network Monitoring• Abnormal Event Warnings• Unified Configuration• Reboot Schedule• Captive Portal Configuration• ZTP (Zero-Touch Provisioning)
OTHERS
Certification
CE, FCC, RoHS
Package Contents
• ER707-M2• Power Adapter• Quick Installation Guide
System Requirements
Microsoft Windows 98SE, NT, 2000, XP, Vista™ or Windows 7/8/8.1/10, MAC OS, NetWare, UNIX or Linux
Environment
• Operating Temperature: 0–40 ℃ (32–104 ℉);• Storage Temperature: -40–70 ℃ (-40–158 ℉)• Operating Humidity: 10–90% RH non-condensing• Storage Humidity: 5–90% non-condensing
*These functions require the use of an Omada Hardware Controller, Software Controller, or Cloud-Based Controller.
**Zero-Touch Provisioning requires the use of Omada Cloud-Based Controller. Go to https://www.tp-link.com/en/omada-cloud-based-controller/product-list/ to confirm which models are compatible with Omada Cloud-Based Controller.
† LAN MAC Address can be modified only in Standalone Mode.
§ These functions are supported only in Standalone Mode.
△At least one WAN/LAN port needs to function as a LAN port.
From United States?
Get products, events and services for your region.